Make this hearty Greek Lamb Burger filled with decadent flavor and a grain-free bun. It won't only make for a delicious lunch, but also give you serious wanderlust.
The Parthenon – that was the name of my favorite restaurant when I was a little girl.
The restaurant was decorated with statues of the Greek gods and goddesses I'd read about a bajillion times in my mythology books. Brightly colored, floor-to-ceiling landscape frescos covered the back walls. One look around the room and you were instantly transported to Cyprus, Crete, Santorini, and Athens.
Love slow cooker recipes?
Click here to get your FREE copy of our delicious Slow-Cooker Recipes!
And then, there were the smells. Oh, the smells!
As soon as you'd walk in, you'd get hit with a wave of mint and parsley, followed by creamy lemon (from the Avgolemono, one of the best soups there is!), then the fresh, salty feta, and finally the incredibly juicy lamb gyros.
I don't know if I knew it then, but I certainly know it now – of ALL the animal proteins that exist out there in the world, I love lamb best of all. And, I'm certain, I owe that in large part to the fantastic experiences I had time and time again with every family meal at The Parthenon. I loved it then for the taste and now, eating lamb makes me feel a bit more connected to my primal self.
Thankfully, the market has heard our hunter-gatherer voices loud and clear. And now, it's easier than ever to find grass-fed beef and bison in the U.S. American lamb is almost always grass-fed for most of its life (although sometimes grain-finished); New Zealand and Australian lamb are almost exclusively raised on grassy pastures. (1)
You can enjoy this burger on its own, or turn some old-fashioned Paleo dinner rolls into buns. Just add a dash of rosemary to the batter, and bake on a baking sheet instead of muffin tins!
While this recipe took me on a trip down memory lane, it was also a great way to enjoy one of the safest animal proteins out there. I hope you enjoy this savory, juicy combination of Mediterranean flavors as much as I do!
Delfina Bonilla Lopez
Greek-Style Lamb Burger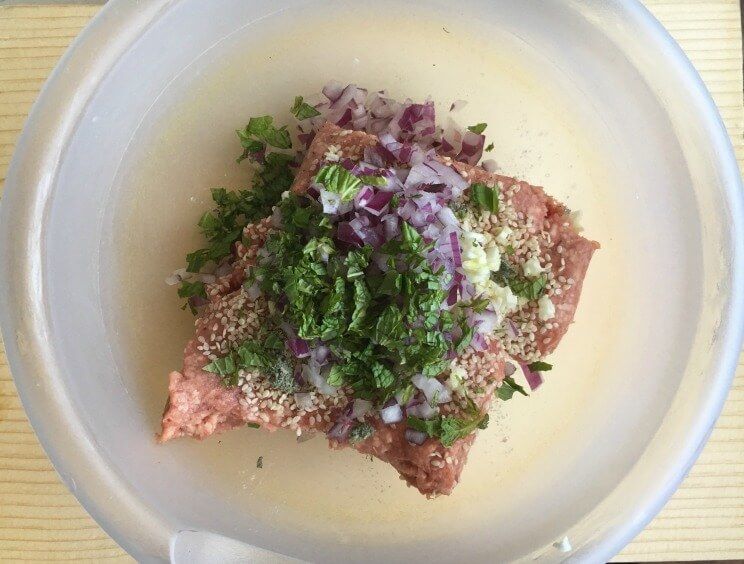 Cook Time:
10 mins
10 minutes
Prep Time:
20 mins
20 minutes
Greek-Style Lamb Burger
Savor the flavors of the Mediterranean with this juicy lamb burger.
Ingredients
1 lb grass-fed ground lamb

2 t sesame seeds

1 1/4 t Himalayan or Celtic sea salt

1/4 t pepper

1/4 t dried sage

1 large clove of garlic (minced)

1/4 red onion (diced)

1 small handful fresh mint (finely chopped)

8 asparagus

2 T olive oil

1 T Tahini

1/8 t paprika

Juice of 1/4 lemon

PaleoHacks Cashew Cheese (optional)
Instructions
Dice red onion, mince garlic, and chop mint.

Toss grass-fed ground lamb, sesame seeds, salt, pepper, sage, garlic, red onion, and fresh mint together in a bowl. Use clean hands to knead ingredients together. You want those ingredients married into the meat, so put some muscle in it!

Divide the spiced meat in quarters. Form into round balls and then press into burger patties that are the thickness of the pinky side of your hand. Set aside on a plate.

Fire up the stove with either a cast iron skillet or a grill pan. I recommend the long, rectangular kind that takes up 2 burners. Set the burner(s) to medium-high heat.

While the pans are heating up, trim the asparagus, and slice each stem in half, lengthwise. Toss the asparagus halves with 1 T of oil. Make sure each stem is well coated.

Once the pan is hot, add the burgers into the skillet or onto the grill pan. You don't need to grease the pan beforehand because lamb is full of plenty of healthy fat, so the burgers can cook in their own oil.

Cook the burgers for 3-4 minutes on the first side (depending on how rare or well-done you like it). Flip to the second side.

If you've got room in your skill or grill pan, add in the asparagus right after you flip the burger. Spread each of the stems out so they cook evenly. Cook the asparagus stems for 2-3 minutes.

Remove the asparagus from the grill and set aside.

Once the burgers are done, place them next to the asparagus.

In a small bowl, mix the tahini, remaining tablespoon of olive oil, paprika, and lemon juice. Add in a pinch of salt to taste.

Stack the burgers on the buns (optional). Lettuce works here as well, or you can opt to go bun-less. Stack a few slices of asparagus atop the bun. Smear a little of the tahini sauce on the burger bun or drizzle straight onto your burger. Top it all off with some cashew or nut cheese if you're going that route and enjoy warm!

(You'll Also Love: Paleo Avocado Bacon Burger)