There are many components to cooking—the smells, the sounds, and even the tastes the lucky cook gets to sneak. However, cooking isn't all about throwing in a dash of this or searing a side of that. There is a lot of prep work, appliances, and essential tools involved. That's why having the right knife can make or break a meal.
Your kitchen prep is a crucial part of cooking when you think about it. You have to have the precise cuts, the knives have to slice through some tough materials, and the prep sometimes has to be done quickly.
The right knives make all of the difference here. How will you trim your Paleo meat properly without a boning knife? What about all of those day-to-day slicing and dicing tasks—what blade is best for that? There are so many knives—how do you know which is used for what task?
Well, we've created a guide to help you cut through all of the confusion and impress your family and friends with every recipe.
A Blade for Every Bidding
Serrated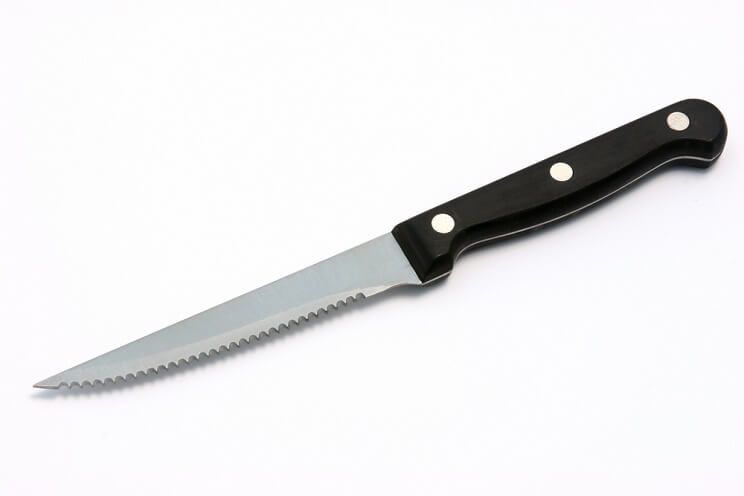 The serrated, or wavy looking, edge allows greater pressure to be placed on the object being cut.
Best For:
Breads
Hard crusts
Tough or slippery skins
Straight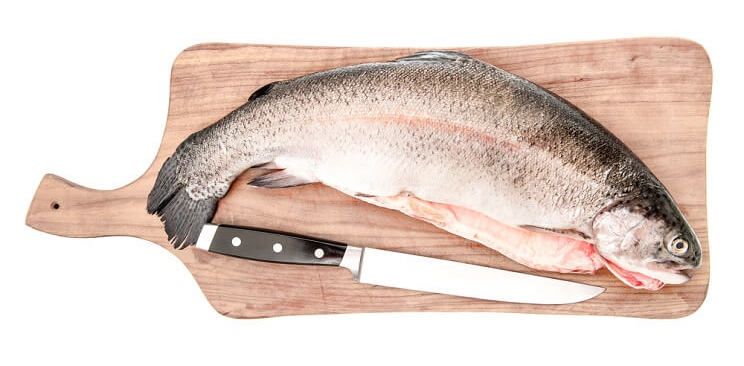 A straight edge should always remain razor sharp in order to perform at peak condition. This blade can also be sharpened with sharpening steel, unlike the Serrated and Granton blades.
Best For:
Raw meats
Fish
Vegetables
Granton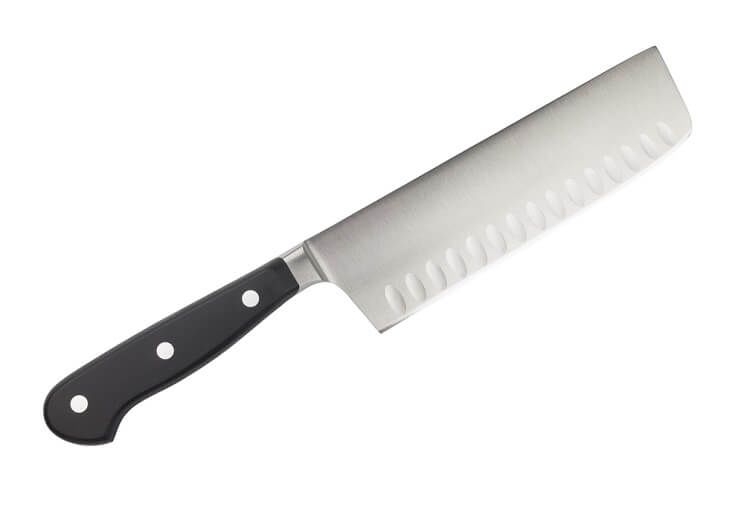 The Granton edge, also known as the Kullenschliff edge, can be recognized by the hollowed out grooves on the sides of the blade. The grooves keep food from sticking to the knife.
Best For:
Thin cuts
Tearing or shredding food
Sharpening Knife Maintenance Skills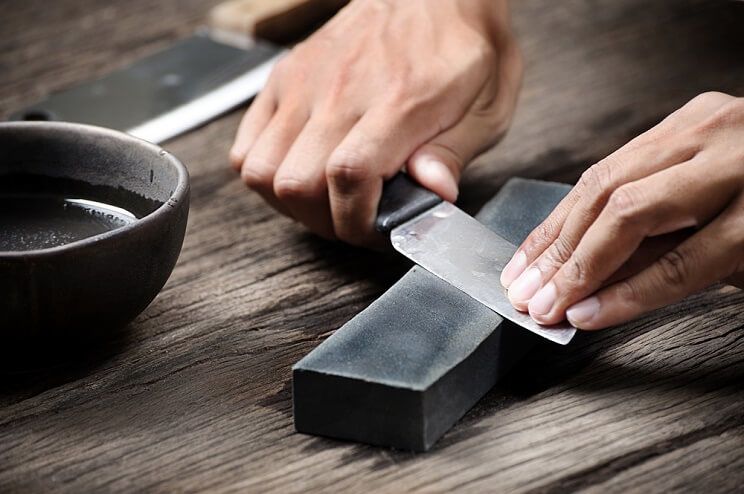 Cleaning and Storage Short Cuts
Never put your knives in the dishwasher
Clean knives by hand with warm, soapy water
Always clean knives before storing to prevent bacteria
Make sure your knives are dry before storing to avoid rust
Oil knives twice a year to avoid corrosion
If storing knives in a drawer, always use blade protectors
If storing in a wooden block, keep them in horizontal slots to prevent dulling
Keep knives sharp as they are much safer than using a dull knife
Don't repair a damaged knife on your own—find a repair shop
How to Stay Sharp
Whetstone or diamond stone
Honing rod
A knife sharpener/sharpening kit
Ask a kitchen supply store to do it
Edgy Materials and Upkeep
Carbon Steel
Clean with soap and water
Lightly oil
Hand dry
WARNING: Tarnishes easily
Stainless Steel
Don't soak
Hand dry
WARNING: Prone to rust
Titanium and Ceramic
Easy maintenance
Scrub with hot water and soap
Hand dry or drain board
Blades aren't prone to rust
Know Your Knives
The Multi-Taskers
Chef's Knife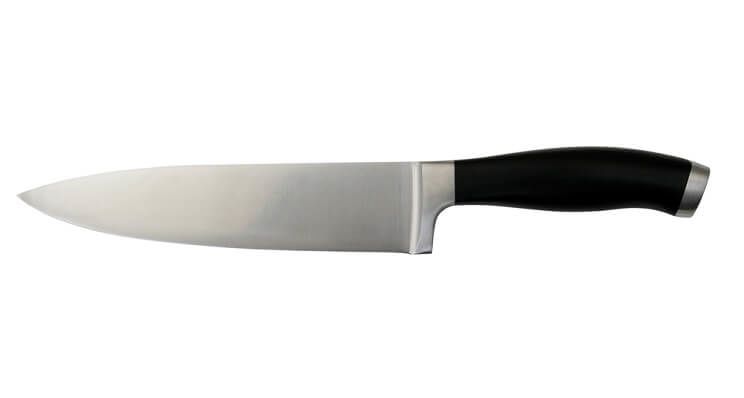 This knife is the best place to spend your money, as this knife will likely be receiving the most use. A well-made chef's knife can last you a lifetime if you take care of it properly. Make sure to buy a knife with a sturdy grip, so it is as safe as possible.
Uses:
Everyday food prep
Chopping
Mincing
Slicing
Dicing
Santoku Knife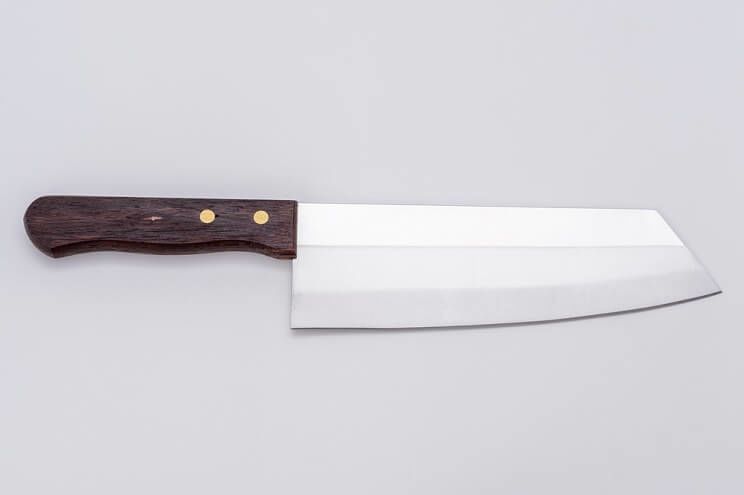 This knife is slightly curved for easy mincing. It is generally lighter, thinner, and sharper than a Chef's Knife, and can help make food prep all the more agile.
Uses:
Mincing
Scooping
Crushing
Thin cuts
Dicing
Slicing
Paring Knife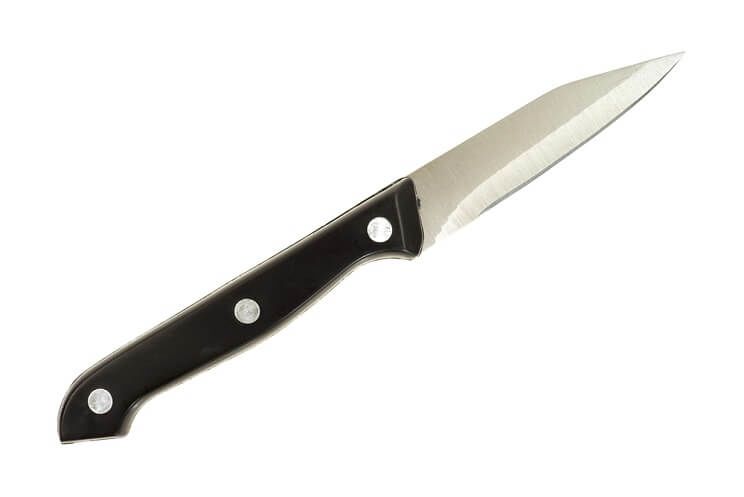 The meager Paring Knife may look tiny in stature, but the job it performs is no small task. This knife can tackle everything that your larger, day-to-day knives are too big to efficiently take on.
Uses:
Peeling
Coring
Removing inedibles such as potato eyes
Bread Knife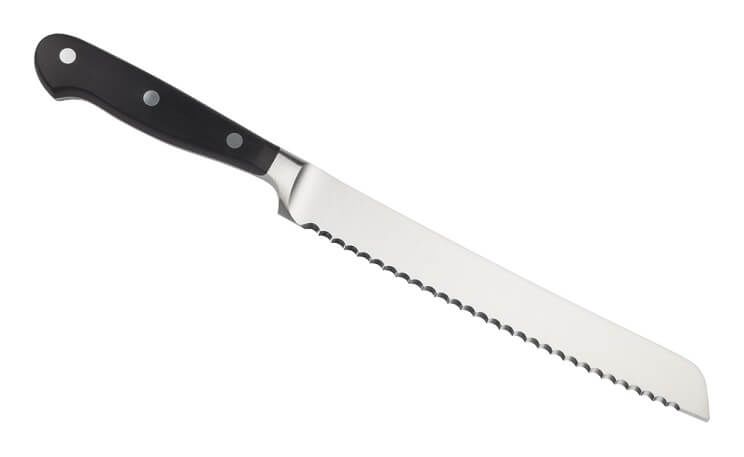 A classic example of a serrated knife. This knife is best known for slicing up—bread, of course. However, the bread cutter isn't limited to only one job; it's also great with those trickier veggies with tough skins.
Uses:
Bread
Fruits and vegetables with tough skins
The Butcher's Buddies
Meat Cleaver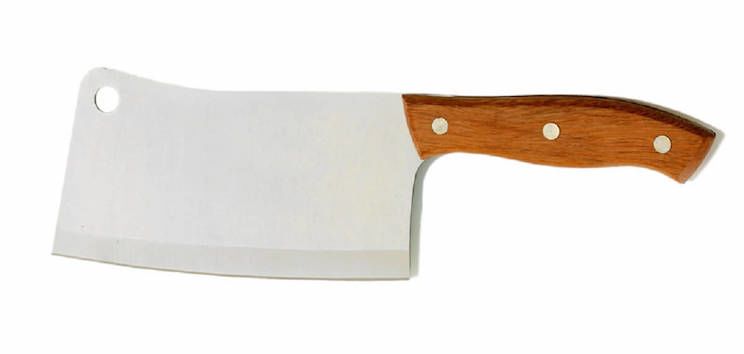 With its big, square blade, everyone knows what this knife looks like. Obviously, that huge blade is there for a reason, and that reason is to obliterate bones when preparing meat.
Uses:
Splitting poultry
Disjointing meat
Separating ribs
Smashing garlic and olives
Boning Knife

The Boning Knife is a daintier cutter in the meat world. Its long, narrow shape is made for trimming meats along bones and cartilage.
Uses:
Cutting meat off the bone
Trimming fat
Slicing through tendons
Carving Knife


This knife slices through cooked meat like butter. When you are looking for a knife to cut that pot roast or rotisserie chicken—here's your go-to.
Uses:
Sawing through cooked meat
Slicing Knife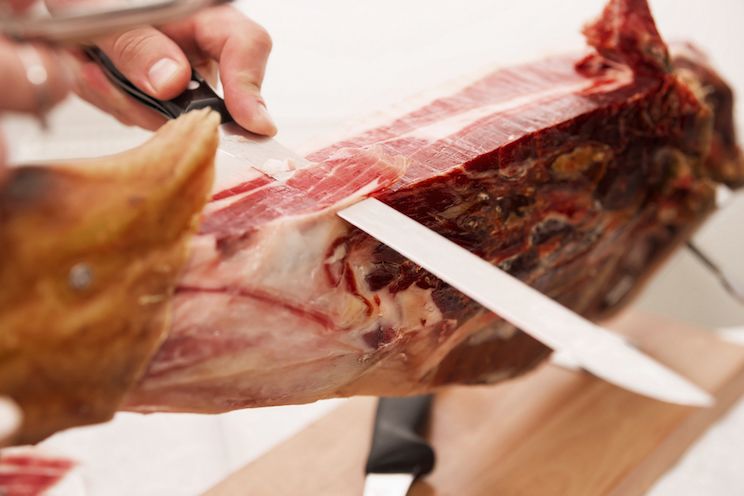 Another knife that can be used for carving, except the Slicing Knife's sharp edges are designed to prevent precious juices from escaping. It also will give you a more precise cut.
Uses:
Butcher Knife

 It's not as common to have around the kitchen, but still useful. The Butcher Knife is a pretty high-impact knife, so make sure that if you plan on investing in one of these, you plan on being safe and knowing the cuts of meat you are dealing with. Otherwise, visit your friendly neighborhood butcher—no shame there.
Uses:
Disjointing meat slabs
Segmenting meat and produce
The Special Visitors
Fillet Knife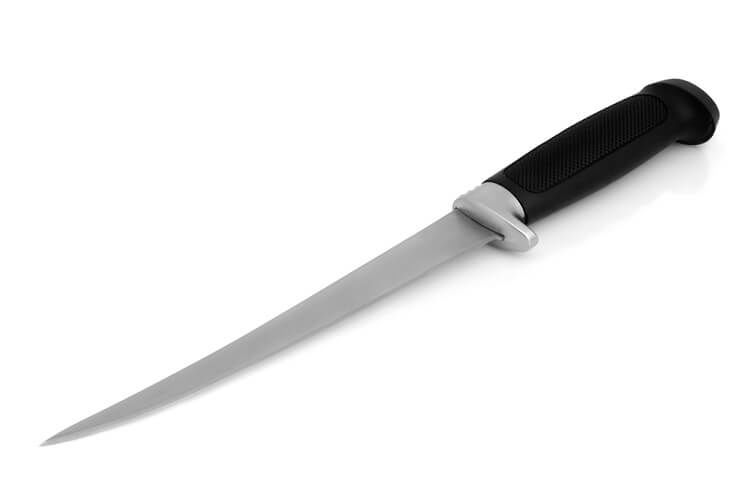 The Fillet Knife is similar to a Boning Knife, except it is used for fish. It's definitely a useful tool if you tend to eat a fair amount of food from different walks of life (literally).
Uses:
Skinning and deboning fish
Steak Knife

 This knife will typically be included in a set of six when buying a knife set. This small, serrated knife helps when you are cutting that tender, single-serve portion of filet.
Uses:
Oyster Knife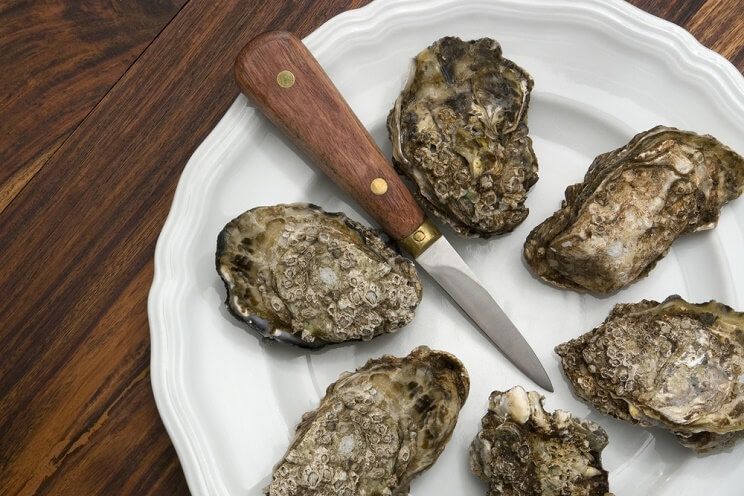 Pretty easy to piece together what the Oyster Knife does, right? Yes, it shucks mussels, oysters, clams, and all other bivalves like a pro.
Uses:
Deba Knife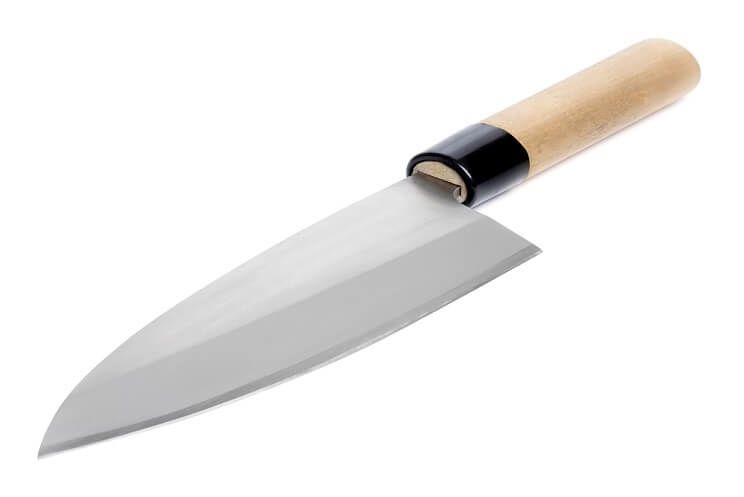 Another one of those knives people don't expect you to have lying around, but if you have one, the Deba Knife can prove to be very useful when hosting dinner parties, as it can kick your cuts up a notch.
Uses:
Filleting
Sashimi slicing

(Read This Next: Appliances for Any Paleo Kitchen)