Let's talk about the "c-word." It's no secret: the constant barrage of images for the "perfect" female body on social media have made talking about cellulite taboo. 
Yet for the industry of anti-cellulite products, it's a tremendous platform for major financial gain. Women spend over 6 billion dollars a year on anti-cellulite products in search of a quick fix. Ironically, the research can't point to a single product that can definitely reduce cellulite.
What Is Cellulite?
Cellulite occurs when a layer of fat protrudes into the connective tissue just below the skin's surface and creates a bumpy, cottage cheese-like dimpling on the skin. Cellulite is a normal secondary sex characteristic that affects 80-90% of women post-puberty, typically appearing on the thighs, pelvic area or abdomen. In short, cellulite is completely normal. So, why does society seem to view cellulite as a negative physical attribute?
Struggling to lose weight? Unable to focus? Chances are, your hormones are out of whack.
Grab Our FREE Guide To Fixing Your Hormones By Clicking Here!
---
What Causes Cellulite?
With all the pills, creams and gels out there, you would think the cause of cellulite would be widely known. Not true. The irony is the best researchers in the world still don't know exactly what causes cellulite. It seems to be a multifactorial condition, possibly due to estrogen dominance, lymphatic (immune system) congestion, diet, lifestyle, and/or genetics. [tweet_quote] Estrogen dominance, lymphatic congestion and diet may contribute to cellulite.[/tweet_quote]
In terms of pure anatomy and physiology, the big difference between men and women is that a dense layer of collagen called the fibrous septa, which connects skin to the underlying connective tissue, runs perpendicular in women (unlike in men, where it runs diagonally), therefore allowing fat to protrude through much more easily.
Despite the overwhelming number of products and claims by manufacturers, the best research confirms there is "no consensus on a cure" for cellulite. (1) So, if you're struggling with some excess and unwanted cellulite (remember, almost everyone has some cellulite), what options do you have for possible solutions?
---
8 Ways to Reduce Cellulite
While we're going to get into ways to reduce cellulite and avoid being tricked by expensive products, remember that it's a perfectly natural part of your body to embrace.
1. Stop Smoking!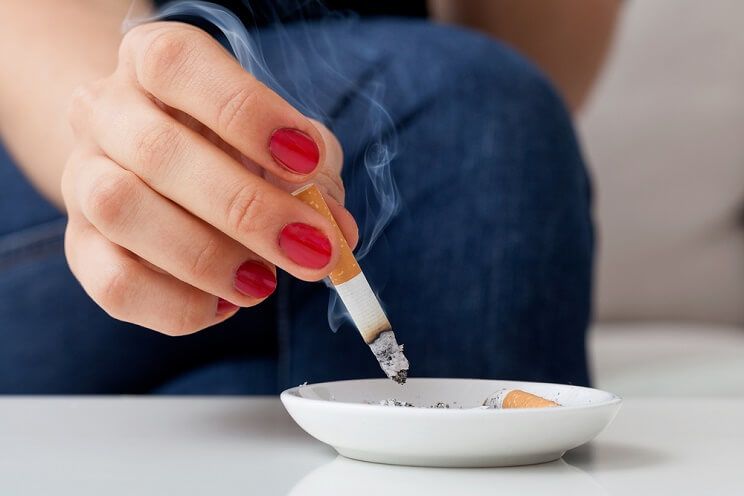 Many people are unaware that smoking has been strongly associated with an increased predisposition of cellulite storage. (2) If you're a smoker, stopping should definitely be your first priority before considering any other treatment.
2. Weight Loss
Unwanted weight gain is a major cause of increased cellulite. The good news is the research is clear that the greater your weight loss, the greater your reduction of cellulite. (3) Upgrade your diet and exercise regime to support this goal (see #3 and #4 below for effective strategies).
3. Upgrade Your Diet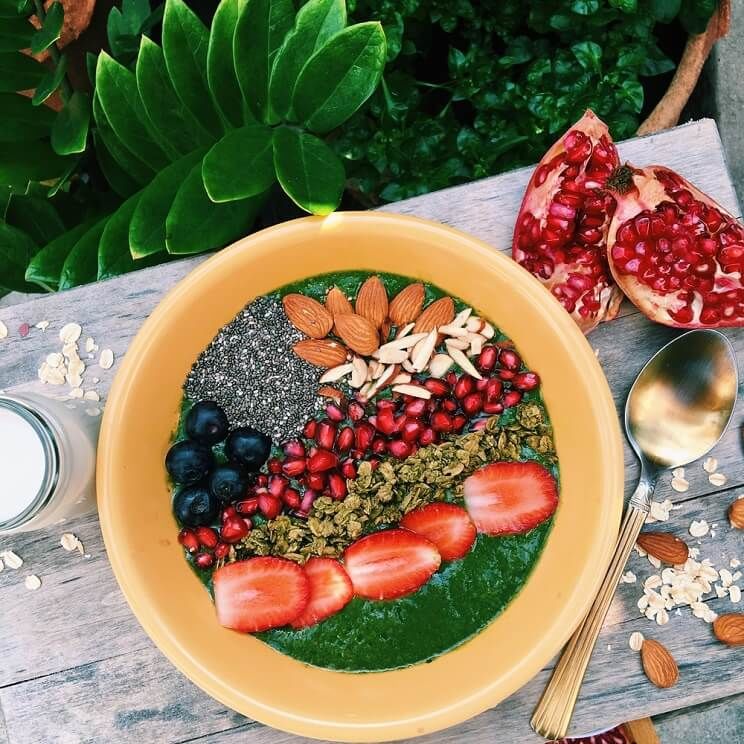 Diet, exercise and lifestyle factors are the major influencers of weight loss and cellulite reduction. If you're overweight, improving your blood sugar control is an important fundamental for fat loss and thus cellulite reduction. (4) Try these quick tips to upgrade your diet:
Avoid processed simple carbs and sugars that spike blood sugars and promote weight gain.
Reduce or limit starchy carbs like bread, bagels, cereals, muesli, etc. at breakfast and sandwiches, pasta, rice and potatoes at lunch and dinner to reduce total carbohydrate intake.
Add more lean proteins at breakfast, lunch and dinner. Aim for at least one "palm size" (the size of your palm) at each meal.
Add more healthy fats – like coconut oil, avocado or olive oil – at all meals.
Add more nutrient-dense cruciferous veggies (cooked) and leafy greens at all meals.
4. Exercise More
Although exercise doesn't cure cellulite, it helps trigger fat loss and thus reduce cellulite — or at least the appearance of it. The most common reason clients don't exercise is because they don't have time; however, you don't need 60 minutes in the gym to burn fat and upgrade your health. Try adding more HIIT (high-intensity interval training) into your regime. It may sound intimidating at first, but it's based on your own current level of fitness. [tweet_quote] High-intensity interval training can help trigger fat loss and reduce cellulite.[/tweet_quote]
For example, perform 30 seconds of a movement like bodyweight squats, lunges, step-ups, or skipping rope, then rest for 90 seconds. Repeat this for 5-8 rounds (i.e., 10-16 minutes). (5) Alternatively, low-intensity movement like walking is also a powerful weapon for weight loss. Walk into work if you can (or part of the way), walk a few blocks over to a coffee shop for your mid-morning break, take the stairs instead of the elevator, or suggest walking meetings with colleagues.
5. Stay Hydrated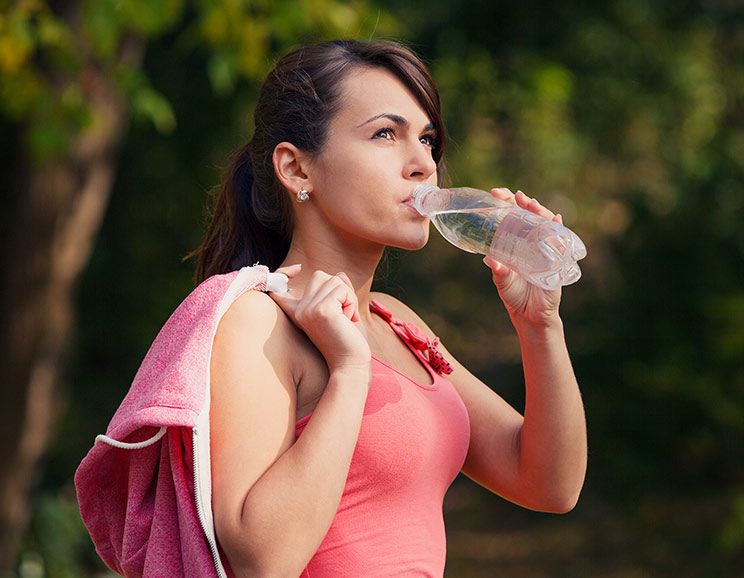 Hydration is an important part of overall health and may help with cellulite reduction. Consuming water between meals is a great way to avoid excessive snacking and support healthy cellular function. Aim for 8 glasses of water daily or try water-tracking apps like waterlogged or plant nanny to keep you consistent and manage your intake. (6)
6. Rethink Your Birth Control
The birth control pill (BCP) may have unintended consequences on weight gain and thus the accumulation of cellulite. It's also been shown to negatively impact the balance of "good" to "bad" gut bacteria, causing dysbiosis which can trigger inflammation, digestive distress and constant cravings. If you've struggled with chronic changes in body composition since using the BCP, talk to your doctor about alternative strategies for contraception. (7) [tweet_quote] Are you on the pill? It may change your body composition and add to weight gain.[/tweet_quote]
7. Hydrotherapy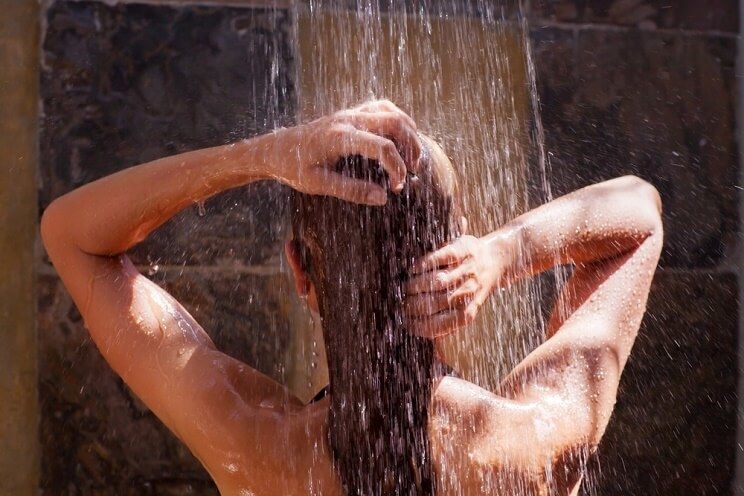 Hydrotherapy is the therapeutic use of hot and cold water to improve health. It's also been used ancestrally as a way to reduce cellulite. It's said to work by increasing circulation, constricting or dilating the blood vessels in response to the hot and cold temperatures. This process helps to increase lymphatic flow (similar to massage) and clear lymphatic congestion that can cause the formation of cellulite. A simple way to try hydrotherapy is at home via a "contrast shower." Start with a two-minute hot shower and switch to 30 seconds relatively colder water. Alternate for 3 cycles, gradually making the water colder for each cycle, and always end with cold. It's not easy to do the first time, but it's incredibly invigorating and will get you energized to start your day.
8. Get Regular Massages
Can getting a few extra massages really help reduce cellulite? A lymphatic massage, which helps move all your immune system white blood cells around the body, has been shown to help thin subcutaneous fat around the thigh via increased circulation and lymphatic drainage, thus reducing the appearance of cellulite. (8) It's important to note that while the results are "statistically significant," you most likely won't see major changes with the naked eye. However, it's a nice addition that also provides a great stress-reducing effect.
---
Bottom Line
The research is clear… there is no quick fix for cellulite and it's not worth beating yourself up about it. While there are a wide variety of treatments, weight loss via improved diet and exercise are by far your best bet for cellulite reduction. Implement the right diet, exercise and lifestyle strategies to mitigate excess cellulite and achieve sustainable progress in the long run.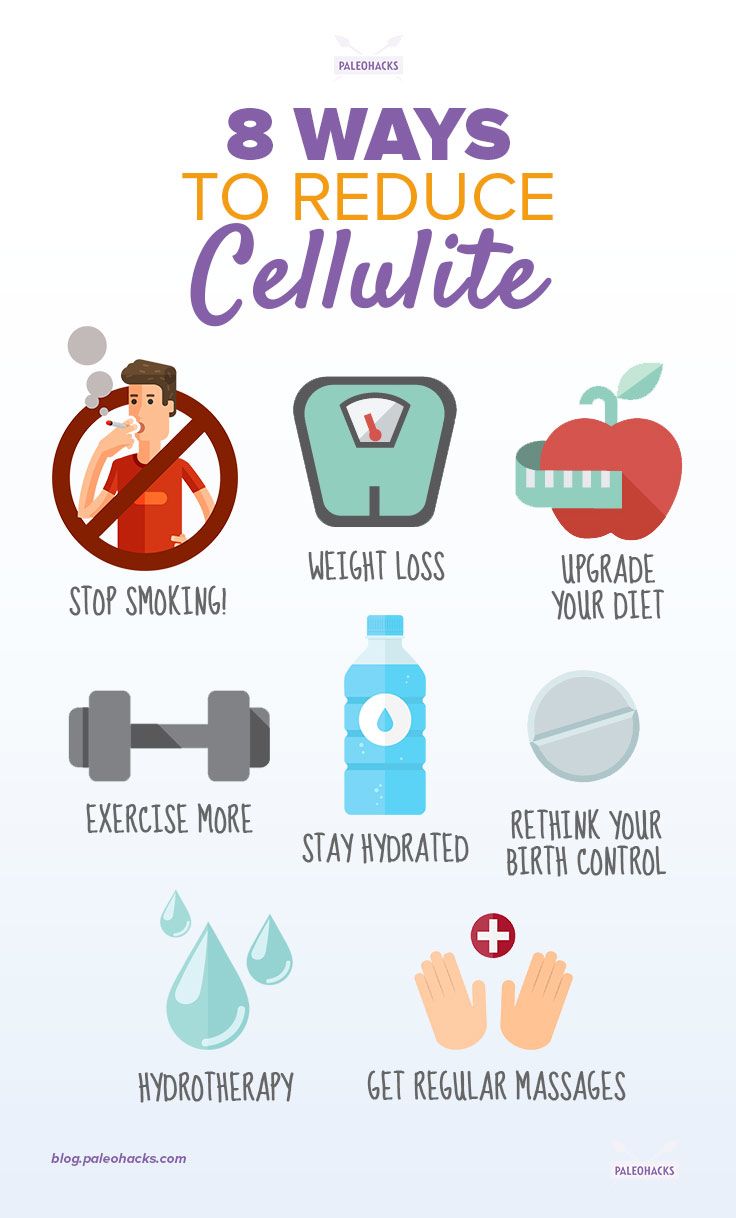 (Read This Next: How to Get Rid of Back Fat)