Add these natural, calming ingredients to your bath to instantly relieve aches, pains, and more.
In ancient cultures around the world, bathing in warm water was an extremely healing practice thought to cleanse the body and spirit. (1) Today, there is a multitude of options to transform your bath into a healing experience. Whether you need skin relief, an energy boost, or a calming stress aid, we have the bath add-in just for you!
From soothing honey to relaxing lavender, there are plenty of natural oils and ingredients you can use besides conventional soaps and fragrances. Many of these ingredients are items you may already have in your kitchen. The best part is, you can combine these ingredients to whip up your own unique spa session from the comfort of your home.
Want naturally radiant skin? We've created a FREE guide to give you the best tips & tricks for natural skincare.
Click here to get your FREE copy of our Skincare Guide!
Below we'll look at ten healing ingredients you can add to your bathwater for skin-nourishing effects and relief. Use them after an intense workout or whenever your body needs a little extra TLC to unwind.
---
1. Honey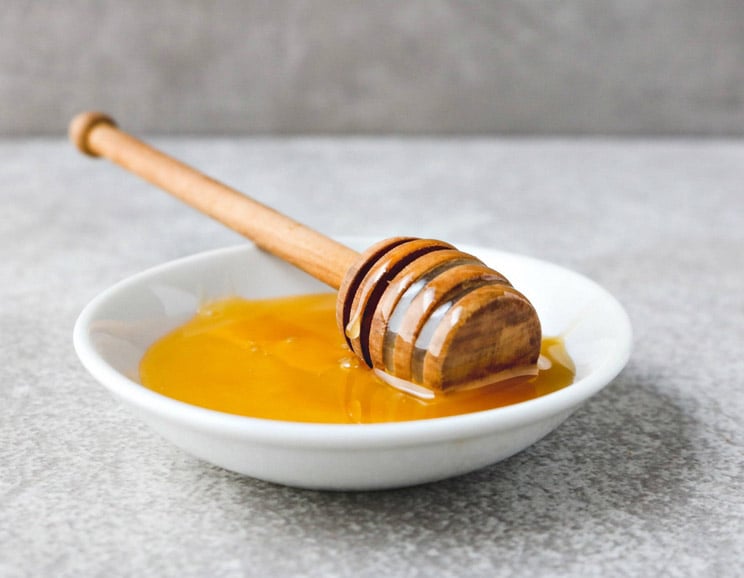 Much more than a simple sweetener, honey contains an abundance of antioxidants to help prevent skin aging and rid our bodies of toxins.
When our bodies are exposed to toxins through our diet and environment, they can damage our DNA. This often leads to wrinkles and skin sagging from compounds known as free radicals. Antioxidants, like the ones present in honey, can help neutralize these toxins before they can cause any damage. (2) This is why many cosmetic companies are so keen on using them in many of their skin care products.
Along with promoting youthful skin, honey is also known to be antibacterial and antimicrobial, which is great for treating wounds and burns. (3)
To use: Add 1/2 cup honey to your warm bath water.
---
2. Epsom Salt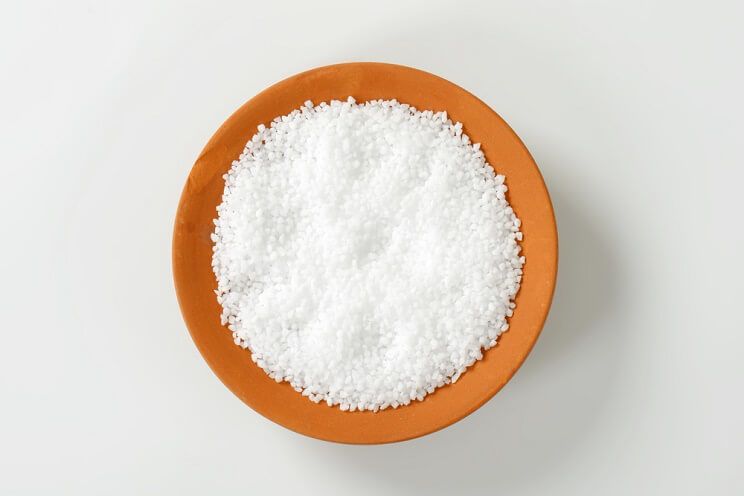 If you're in need of a stress-relieving bath, a handful of Epsom salts can go a long way.
Epsom salts are composed of magnesium sulfate, a mineral responsible for controlling muscle relaxation and contractions. (4) It helps improve your mood while reducing stress – making it an excellent ingredient to help you unwind. Use it to release symptoms of anxiety and tension. (5, 6, 7).
To use: Add 1/2-1 cup Epsom salts to your bath and stir thoroughly until fully dissolved in warm water.
---
3. Lavender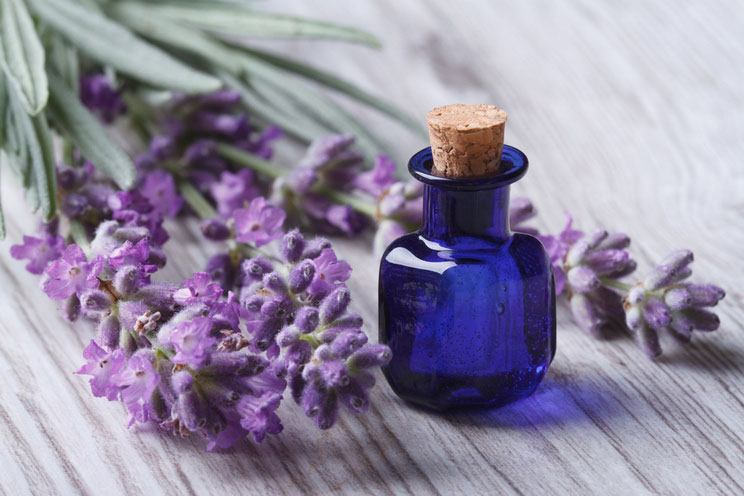 Lavender is also a great choice for a relaxing bath add-in.
A few drops of lavender essential oil in your bathtub can help reduce stress and ease anxiety while serving as a therapeutic cleanse. Research shows that it acts as a mild sedative, mood stabilizer, and can even help protect against neurological disorders. (8) Use it to relieve restlessness, improve your sleep, and boost your overall well-being.
To use: Add 10-20 drops of lavender essential oil to your bath.
---
4. Peppermint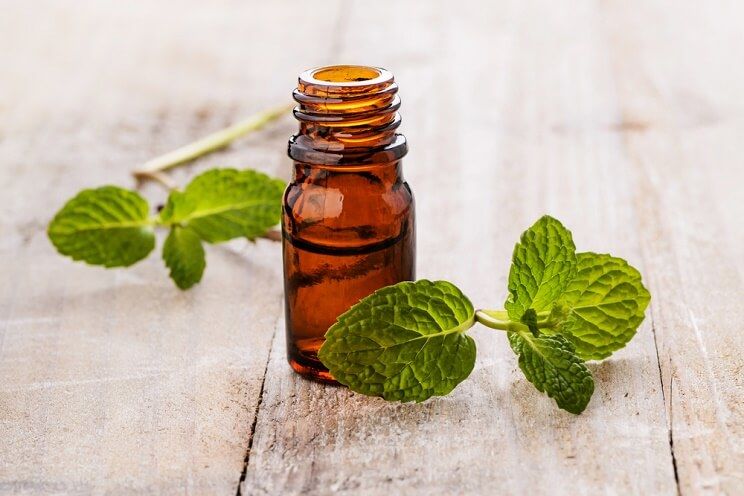 If you love the invigorating smell of peppermint, you're in luck – a few drops can help relieve the aches and pains related to muscle aches, headaches, and even ease itchiness. (9)
As an anti-inflammatory, studies suggest that when inhaled, it may even help improve lung capacity and working memory, so be sure to breathe deeply during your bath. (10)
To use: Add 10-20 drops of peppermint essential oil to your bath + 6 teaspoons of melted coconut oil.
---
5. Coconut Oil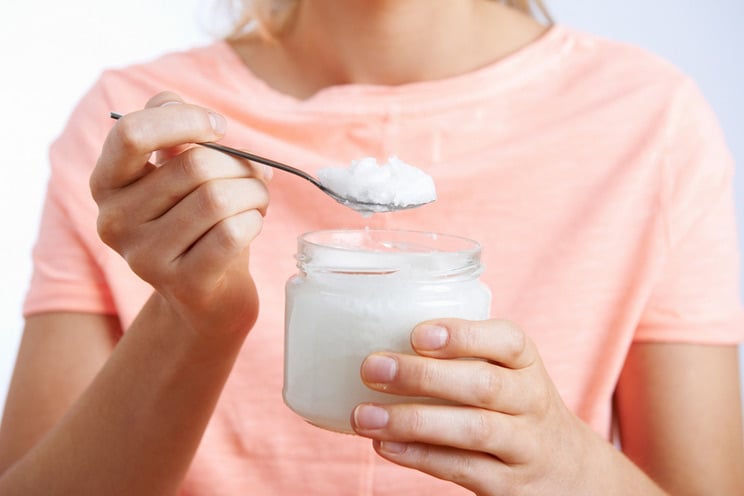 It turns out that your favorite cooking oil can have powerful topical effects as well.
Coconut oil contains an abundance of fatty acids that help moisturize and smooth your skin. It's also antibacterial and antimicrobial, making it particularly effective for acne-prone skin and fungal infections. (11, 12) In addition, coconut oil has also been shown to strengthen your skin's protective barrier, making it more resistant to wear and tear, as well as help reduce inflammation. (13)
To use: Add 1/2 cup of coconut oil to your bath, stirring until it melts.
---
6. Eucalyptus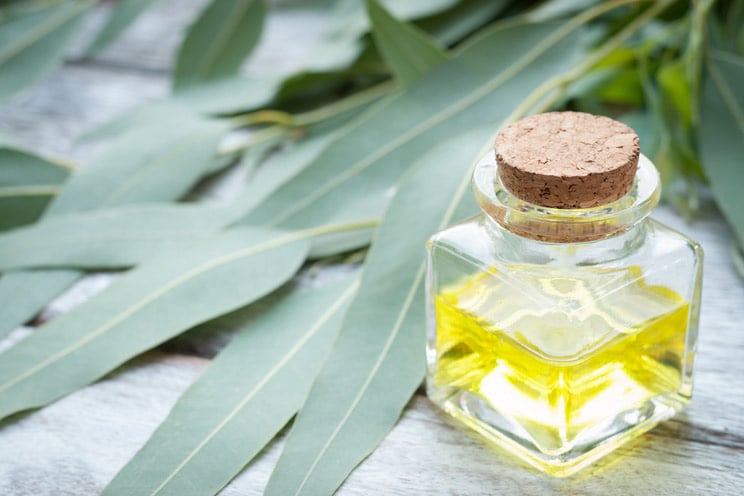 Eucalyptus essential oil is coveted for its anti-inflammatory and anti-bacterial properties. This powerful herb has been used to naturally ease cold symptoms like runny noses and coughing. Studies show that eucalyptus contains a powerful antimicrobial called 1,8-Cineole, which can help kill viruses like adenovirus and even the herpes virus. (14)
To use: Add 10-20 drops of eucalyptus essential oil to your bath + 6 teaspoons of melted coconut oil.
---
7. Rose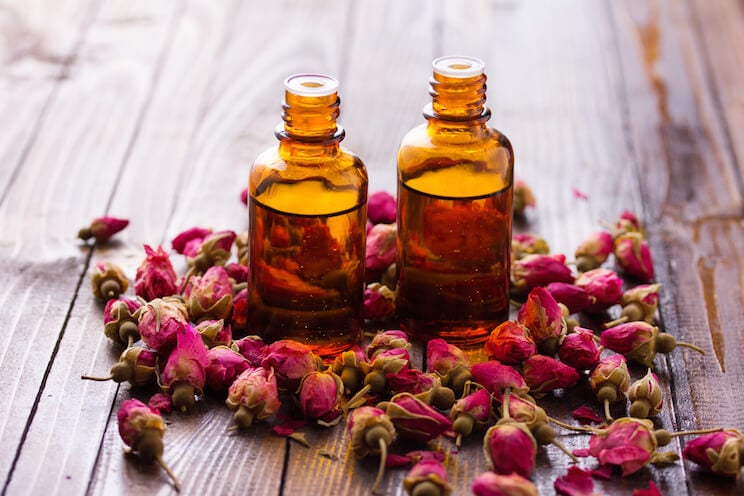 Roses, also known as the King of Flowers, have been used for thousands of years to make various beautifying and medicinal oils, waters, and elixirs.
Studies show that roses (particularly rose oil and hip) contain high levels of phenolic compounds that act as antioxidants. These antioxidants help prevent aging, reduce inflammation, and also possess anti-depressive properties. (15, 16)
To use: Add 5-10 drops of rose essential oil and/or fresh or dried rose petals to your bath.
---
8. Green Tea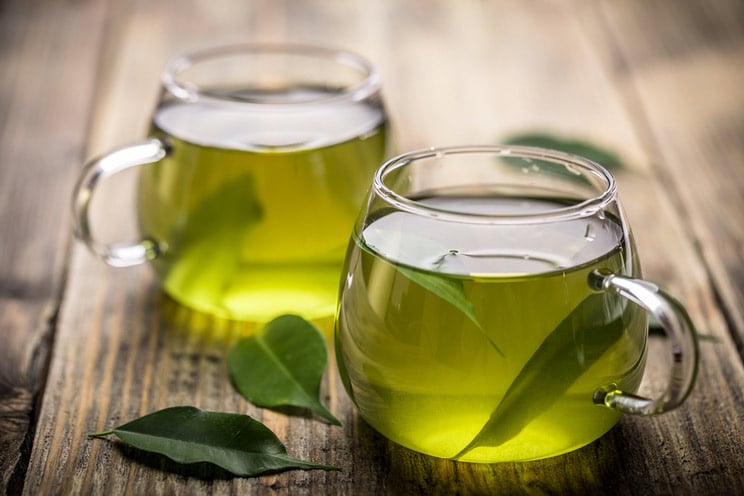 Next time you brew up a batch of tea, make a little extra for your bath. It's an excellent way to infuse your skin with antioxidants and other compounds that help prevent aging and disease.
Studies show the polyphenols in green tea can help reduce inflammation, as well as act as a natural sunscreen which can protect against aging skin and wrinkles. (17, 18)
To use: Brew 2 cups of green tea and add it to your bathwater.
---
9. Bentonite Clay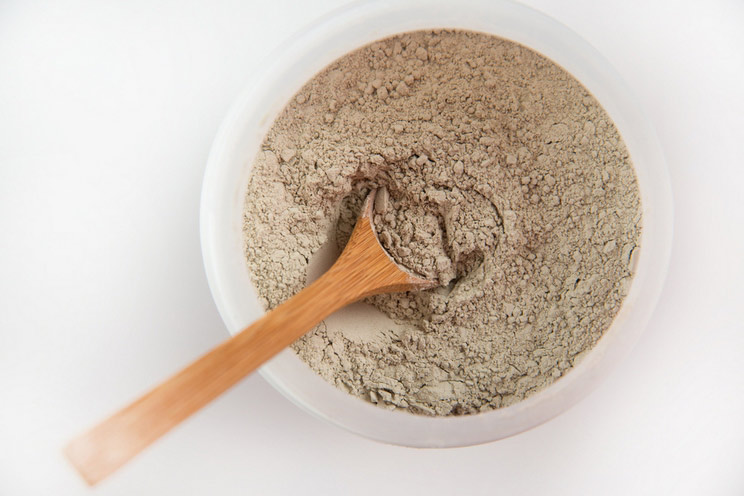 If you're in need of a powerful detox bath, look no further than bentonite.
Clay has been considered a healing substance since ancient times. In particular, it has been found that bentonite clay can help improve skin conditions like dermatitis, act as a natural sunscreen, and even help boost collagen synthesis, which can keep your skin youthful. (19, 20)
To use: Combine 1/2 cup of bentonite clay with water in a bowl until it forms a paste. Add this to your bathwater (or spread it on your body, then climb in).
---
10. Baking Soda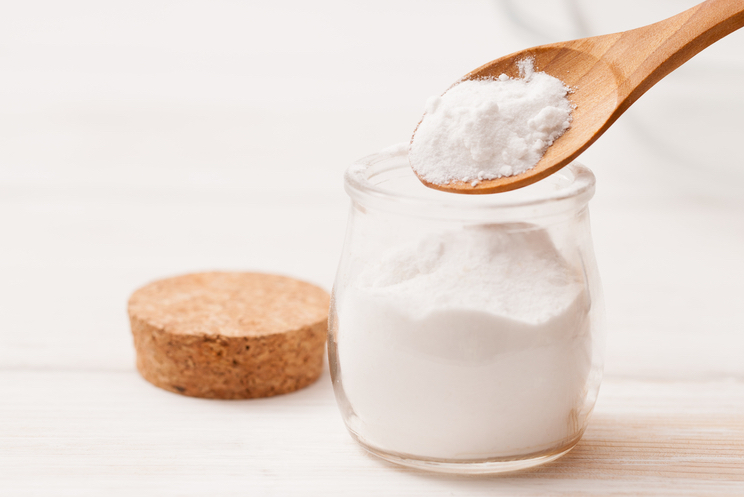 If you're looking for softer skin, try adding a common kitchen staple to your next bath: baking soda.
Baking soda has a natural pH balance that is similar to seawater. It's the reason why many scientists believe it can help soften the skin and treat dry, scaly patches. As further proof, studies also show it can help remove rough patches in certain skin disorders. (21)
To use: Add ¼ cup of baking soda to your next bath to experience softer skin.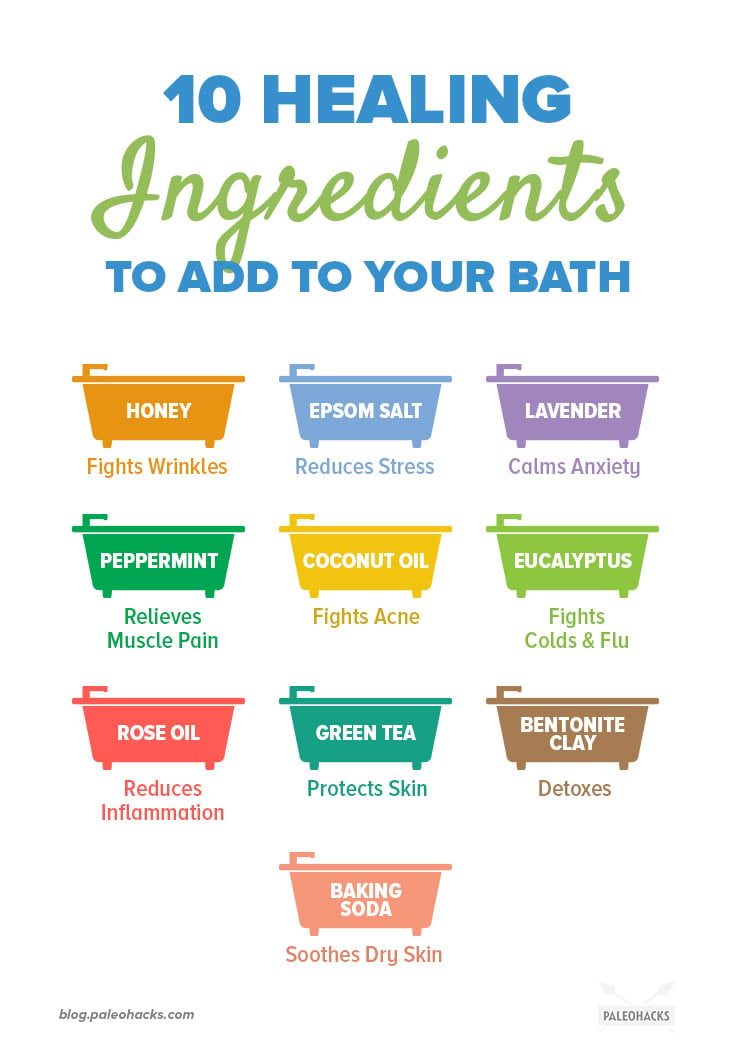 (You'll Also Love: 6 Natural DIY Bath Bombs Better Than Lush
)