If you're experiencing reflux-type pain, it might not be as simple as popping an antacid.
In fact, there's a condition where your upper stomach can push through the muscles in your chest, resulting in a painful hernia. If left unaddressed, you could be facing painful complications like abdominal pain and shortness of breath.
So how do you know if this is what you have? Here's what it means to have a hiatal hernia, and how you can identify it.
Do you struggle with bloating, gas, constipation, or other digestive issues? We've created a FREE guide to healing your gut naturally.
Click here to get your FREE copy of our Digestion Guide!
What is a Hiatal Hernia?
A hiatal hernia develops when part of the stomach is pushed through the diaphragm which is the muscle between the chest and abdomen. (1) When this "bubble" of the stomach escapes through the diaphragm, it is known as a hiatus which is where the term hiatal hernia comes from. The diaphragm is the major muscle that we use for breathing, and the stomach is right below. A hiatal hernia can occur in response to several factors, but certain risk factors make it more likely than others, like smoking or obesity.
---
Symptoms of a Hiatal Hernia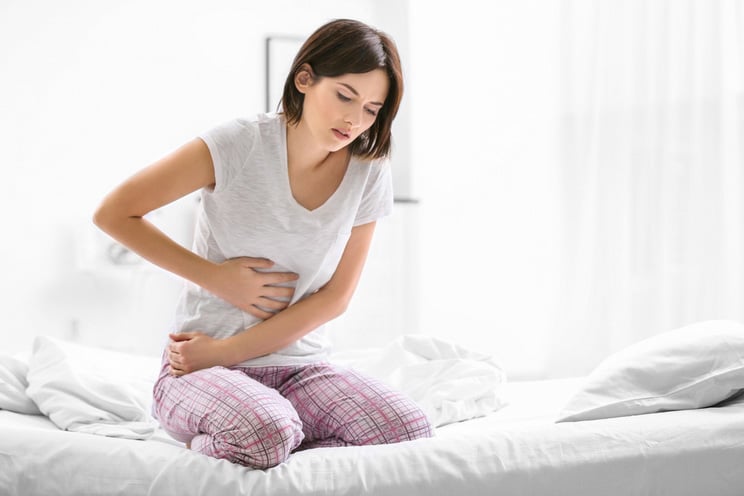 Small hiatal hernias don't consistently produce symptoms, and even serious ones might produce little to no signs that something is going on. (2) The best way to rule out a hernia is to speak with your doctor about any digestive symptoms that you're having, even if it seems like mild heartburn. Your doctor is the best person to assess your digestive health.
However, larger hernias will probably exhibit these symptoms:
Heartburn and acid reflux that worsens when lying down or bending over
Burping up food and/or liquid
Chest pains associated with heartburn
Abdominal pain
Difficulty swallowing
Shortness of breath
Frequent belching
Extremely serious symptoms which require attention for a medical emergency include the inability to pass gas or have a bowel movement, constant nausea, and vomiting.
Hiatal hernias can be mistaken to be peptic ulcers, or even heart problems, which can have some overlying symptoms. Having your doctor assess your symptoms is the safest way to ensure that you get the right medical care.
---
Risk Factors of Hiatal Hernia
Hiatal hernias are most often found in people over the age of 50. In fact, it can affect as many as 60 percent of people by the time they are in their 60s! (3)
While age is certainly a risk factor, hiatal hernias don't have a single, well-understood cause. Other contributing factors include:
Repeated pressure on the stomach muscles (i.e. vomiting, coughing, lifting heavy items, etc.)
Obesity
Genetics
Injury
Smoking
Most hiatal hernias require no treatment and eventually resolve themselves, but certain types can stay problematic, eventually requiring surgery to correct the hiatus. In rare cases, blood flow to the stomach can be impaired, resulting in serious complications. That's why it's important to get examined by a medical professional if you suspect that you have a hiatal hernia.
You can't fully prevent a hiatal hernia from developing, but you can manage the biggest risk factors. To reduce your chances of getting a hiatal hernia, consider the following:
Weight loss. People who are overweight are more prone to hiatal hernias.
Avoid any kind of tight clothing around the stomach or chest.
Use caution with abdominal and core-based exercises since these can strain the chest.
Don't strain during bowel movements. Pushing too hard can place too much strain on the abdominal and chest muscles.
Don't lift heavy objects. If you must, wear a back brace and use proper form to avoid injury to your diaphragm muscle.
---
5 Lifestyle Changes to Ease Hiatal Hernia Pain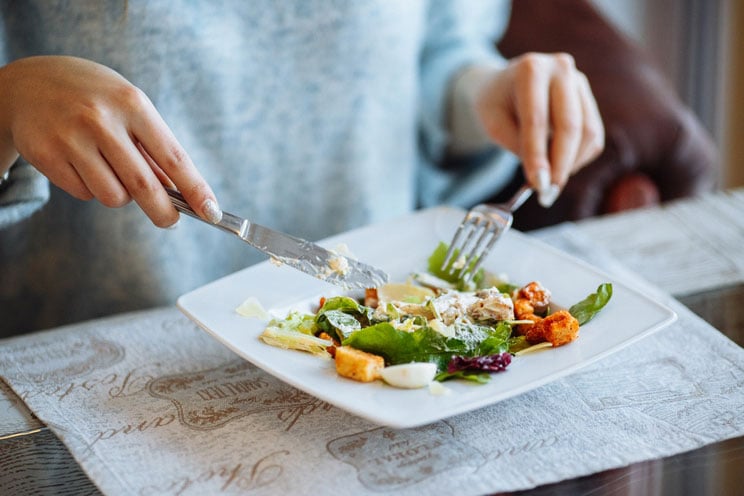 Conventional treatment for hiatal hernias often includes antacids and/or inhibitors to change the amount of stomach acid. While this might work to address the symptoms, it doesn't correct the underlying problem.
To find natural relief with a hiatal hernia, check out this list of easy lifestyle changes you can make, so you can start to feel better without inadvertently worsening symptoms.
Sit upright while you eat: This might sound ultra-simple, but slouching on the couch or otherwise not sitting straight up can alter how food travels to the stomach and can increase the chances of reflux or heartburn.
Chew thoroughly: Most people rush through meals and chew about half as much they should. This makes the stomach work harder to break down food and can result in gas bubbling back up into the esophagus, causing unpleasant burping, reflux, and pain.
Quit smoking: If you smoke or are around secondhand smoke, make changes to free yourself from any exposures.
Adjust movements: Don't bend over, twist, or exercise after eating, especially after dinner. This prevents foods from regurgitating up the throat.
Sleep elevated: Raise the head of your bed at least six inches to help prevent acid build-up in the esophagus.
---
6 Diet Tips for Easing a Hiatal Hernia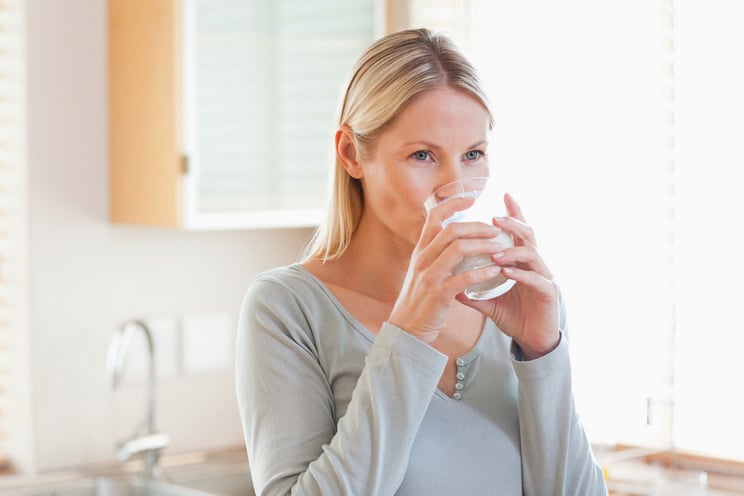 Even when making the above lifestyle adjustments, you might still experience symptoms. The good news is that the primary symptoms associated with hiatal hernia are reflux related, and can be addressed with diet the same way as heartburn.
Try these six diet tips to start feeling relief.
Eat Smaller Meals
Consider eating more frequent, smaller meals throughout the day rather than three big ones, since this reduces the volume of food that your stomach is trying to break down at any one time. Stop eating two or three hours before going to bed to prevent reflux after lying down. (4)
Avoid Trigger Foods
Foods that tend to cause reflux include spicy foods, fatty foods, fried foods, and acidic foods like tomatoes, citrus, onions, and garlic. Alcohol and caffeine can also make things worse. Reduce overall symptoms by cutting these trigger foods out of your diet for the short-term, though you may find that some foods need to be avoided longer term.
Eat Plenty Of Fiber
Fiber helps balance glucose and can improve the digestive process from start to finish. Eating enough fiber also helps with regularity. Fiber-rich foods include pears, avocado, apples, bananas, beets, artichoke, broccoli, almonds, sweet potatoes, and chia seeds.
Reduce Fat
While there are many types of fat that are healthy, fats can still be harder to digest for some people. If you struggle with reflux and heartburn, it's time to take it easy on the fat for a while and choose leaner meats and lower-fat foods until your digestion heals. (5)
Stay Hydrated
Dehydration worsens every condition in the body since it relies on water to transfer nutrients from cells. If our cells can't function as they should, we can't heal or recover from health problems. Be sure to drink water between meals, rather than during meals, since extra water dilutes stomach acid, making it harder to fully break down your food.
Take Enzymes
Digestion can be compromised when our stomach doesn't have the necessary enzymes and acid to break down foods. Most cases of acid reflux are a result of too little stomach acid, not too much, and reflux symptoms are reduced once the stomach contents move on to the small intestine. To boost digestion, take a combination enzyme supplement that contains hydrochloric acid as well as protease, amylase, and lipase.
(Read This Next: Bloated? Here Are 5 Tips to Help You Digest Fats and Get Things Moving)