Whip up these nutty meringue cookies with just five ingredients and less than 15 minutes of prep time!
If your normal cookie routine needs a makeover, these meringue cookies will be your new go-to recipe. While the outside becomes crisp and toasty in the oven, the inside remains chewy and light as they cool. The end result is a gluten-free treat that feels as if you're biting into a marshmallowy cloud.
Traditional meringue cookies are known for their light and airy texture. While the main ingredient almost always consists of whipped egg whites, this recipe also incorporates cream of tartar to act as a stabilizer. This makes the cookies sturdy and durable for serving while also preventing them from collapsing in the oven.
Looking for low carb keto recipes to burn fat and lose weight?
Click here to get your FREE Keto Breakfast Recipes Cookbook!
For sweetener, we use pure maple syrup to complement the rich tones of hazelnuts. The hazelnuts on top of the meringue also add extra depth and crunch. If you prefer to use other nuts, you can always sub in macadamia or almonds instead.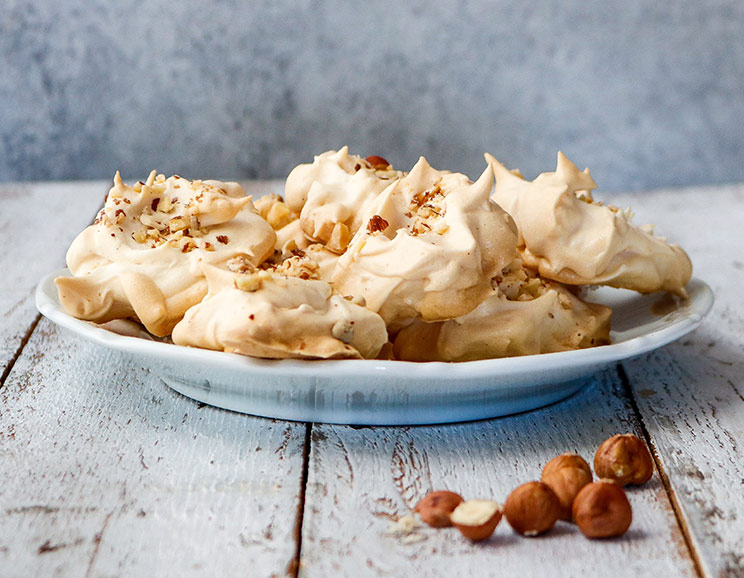 How To Whip The Egg Whites Into Soft Peaks
To get that light and airy texture, we first have to beat the egg whites with a handful of ingredients using an electric blender. You'll want to make sure there is no yolk included, since this will prevent the egg whites from foaming into the ideal texture.
The entire whipping process should take about six minutes to achieve the perfect stiff peak. You can easily check for the right consistency by lifting the beater upside down and ensuring the whipped mixture stands straight up (like a mountain peak).
Helpful Tips To Get Started:
Make sure to use a glass mixing bowl. Ensure the bowl is clean and dry to avoid unwanted moisture and oils. Skip the plastic bowls since they can be quite porous and leave traces of fat that prevent egg whites from increasing to full volume.
Be patient with cooling times. Although these cookies may still be slightly soft after baking, let them cool and harden in the oven for at least one hour. Make sure to leave the oven door cracked open during this process to prevent the cookies from over-cooking.
Make meringues on a dry day. Meringue cookies are easily affected by various temperatures and will soak up humidity in the air. When this happens, the cookies won't set correctly and could result in a limp, sticky texture.
Jennafer Ashley
Hazelnut Meringue Cloud Cookies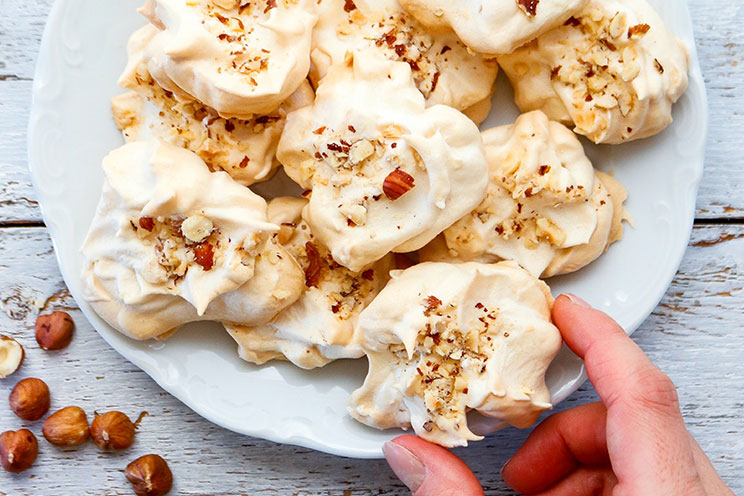 Cook Time:
1 hr 30 mins
1 hour 30 minutes
Prep Time:
15 mins
15 minutes
Nutrition facts:
1 grams of protein
4 grams of carbohydrates
1 grams of fat
Hazelnut Meringue Cloud Cookies
Whip up these nutty meringue cookies with just five ingredients and less than 15 minutes of prep time.
Tools
Large baking sheet

Medium mixing bowl

Double boiler

Electric mixer
Ingredients
2 large egg whites

1/4 cup maple syrup

1/2 t vanilla extract

1/8 t cream of tartar

1/4 cup finely chopped raw hazelnuts
Instructions
Preheat the oven to 225ºF and line a large baking sheet with parchment paper.

Whisk together the egg whites, maple syrup, vanilla extract, and cream of tartar in a medium mixing bowl.

Transfer the mixture into a double boiler and continue to mix until the temperature reaches 140ºF. This should take about 5 minutes.

Remove the pan from the heat and use an electric mixer to beat the mixture into stiff peaks, about 6 minutes. The ideal mixture should have a glossy marshmallow texture.

Spoon mounds of meringue onto a prepared baking sheet. Make sure to space about 2 inches apart.

Sprinkle with hazelnuts on top and bake for 1 hour and 30 minutes.

Turn the heat off and crack the oven open to let the cookies cool inside for 1 hour.

When ready, remove them from the oven and peel the cookies off the parchment paper.

Serve immediately or store in an airtight container for up to 1 week.
Looking for Paleo ingredients? Here's what we recommend:
Vanilla extract (Frontier)

Finding the right balance between indulgent and low carb is easy to do with our handy Keto Sweets Cookbook. Inside you'll find over 80 recipes ranging from brownies and cookies to ice cream and candy – all without using any refined sugars or gluten. Order your free copy today to see how simple it is to have your cake and eat it too!
(You'll Also Love: Keto Chocolate Cloud Cookies)