Who doesn't love a good burger? Especially if it's homemade, healthy and Paleo-friendly – infused with traditional Greek flavors and spices. Greek beef patties are one of many reasons why Greek cuisine is so darn tasty!

You can get an awesome char on burger patties using a very hot flat top and a little olive oil. For today's recipe, we're taking a quick trip to the Greek islands. A much needed escape in the comfort of your own home. Greek cuisine is full of herbs, spices and great grilled flavor. Think basil, oregano, dill and lots of garlic and onion – all of which are included in this recipe.
This recipe for Greek Beef Patties, or Biftekia, is sort of a burger /meatball combo. Instead of using breadcrumbs or flour, we'll use almond meal to keep it paleo. Almond meal makes a terrific substitute for breadcrumbs in meatball and meatloaf type recipes with a far better nutrient value. Almonds are high in Vitamin E, Manganese, Zinc and Potassium. A little egg helps to keep everything binded and creates a nice texture.
Trying to figure out exactly what to eat on Paleo? Look no further than our FREE 21 Day Paleo Meal Plan.
Grab Our FREE Paleo Meal Plan By Clicking Here!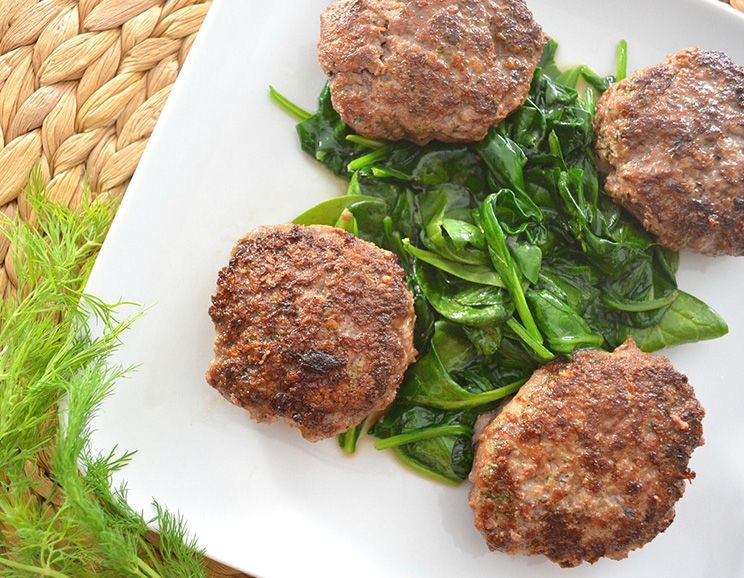 No bun is necessary. The Biftekia will be the star, served over a bed of spinach sautéed in grass-fed butter. Spinach is a nutritional powerhouse; high in Vitamins A, K and the mineral Folate, it's no wonder Popeye ate this stuff by the truckload. Together they create a complete and balanced Paleo meal full of quality fat and protein.
The entire recipe can be made in under 30 minutes which makes it perfect for weeknight cooking or busy days. You can also make a batch of patties ahead of time and keep them frozen until you are ready to thaw and cook them. I even eat mine for breakfast – hey there's an egg in it, right?
Jennafer Ashley
Greek Beef Patties (Biftekia)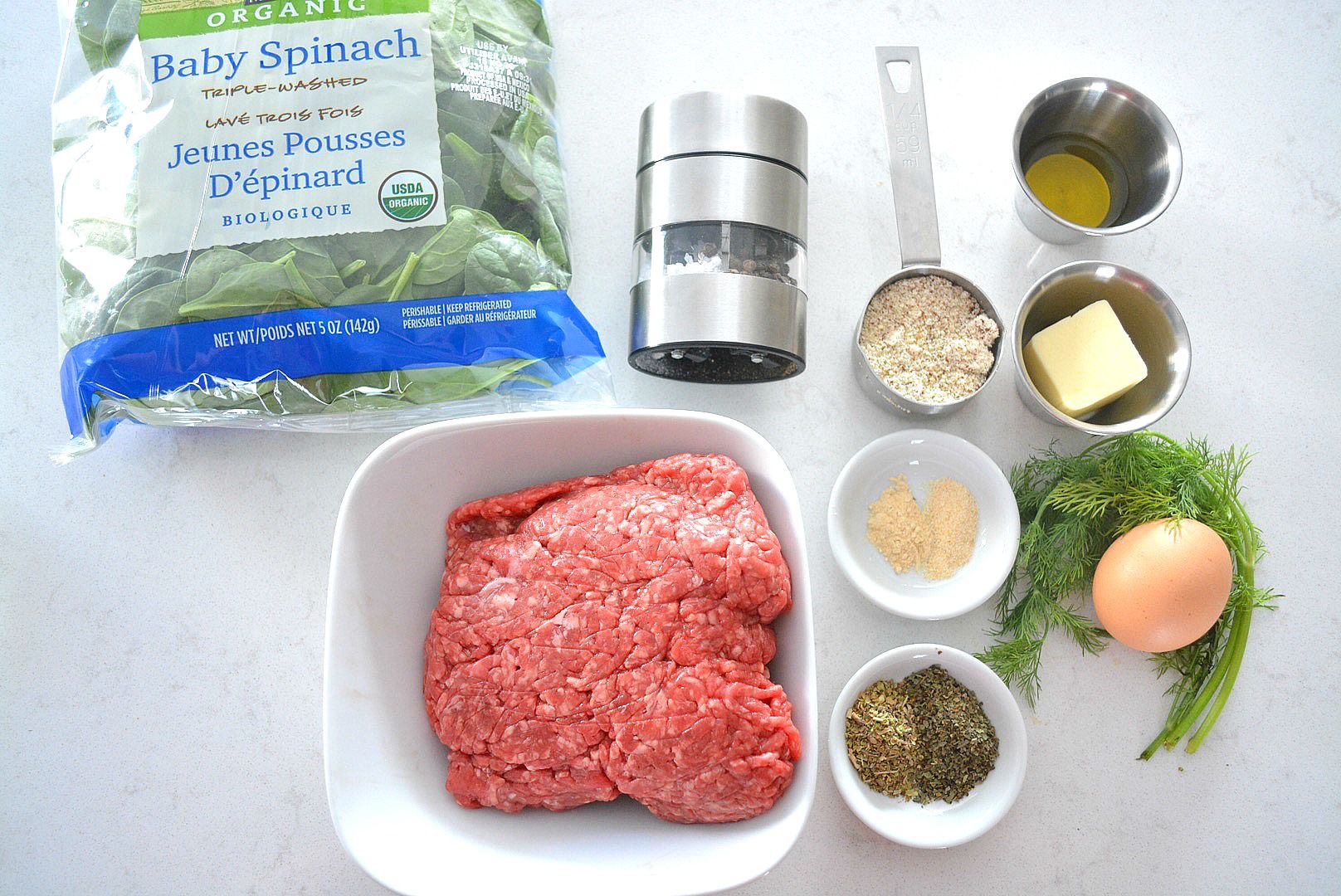 Cook Time:
15 mins
15 minutes
Prep Time:
10 mins
10 minutes
Greek Beef Patties (Biftekia)
Who doesn't love a good burger? Especially if it's homemade, healthy and Paleo-friendly - infused with traditional Greek flavors and spices.
Tools
Large mixing bowl

Large pan
Ingredients
1 lb 85% lean ground grass-fed beef

¼ cup almond meal / flour

1 egg

¼ t garlic powder

¼ t onion powder

1 t dried oregano

1 t dried basil

½ t black pepper

½ t sea salt

2 T fresh dill, finely chopped

5 oz package of spinach

2 T grass-fed butter

2 T olive oil
Instructions
In a large mixing bowl, combine beef, egg, almond meal and seasonings.

Mix well with hands to combine.

Form mixture into patties using a ⅓ cup measuring scoop.

Heat olive oil in a large pan over medium heat. Place beef patties on pan and cook five minutes on each side.

While patties cook, melt butter in a separate pan. Add spinach and sauté five minutes.

Serve patties over spinach.
You'll Also Love: Kale & Mushroom Sausage Patties

Lose weight, fight inflammation, and soothe your digestion with delicious meals like juicy skirt steak with cucumber & radish salad, succulent pulled pork, and more!
FREE Cookbook:
80 Gourmet Paleo Recipes from
a Professional Chef trained at Le
Cordon Bleu in Paris
FREE Cookbook:
80 Gourmet Paleo Recipes
from a Professional Chef
trained at Le Cordon Bleu
in Paris