A delightful, lighter version of a traditional eggs Benedict, this Paleo-friendly salmon eggs Benedict is packed with flavor, nutrients and health promoting antioxidants.
Wild salmon is the ultimate protein. It's loaded with heart healthy omega-3 fatty acids and is an excellent source of vitamins B12 and D. If you're looking for an early bite that won't make you tired for the rest of the day, wild salmon is also a great option for an energy boosting breakfast.
For this salmon eggs Benedict, I used Alaska Gold's Easy Salmon. Their Easy Salmon is similar in texture to ground beef and makes for a great option when putting together quick, healthy meals. There are endless ways to use it but for this recipe, I made simple salmon patties to top off my eggs Benedict.
Love Paleo Breakfasts? Then you'll love our FREE Paleo Breakfast Recipes.
Click here to get your FREE copy of our delicious Breakfast Recipes!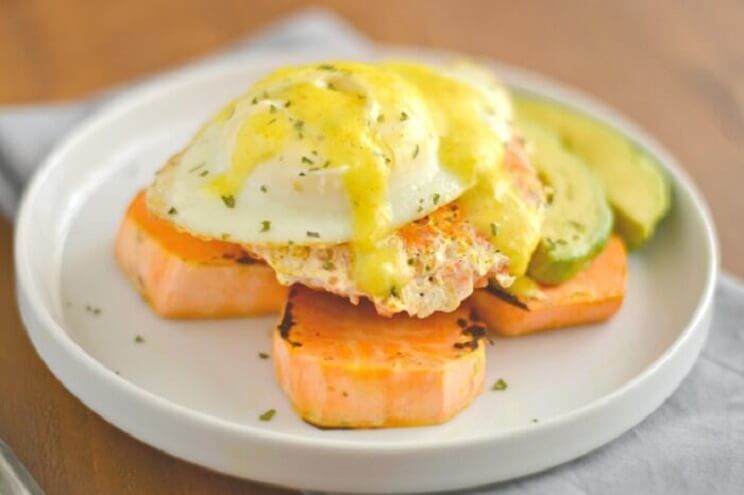 To spice up the salmon and add a nutritional bang, I mixed in turmeric. Turmeric is high in antioxidants, which our bodies need to protect from oxidative stress and nutritional injury. I paired the turmeric-laced salmon patties with grilled sweet potato slices (aka "muffins") and topped it with a fried egg. Then I added a Paleo-friendly hollandaise sauce oozing with creamy goodness.
Megan Olson
Salmon Eggs Benedict with Sweet Potato 'Muffins'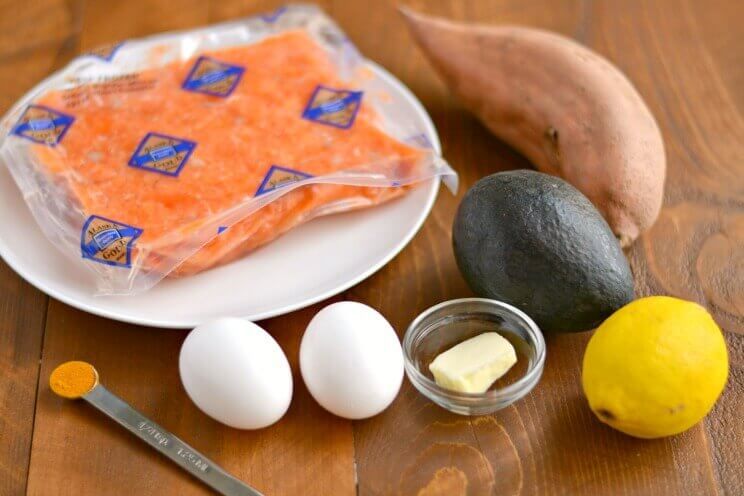 Cook Time:
30 mins
30 minutes
Prep Time:
15 mins
15 minutes
Salmon Eggs Benedict with Sweet Potato 'Muffins'
A delightful, lighter version of a traditional eggs Benedict that's Paleo-friendly, packed with flavor, nutrients and health promoting antioxidants.
Ingredients
FOR SALMON PATTIES:

1 package Alaska Gold Easy Salmon

1 egg

½ t turmeric

½ t garlic powder

Salt and pepper to taste

FOR SWEET POTATO 'MUFFINS':

1 small sweet potato, peeled and sliced into 4 two-inch thick pieces

Salt and pepper to taste

FOR EGG:

1 egg for frying

Salt and pepper to taste

FOR SAUCE:

1 egg yolk

1 T butter

2 T lemon juice

½ t turmeric

Pinch of salt

OPTIONAL: Sliced avocado for topping
Instructions
Heat grill pan to medium heat and coat with coconut oil.

In a small bowl, whisk egg with Easy Salmon, turmeric, garlic powder, salt and pepper. Gently form into 4 patties. Note: they will be loose but they stick together fine after grilling.

Place salmon patties on grill pan and gently press down so they aren't too thick (otherwise they won't cook through).

Cook 7 minutes until salmon patties are firm on the bottom then flip. Cook another 7 minutes.

Remove cooked salmon patties from pan and transfer to a plate.

Place sliced sweet potato on grill pan. Cook 5 minutes on each side until browned and slightly tender.

While the sweet potatoes are cooking, preheat a saucepan to low heat and another separate frying pan to medium-low heat.

In the frying pan, crack the egg. Once the edges of the egg are firm, cover and continue cooking another 1-2 minutes.

While the egg is cooking, whisk together the ingredients for the sauce in the saucepan. Continue whisking 2-3 minutes, then turn off heat. Do not let the sauce sit on the heat without stirring, as the egg will cook.

Assemble the eggs Benedict by placing cooked sweet potatoes on a plate. Top with a salmon patty, fried egg, and a healthy drizzle of sauce.
Note: For the recipe above, you'll be able to make four salmon patties. However, the egg, sweet potato "muffins" and sauce measurements are for one egg Benedict with one salmon patty. So, feel free to increase the measurements according to how many patties you plan on serving.
Pro tip: The best part about this salmon eggs Benedict recipe is that you can tailor it to your tastes. Feel free to swap the sweet potato slices with coconut flour biscuits or even slices of fresh cucumber!

PS: If you're looking for more healthy salmon recipes or have a original (and tasty!) dish you want to share, check out Alaska Gold's Easy Salmon Recipe Contest below.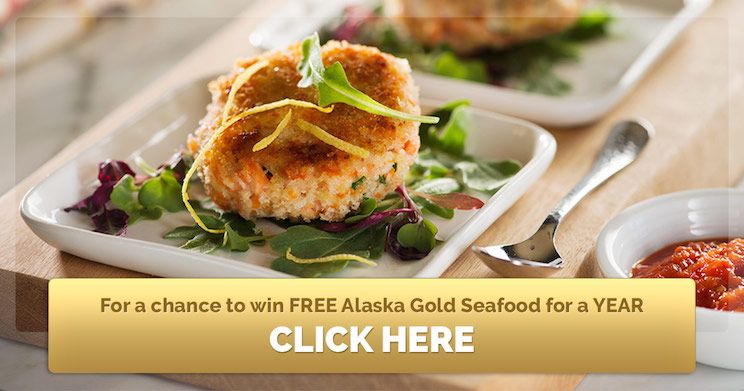 (You'll Also Love: Salmon Burgers with Mango Jicama Slaw)
This post is sponsored by our friends at Alaska Gold. Our goal is to always bring you healthy, Paleo-friendly articles that we know you'll love. We only feature trusted brands approved by the PaleoHacks team.