Start your morning with a hot stack of light, fluffy, and totally eggless pancakes!
Whether you're sensitive to eggs or want to try something new, these eggless pancakes are for you! This recipe uses flaxseed in lieu of eggs to help keep them together. When combined with just the right amount of water, flaxseeds emulate the binding nature of eggs to yield moist, fluffy pancakes.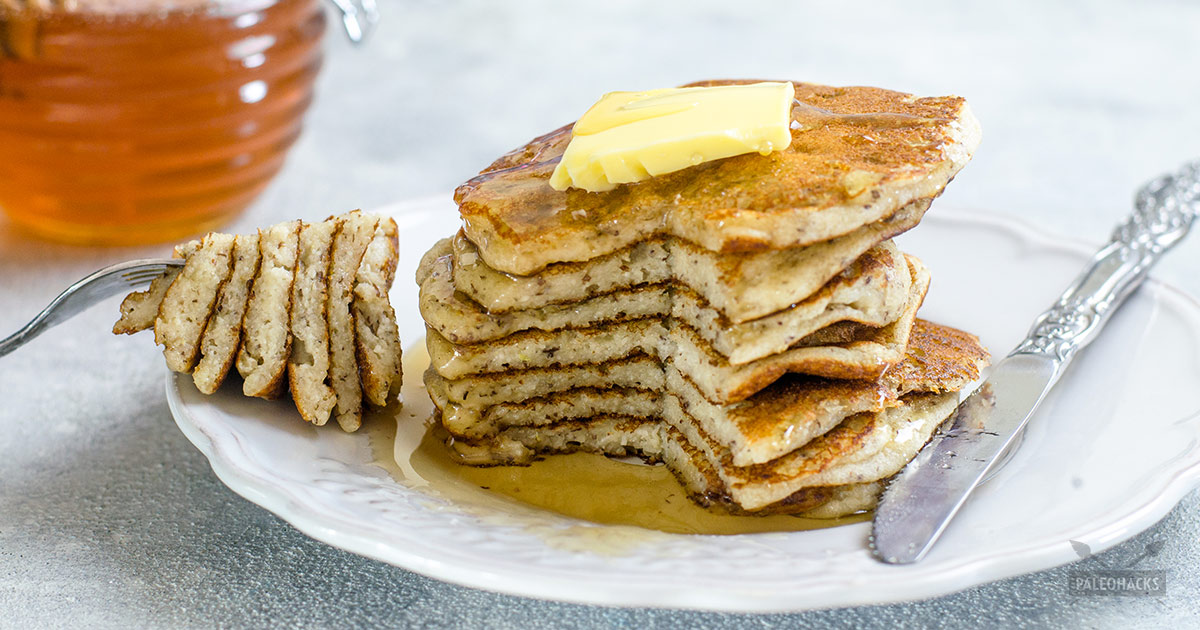 To make one flax "egg," mix one tablespoon of ground flaxseeds with three tablespoons of water, and refrigerate for at least 10 minutes to allow it to thicken. Always do this step first to save on time!
Almond flour and a little tapioca flour make the bulk of this recipe, while a wet mixture of milk, honey and the flax egg is slowly incorporated. Tip: Do not overmix the batter! It can result in flat pancakes.
Love Almond Flour Recipes?
Get our FREE Almond Flour Recipe Cookbook here!
Use a ¼ measuring cup to scoop the batter onto the skillet in equal amounts. Keep your eye on them, as almond flour can burn easily and you may not see bubbles forming on the surface as you would with regular pancakes. Use a thin spatula to gently lift the eggless pancakes before flipping, making sure the underside is nicely browned. Carefully flip and cook for one more minute on the other side. Remove to a plate and repeat with the remaining batter. Serve warm and top with fruit, nuts, maple syrup or honey.
Dina Hassan
Eggless Perfectly Fluffy Pancakes

Cook Time:
15 mins
15 minutes
Prep Time:
10 mins
10 minutes
Eggless Perfectly Fluffy Pancakes
Start your morning with a hot stack of light, fluffy, and totally egg-free pancakes!
Tools
Medium bowl

Large bowl

Whisk

Skillet

¼ cup measuring cup

Spatula
Ingredients
1 T ground flaxseeds + 3 T water

1½ cups almond flour

¾ cup tapioca flour

1 t baking soda

1 cup almond milk

1 t honey

Coconut oil to grease the pan
Instructions
To make the flax egg, whisk the flaxseed and water in a medium bowl until well combined. Place in the fridge for 10 minutes to thicken.

In a large bowl, combine the almond flour, tapioca flour and baking soda.

Add the almond milk and honey to the flax egg and whisk well.

Add the wet ingredients to the almond flour mixture, stir until combined.

Grease a skillet with coconut oil and set over medium heat.

Using a ¼ cup measuring cup, scoop the batter onto the skillet. Cook for 2 to 3 minutes, then flip and cook on the opposite side for an additional minute or two, or until golden brown.

Repeat the process with the remaining batter, adding more coconut oil as needed. Serve the pancakes warm with your favorite toppings.
Tips:
This recipe makes 8 small pancakes, but you can double or triple the recipe to serve a larger crowd.

Try packing up these pancakes for lunch. Just smear with nut butter and fruit, and top with another pancake for a sweet "sandwich."
Looking for Paleo ingredients? Here are a few we'd recommend:
Almond flour (Bob's Red Mill)
Tapioca flour (Authentic Foods)
Raw Honey (Bee Farms)
Cold pressed coconut oil (Viva Naturals)

(You'll Also Love: 17 Pancake Recipes Worth Waking Up For)