Relieve common cold and sinus symptoms with this 3-ingredient vapor rub made with coconut oil and soothing eucalyptus.
Chest congestion and a stuffy nose are telltale signs of a cold. Instead of reaching for petroleum-based vapor rubs, give this natural version a try! All you need is a double-boiler and a few simple ingredients to whip up this calming topical remedy.
This 3-ingredient vapor rub includes the soothing effects of eucalyptus oil to naturally decongest airways. Along with opening up airways, eucalyptus oil offers a minty scent that contains powerful anti-microbial, anti-inflammatory, and immune-stimulating properties. When inhaled, these properties help break up chest congestion and reduce nasal inflammation. It can also benefit those who suffer from bronchitis, asthma, or other breathing ailments. (1, 2)
Want naturally radiant skin? We've created a FREE guide to give you the best tips & tricks for natural skincare.
Click here to get your FREE copy of our Skincare Guide!
Note: If applying to infants or children over two, make sure to look for eucalyptus radiata (not eucalyptus globulus) as the essential oil of choice. Do not use on infants less that one year of age and always consult a pediatrician before use.
Added coconut oil and beeswax makes the application easy as it melts on contact with the skin. Because they're thicker in texture, these oils absorb slowly into the skin and allow the scents of eucalyptus to linger on a little longer. Coconut oil acts as a carrier oil, helping to dilute the eucalyptus oil and deliver healing benefits to the skin. This helps reduce the risk of allergic reactions that essential oils can cause at full strength. Tip: Use caution when applying new essential oils to the skin. Perform a skin test by applying two drops of eucalyptus oil to half a teaspoon of coconut oil and rub onto the forearm. Cover with a bandage and leave on for 24 hours. If no redness occurs, you're good to go.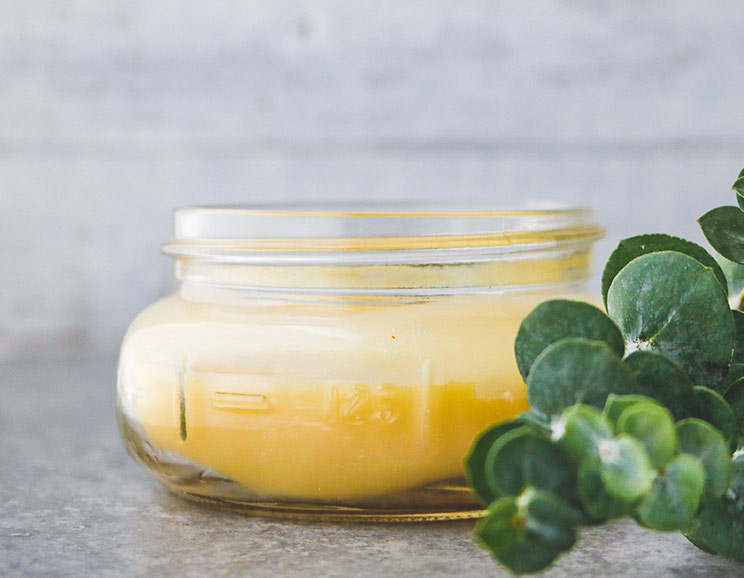 To get started, combine the coconut oil and beeswax in a double boiler over medium heat. Stir occasionally for about ten minutes, then carefully remove the bowl from the heat. Stir in fifteen drops of eucalyptus oil into the bowl and pour the mixture into an eight-ounce jar. Refrigerate for two hours to set, and then store in a dry cool spot.
When ready to use, scoop out half a teaspoon from the jar and gently rub onto the chest area. Wash your hands thoroughly and inhale the aroma to experience instant decongestant relief. For best results, use while lying down and avoid contact near the eyes and mouth.
Add one of these soothing essential oils in addition to eucalyptus oil for extra aroma:
3 to 5 drops peppermint oil – cools and soothes
5 drops lavender oil – relaxing
5 drops clove oil – warming
Jennafer Ashley
Breathe Easy DIY Eucalyptus Vapor Rub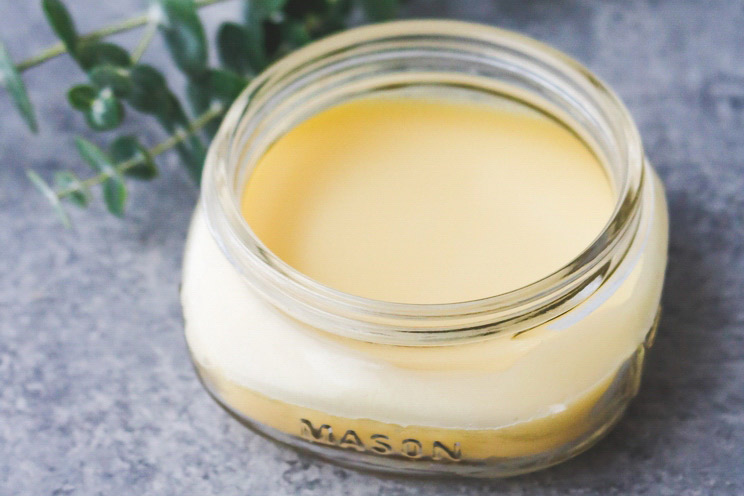 Inactive Time:
2 hrs
2 hours
Cook Time:
10 mins
10 minutes
Prep Time:
5 mins
5 minutes
Breathe Easy DIY Eucalyptus Vapor Rub
Relieve common cold and sinus symptoms with this 3-ingredient vapor rub you can make at home with coconut oil.
Tools
Double boiler

8-ounce jar
Ingredients
1/2 cup coconut oil

1/3 cup beeswax pellets

15 drops eucalyptus essential oil
Instructions
To Make: Combine the coconut oil and beeswax in a double boiler over medium heat. Heat until melted, about 10 minutes stirring occasionally.

Remove from the heat and stir in the drops of eucalyptus oil. Pour into an 8-ounce jar and then transfer to the refrigerator to set for 2 hours.

To Use: Scoop out a 1/2 teaspoon and gently rub onto the chest area. Inhale the aromas and wash your hands thoroughly.

Avoid contact with eyes and mouth and store in a dry cool spot when finished.
Looking for Paleo ingredients? Here's what we recommend:
Cold pressed coconut oil (Viva Naturals)

(You'll Also Love: DIY Peppermint + Eucalyptus Bath Bombs for Colds, Sinus Relief + Achy Muscles
)