Here's what could be hiding in your raw fish – and how to spot anything fishy before it's too late.
Do you suspect there's something fishy going on in your raw seafood? Raw fish is a breeding ground for many types of bacteria, and it's important to know what the dangers are when indulging in sushi.
9 Dangers of Eating Raw Fish
While dishes like sushi and ceviche have been served and loved for generations, there are several scary things potentially hiding in them that you should be aware of before indulging. Raw fish can become infected with several types of bacteria and worms, or even have a higher concentration of dangerous chemicals.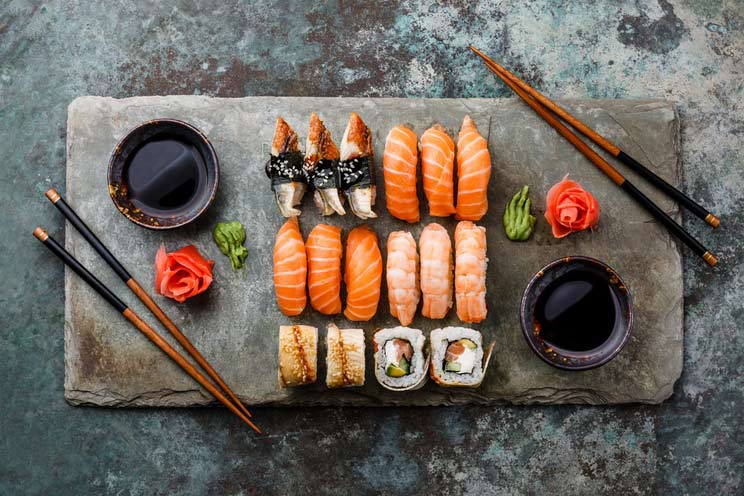 Here are the most common types of bacteria and infections that raw fish tend to harbor.
1. Salmonella
Raw fish can contain harmful bacteria, including salmonella, which can cause diarrhea, cramps, vomiting, headache, and fever. Salmonella is your classic "food poisoning" bacteria, as it's one of the most common bacterial infections that causes the above symptoms.
One study found that an estimated 10 percent of imported raw fish and 2.8 percent of domestic raw fish tested positive for salmonella. (1)
2. Liver Fluke
Liver flukes are a group of parasitic flatworms that take residence in the livers of infected animals. Eating raw seafood with liver flukes can lead to a disease known as opisthorchiasis, which causes bile duct infections, gallbladder inflammation, gallstones and even liver cancer. (2)
It is estimated that roughly 17 million people around the world suffer from opisthorchiasis, mostly due to the consumption of raw fish and unclean kitchen surfaces.
3. Vibrio Vulnificus
Vibrio vulnificus, an aggressive bacteria found in raw seafood (particularly oysters), is the leading cause of death related to seafood consumption in the U.S. According to studies, most people who are infected develop sepsis and severe cellulitis, with a 50 percent chance of dying from the infection. Researchers state that even with quick diagnosis and aggressive therapy, the fatality rate per case is still between 30 and 40 percent. (3)
4. Tapeworms
Tapeworms often infect seafood breeds that spawn in freshwater, like salmon. They can reach a length of up to 49 feet (yikes!) and cause a condition called diphyllobothriasis that results in fatigue, diarrhea or constipation. Most of the time, there are no symptoms of tapeworm. (4)
5. Roundworms
Roundworms are parasites found in freshwater fish and some saltwater fish. While they can't live in humans for very long, they can cause an immune reaction when they try to attach themselves to your intestinal wall, creating inflammation, pain, and vomiting. (5)
6. Mercury
Unfortunately, all types of fish today contain some amount of toxic mercury, with large fish like tuna containing higher levels. Raw fish may contain even higher levels of mercury than the cooked variety, with studies showing that mercury levels can be up to 60 percent lower in cooked fish than in raw fish. (6)
Mercury is extremely toxic and accumulative (meaning it builds up in your body over time), causing problems such as irritability, fatigue, behavioral changes, tremors, headaches, hearing and cognitive loss, dysarthria, incoordination, hallucinations, and even death. (7)
7. Pollutants
Farmed fish in particular are likely to accumulate toxic pollutants, such as polychlorinated biphenyls (PCBs) and polybrominated diphenyl esters (PBDEs). These pollutants have been shown to cause a host of diseases, including cancer. (8, 9)
Fortunately, cooking your seafood reduces the risk of ingesting these toxins. One study found that the amount of pollutants was 26 percent less in cooked salmon than in raw. (10)
8. E. Coli
E. coli are another strain of bacteria that could be hiding in raw fish. While most are harmless and result in mild symptoms such as fatigue, diarrhea, and abdominal cramps, some strains can cause kidney failure and death. (11)
9. Listeria
Listeria is yet another bacteria strain that can be found in raw seafood and fish. (12) It is most likely to infect those with weak or developing immune systems, such as children, pregnant women, or the elderly, and cause symptoms ranging from flu-like symptoms to loss of balance and convulsions. (13)
---
How to Identify Bad Fish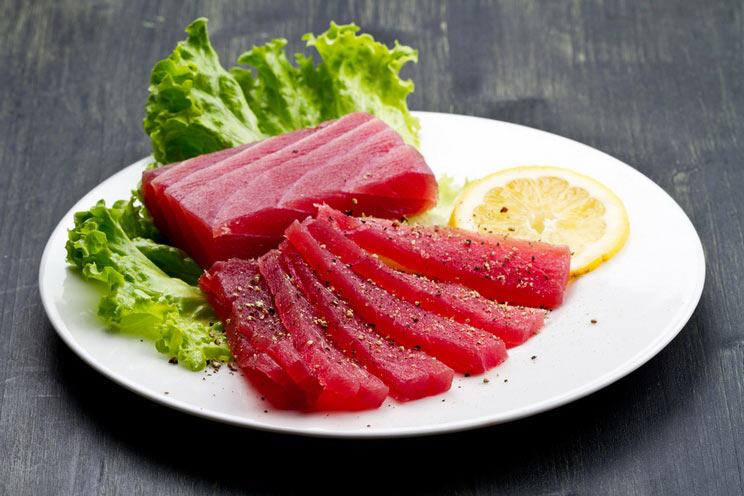 Of course, if you're an avid sushi or sashimi-lover, this isn't to say you should never touch your favorite dish again. This is simply to create an awareness of the dangers of raw fish consumption so you can recognize symptoms if you do become infected, and to be informed enough to make good seafood choices.
First, it's important to know how to identify a bad fish before you eat it.
While you should always buy frozen fish if you're going to eat it raw, there are some additional clues to look for to help you identify bad fish in markets and grocery stores.
Smell
Smell is a telltale indicator of bad fish. If you smell ammonia, a "fishy" smell, or anything gag-inducing, keep walking. Fresh fish should always smell like the ocean, and nothing more.
Skin
The flesh of an unfrozen fish should be firm and spring back when you touch it.
Eyes and Gills
If you're purchasing a whole fish, the eyes should be clear and not red or bulging. The gills should also be red; any other color signifies aging.
Slime
Fish that has or is about to go bad will have a coating of slimy moisture over it and feel slippery to the touch.
---
If You're Going Raw, Buy Cold and Wild
Consuming wild fish can reduce your exposure to chemicals like mercury, so avoid farmed fish whenever possible.
You should also buy fish that is or has been frozen, as the freezing process effectively kills parasites and worms. If you're unsure if a fish has been frozen or not, put it in your freezer at home for at least 7 days before consuming, and make sure to thaw it slowly (for quality purposes).
The one exception is pelagic fish like tuna (pelagic meaning they don't live close to the bottom or near the shore, and aren't bottom feeders). Pelagic fish are often eaten raw (without freezing first) because they do not carry parasites that are dangerous to humans.

(Read This Next: Raw vs Cooked – Which Vegetables Are Healthier for You?
)