Dig into this triple-layer mousse, complete with crispy cookie crumbles and dairy-free whipped cream!
Each layer of this decadent dessert is filled with natural flavors that are rich in fiber and completely grain-free. Easy to make, this recipe creates four single servings you can easily share with the entire family.
The first layer is a Paleo take on cream-filled cookie sandwiches but with way less sugar. To replicate a similar Oreo-like taste, we sub in raw cacao and almond flour for the chocolate cookies and coconut butter for the cream filling. Tip: You can use any Paleo-friendly cookie as the base, we just love how the Oreo-like filling blends with the mousse in this one.
Curious about ketosis?
Click here to get the FREE Easy Keto Guide to learn the right way to go keto!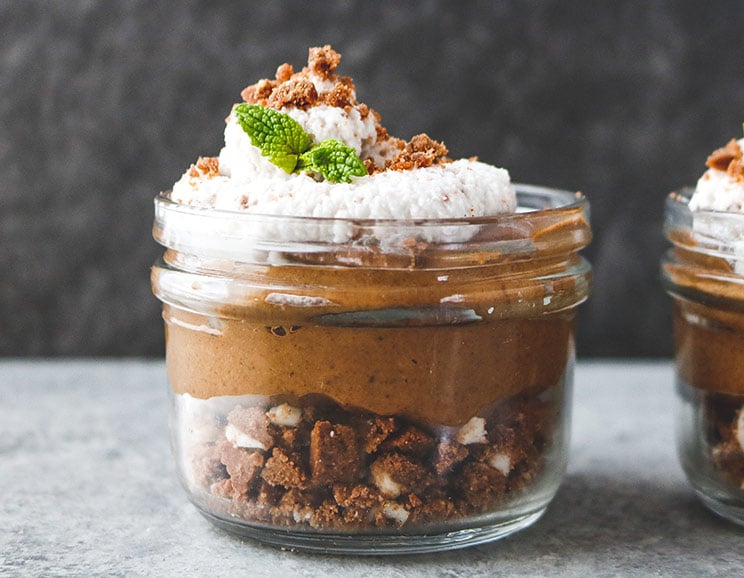 The middle layer is a blend of avocado, cacao powder, and coconut milk blended until smooth and sweetened with maple syrup. Cacao powder adds a high concentration of powerful antioxidants, while the avocado is rich in healthy fats. (1)
The final layer is a coconut whipped cream mixed with "chocolatey" cookie crumbles. Its fluffy texture is a result of blending the coconut cream with rich vanilla to make a dairy-free version of traditional Cool Whip.
When you're ready, simply pile on the layers and dig in!
Jennafer Ashley
3-Layer Cookies n' Cream Mousse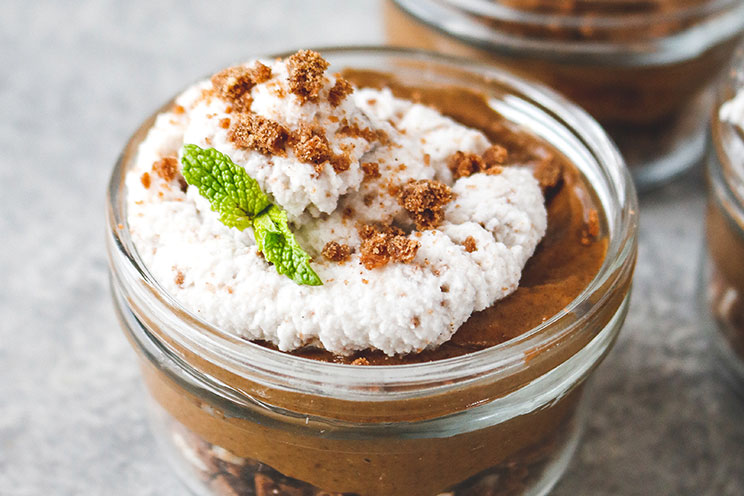 Cook Time:
20 mins
20 minutes
Prep Time:
30 mins
30 minutes
3-Layer Cookies n' Cream Mousse
Feed into your sweet tooth with a triple-layer mousse, complete with crispy cookie crumbles and dairy-free whipped cream.
Tools
Parchment paper

Medium baking sheet

Medium mixing bowl

2-inch round cookie cutter

Double boiler

Food processor

4 6-oz jars for serving
Ingredients
For the Cookie:
1 ½ cups blanched almond flour

2 T cacao powder

1 large egg, room temperature

1/2 cup coconut oil, melted

1/3 cup maple syrup
For the Cookie Cream Filling:
1/2 cup coconut butter

2 T honey
For the Mousse:
2 cups mashed ripe avocados

1/4 cup canned unsweetened coconut milk

1/4 cup cacao powder

1/3 cup maple syrup
For the Coconut Whipped Cream:
1 ½ cups canned unsweetened coconut cream

1/2 t vanilla extract

3 T honey
Instructions
Preheat the oven to 350ºF and line a baking sheet with parchment paper.

To Make the Cookies: Combine all the cookie ingredients in a medium mixing bowl. Stir well until thoroughly combined, then place inside the freezer for 5 minutes.

Remove the cookie dough from the freezer and line a working surface with a 12x12 sheet of parchment paper. Roll the dough out so that it measures about 1/4 inch in thickness.

Use a 2-inch round cookie cutter to cut out 12 cookies and place the cutouts onto a baking sheet. Bake for 12 minutes, then remove and let them cool at room temperature for at least 10 minutes.

To Make the Cookie Filling: Melt the coconut butter in a double boiler for about 7 minutes. Stir in the honey until well combined, then remove from the heat.

Reserve two cookies off to the side and use the other ten to create five cookie sandwiches. Fill each cookie sandwich with 2 teaspoons of filling in between, then allow them to set at room temperature for 20 minutes.

To Make the Mousse: In a food processor, blend together the mousse ingredients for about 15 seconds, scraping down the sides as needed. When the mixture is smooth and thick, place it inside the refrigerator until ready to use.
To Make the Whipped Cream: Combine the coconut cream, honey, and vanilla extract in a medium mixing bowl. Use an electric mixer to beat the mixture for about 15 seconds or until it becomes fluffy.

Take two of the reserved cookie rounds and chop them into small crumbles. Fold in half of the cookie crumbles into the whipped cream and set the rest aside for garnishing.

How to Layer the Jar: Chop the cookie sandwiches into pieces and divide among the four small serving jars. Top each jar with 1/2 cup of mousse and finish with whipped coconut cream and the remaining cookie crumbles.
Looking for Paleo ingredients? Here are a few we'd recommend:
Almond flour (Hodgson Mill)
Raw cacao powder (Healthworks)
Cold pressed coconut oil (Viva Naturals)
Monk fruit powder (Julian Bakery)
Coconut butter (Artisana)
Coconut milk (Native Forest)
Coconut cream (Native Forest)
Vanilla extract (Frontier)

PS: The crunchy and creamy blend of textures in this cookies and cream mousse might be hard to beat, but there are many more Paleo desserts to be found in our book, Paleo Sweets.
S'mores brownies with fluffy toasted marshmallow tops and impossibly rich chocolate pudding pie are just a few of over 60 Paleo-friendly recipes found in the book. You'll love that you can still indulge and keep in line with your health goals.
(You'll Also Love: 3-Layer Keto Freezer Snacks)