For a fun twist on breakfast, whip up these gluten-free waffle pops topped with fresh berries and chopped nuts!
Waffles are a breakfast staple and taste even better when they're turned into delicious pops. These 6-ingredient nibblers are perfect to serve up at home for a gluten-free treat that tastes just as delicious as they look. With minimal prep work and Paleo-friendly ingredients, this dish makes for a win-win dessert the whole family can enjoy!
Coconut flour is a gluten-free substitute that makes these Belgian-style waffle pops just as fluffy as the classic. Containing zero processed ingredients, this high-fiber and high-protein flour will keep you feeling full long after brunch ends. Its absorbent and spongy texture also gets plenty of moisture from eggs to help create an uber-fluffy end result.
Want to go Paleo? Not sure where to start?
Start with this FREE Paleo For Beginners Guide Today!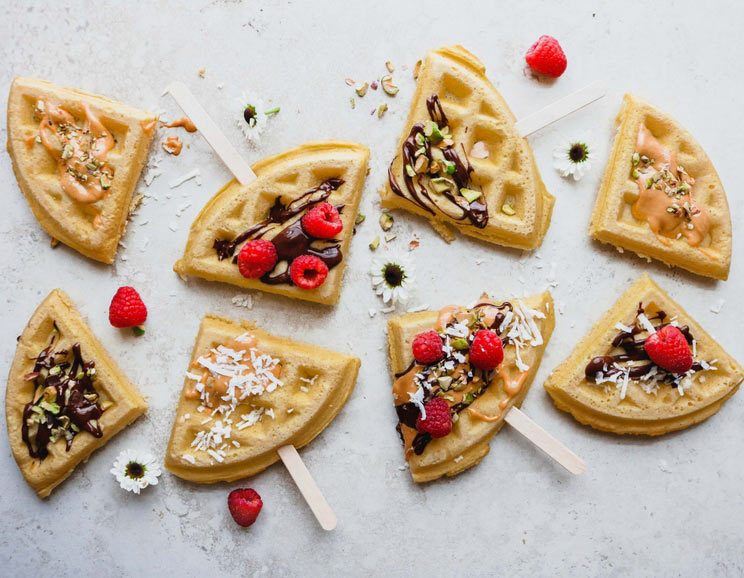 When it comes to toppings, let your imagination run wild. Fresh berries add a pop of color and fruity freshness while melted dark chocolate and almond butter create dessert-like decadence. Add in a bit of crunch with unsweetened coconut flakes and chopped pistachios or keep things traditional with grass-fed butter and maple syrup. You can also consider other options like hemp hearts, sliced almonds, chopped dates, and even bacon for added flavor!
To begin cooking, whisk the eggs in a medium mixing bowl and add the remaining ingredients. Make sure to break up any visible clumps in the mixing bowl. Next, grease a waffle maker with coconut oil and use 1/2 cup to scoop out the batter and pour evenly into the preheated pan. Close the waffle maker and cook for 4-5 minutes. When finished, use a heat-safe spatula to gently lift the waffle out. Then, repeat the process with the remaining mixture. Slice the waffles into eight triangles and slide a popsicle stick into each one when finished. Drizzle and sprinkle with desired toppings and serve immediately.
Jennafer Ashley
Coconut Flour Waffle Pops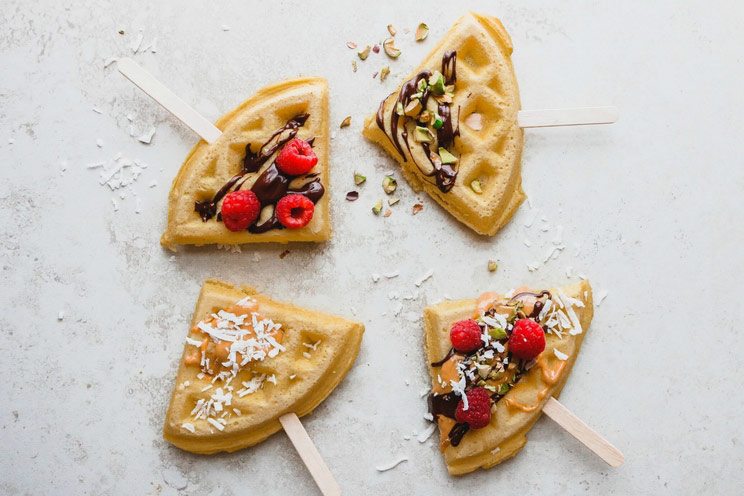 Cook Time:
10 mins
10 minutes
Prep Time:
10 mins
10 minutes
Coconut Flour Waffle Pops
Delight mom this Mother's Day with these gluten-free waffle pops topped with fresh berries and chopped nuts.
Tools
Waffle maker

Popsicle sticks

Whisk

Medium mixing bowl
Ingredients
5 large pasture-raised eggs

1/3 cup coconut flour

3 T coconut oil, melted + more for greasing

1/2 t baking powder

1/8 t vanilla bean powder or vanilla extract

1/8 t sea salt

Optional toppings: melted dark chocolate, berries, almond butter, unsweetened coconut flakes, chopped pistachios
Instructions
In a medium mixing bowl, beat the eggs until smooth. Stir in the coconut flour, coconut oil, vanilla bean, baking powder and sea salt.

Grease the waffle maker with coconut oil and heat according to directions. Scoop 1/2 cup of batter on waffle maker and cook 4-5 minutes. Repeat with the remaining batter.

Slice the waffles into 8 triangles and slide the popsicle sticks into the bottom. Sprinkle with your toppings of choice.
Looking for Paleo ingredients? Here are a few we'd recommend:
Coconut flour (Nutiva)
Cold pressed coconut oil (Viva Naturals)
Almond butter (Barney)

(You'll Also Love: Paleo and Keto Almond Flour Waffles)