Make this dairy-free coconut Panna Cotta in just 10 minutes!
Panna Cotta is Italian for "cooked cream," an Italian dessert of sweetened cream thickened with gelatin. It can be flavored with almost anything, from fruit to coffee to vanilla.
Traditional Panna Cotta is made with a heavy cream base, but this dairy-free version is made by substituting heavy cream with coconut cream. To make the base thicker, gelatin is cooked with the coconut cream, then blended to get a custard-like texture.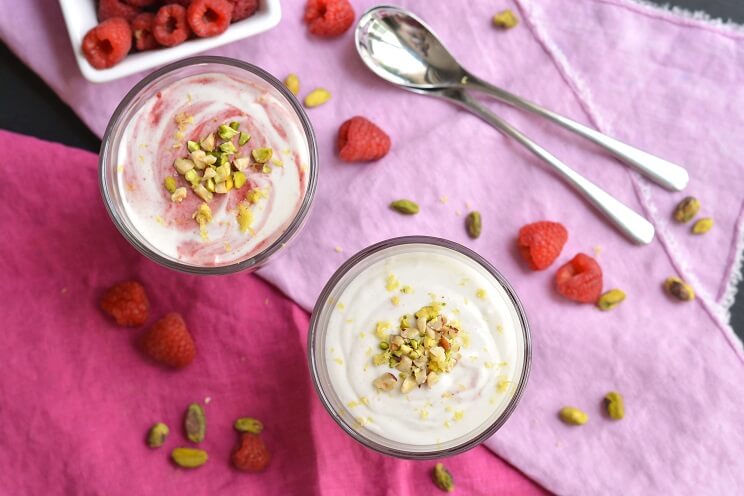 To add a decadent flavor, rose water is added to the cream. Rose water is flavored water steeped in rose petals, and is known for is antioxidant benefits and reducing anxiety. Note: When adding rose water to recipes, be careful not to add too much as it has a strong, distinct flavor. A little goes a long way!
Love Paleo Desserts? Then you'll love our FREE Paleo Dessert Cookbook. Click here to get it!
The bottom layer of this Panna Cotta packs a raspberry sauce with acai powder; the acai creates a naturally bright, vibrant color to the layer. For sweetness, you'll be adding coconut sugar balanced with lemon juice for a tangy citrus.
Serve your Panna Cotta for a healthy dessert or afternoon snack with a cup of your favorite coffee.
Megan Olson
Coconut Panna Cotta with Raspberry Sauce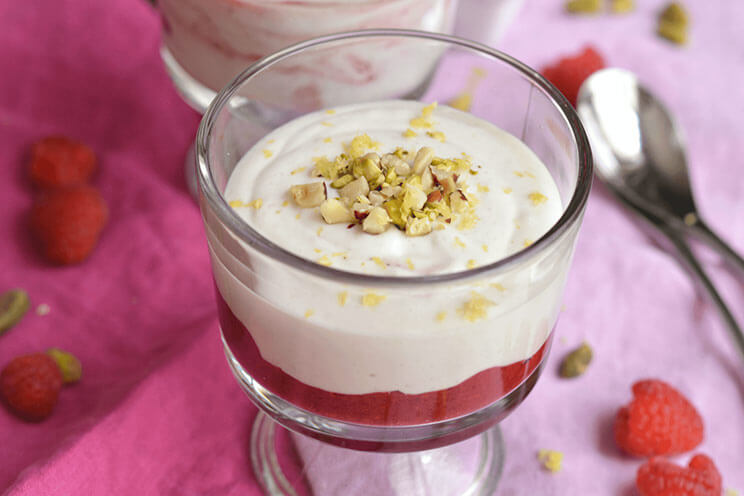 Cook Time:
2 mins
2 minutes
Prep Time:
8 mins
8 minutes
Coconut Panna Cotta with Raspberry Sauce
This dairy-free Panna Cotta has a layer of acai berry raspberry sauce for a creamy, sweet-tart dessert.
Ingredients
For the Cream:
1 15 oz can coconut cream, liquid separated

1 t rose water

½ t grass-fed unflavored gelatin

1 drop liquid stevia

½ t vanilla extract
For the Sauce:
2 cups raspberries

1 T coconut sugar

1 T acai powder

2 T lemon juice

3 T reserved coconut cream liquid
For the Topping:
Lemon zest

Chopped mixed nuts (pistachios, hazelnuts, almonds, etc.)
Instructions
Place all the ingredients for the sauce in a blender. Blend on high until smooth.

Transfer the sauce to two glasses, dividing it evenly. Chill in the freezer while you prepare the cream.

To a saucepan, add the ingredients for the cream. Simmer on medium heat, stirring for 2 minutes.

Let the cream cool, then pour into a blender. Blend until thick and smooth.

Remove the two glasses from the freezer and top with the cream, dividing it evenly between the two glasses.

Top with chopped mixed nuts and lemon zest.

(You'll Also Love: Healthy Dark Chocolate Mousse Recipe)