Here's a dish that's as vibrant in color as it is in flavor. Your taste buds will love the fresh, summery flavor of a veggie-loaded pesto paired with colorful rainbow carrot noodles.
If you haven't bitten the bullet and bought a spiralizer yet, let this recipe be your catalyst. Spiralizers are the perfect way to enjoy Paleo "pastas" made of all variety of vegetables. They're lifesavers when you're looking for a quick, healthy way to enjoy vegetables.
If you have a spiralizer, you've probably tried zucchini noodles in all sorts of iterations. These rainbow carrot noodles are here to break you out of that rut. Carrots are crisper and maintain a bit more crunch even when cooked. Plus, their flavor, when paired with this creamy veggie-based pesto with anti-inflammatory turmeric, is delicious—faintly sweet and mildly roasty thanks to the quick trip in the pan.
We use rainbow carrots for their color and vibrant flavor, but normal orange carrots will do. While orange carrots pack a solid dose of eye-friendly beta-carotene, carrots of other colors are equally healthy. Purple carrots also contain beta-carotene as well as anthocyanins, which can help prevent lifestyle-related diseases such as cancer, diabetes, and cardiovascular and neurological diseases. Yellow carrots, meanwhile, contain xanthophylls and lutein—both linked to cancer prevention and better eye health.
Love turmeric recipes? Get our free turmeric recipes cookbook here!
The best part about this "noodle" dish is that it works both warm and chilled. Enjoy your carrot noodles immediately for the roasty flavor and pack the rest for a chilled noodle dish at work tomorrow. It's a light and healthy meal for any time of the day.
Courtney Hamilton
Carrot Noodles with Turmeric Pesto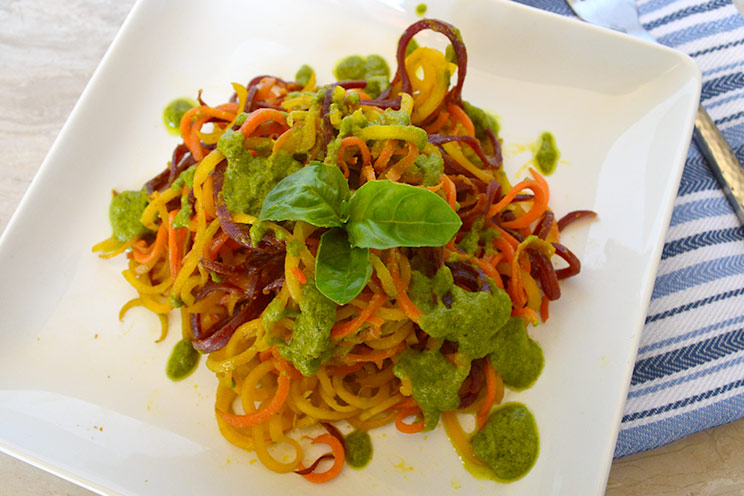 Cook Time:
10 mins
10 minutes
Prep Time:
15 mins
15 minutes
Carrot Noodles with Turmeric Pesto
Your taste buds will love the fresh, summery flavor of a veggie-loaded pesto paired with colorful rainbow carrot "noodles."
Tools
Spiralizer

blender

Sauté pan
Ingredients
5 large rainbow carrots

1 handful of fresh basil

1 lemon, juiced

1/3 cup extra virgin olive oil

1/3 cup pine nuts

1 T minced garlic

1 t salt

1 t turmeric

1 t ground ginger

½ t cayenne pepper
Instructions
Spiralize 3 carrots. Set carrot "noodles" aside. Give the other 2 carrots a rough chop.

In a blender, add the roughly chopped carrots, basil, lemon juice, olive oil, pine nuts, minced garlic, salt, turmeric, ginger and cayenne. Blend until smooth and creamy.

In a pan, sauté the carrot "noodles" and pesto together until carrot "noodles" are tender, about 5 to 7 minutes. Garnish with fresh basil.

(You'll Also Love: Pasta Carbonara Recipe with Light Zucchini Noodles)