These Avocado Turmeric Fudge Brownies are packed with immunity-boosting ingredients. A healthy way to satisfy a chocolate craving!
Mixed with a little cacao powder, protein powder, dates and cashews, these avocado, no-bake treats are the dreamiest fudge bars you've ever had.
The avocado's ultra-creamy texture makes the brownies silky and brings a dose of healthy fats. For sweetness, you'll just use a bit of maple syrup. You can always add more maple syrup to the recipe, but I found they were rich and sweet with just a touch.
Love Paleo Desserts? Then you'll love our FREE Paleo Dessert Cookbook.
Click here to get your FREE copy of our delicious Dessert Recipes!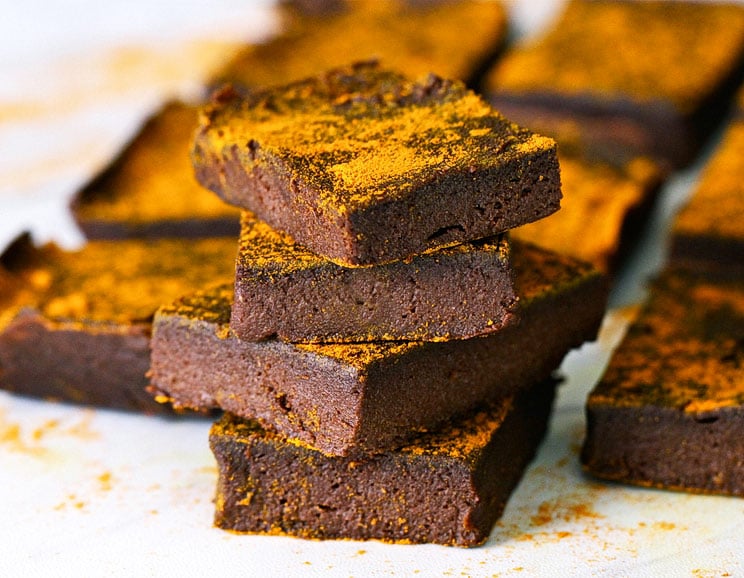 To give the fudge a natural, vibrant orange color, the recipe uses antioxidant-packed turmeric. The spice has an irresistible savory flavor that balances the sweetness from the dates and maple syrup.
The next time you're craving chocolate, make a batch of these delicious Avocado Turmeric Fudge Brownies.
Tips:
Soak dates and cashews for a minimum of 1 hour before draining to make them soft enough to blend smoothly.
For an extra crunch, add ¼ cup sliced almonds after blending protein powder and cacao powder. Pulse several times to break up and disperse almonds throughout the batter.
Megan Olson
Avocado Turmeric Fudge Brownie Recipe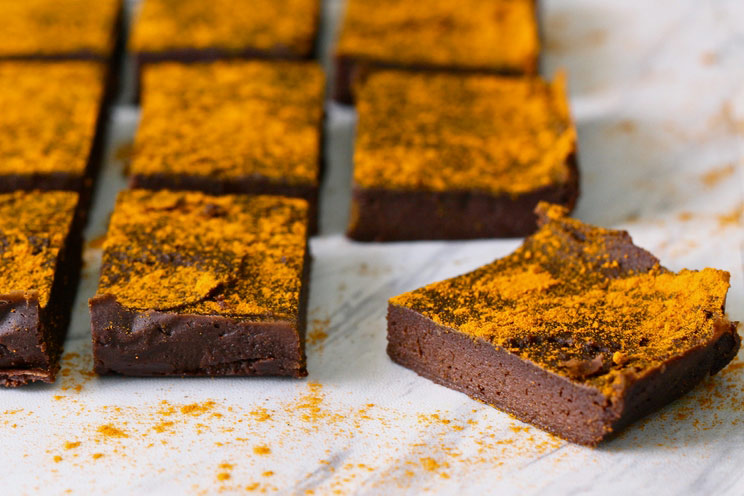 Inactive Time:
5 hrs
5 hours
Prep Time:
10 mins
10 minutes
Nutrition facts:
3 grams of protein
12 grams of carbohydrates
8 grams of fat
129 calories
Avocado Turmeric Fudge Brownie Recipe
A healthy way to satisfy a chocolate craving.
Tools
Blender

Parchment paper

8x8-inch baking pan
Ingredients
1 cup dates, pitted, soaked, and drained

1 cup raw cashews, pitted, soaked and drained

1 ripe avocado

1 ½ T melted coconut oil

½ cup cacao powder

3 T chocolate protein powder

¼ t vanilla extract

1 T maple syrup

½ t turmeric, for dusting
Instructions
In a blender, add avocado and soaked dates. Blend on high until dates are broken down.

Add cashews, coconut oil, vanilla extract and maple syrup. Blend to combine.

Add protein powder and cacao powder. Blend until the mixture becomes a dough.

Layer parchment paper crisscross in an 8x8-inch baking pan, allowing for the parchment paper to hang over the baking dish for easy removal.

Transfer the batter into the baking pan. Use a spatula to spread the batter evenly in the pan and into the corners.

Place the baking dish in the refrigerator for 5 hours to set.

Remove from the refrigerator and lift the sides of the parchment paper to remove from the baking pan.

Dust with turmeric and slice into 12 bars.

Store bars in the freezer in a storage container up to one week.
Looking for Paleo ingredients? Here are a few we'd recommend:
Raw cashews (Terrasoul Superfoods)
Cold pressed coconut oil (Viva Naturals)
Raw cacao powder (Healthworks)
Vanilla extract (Frontier)
Turmeric (Simply Organic)
You'll Also Love: Keto Avocado Chocolate Brownies