As more people are aware of BPA and its health risks, it's becoming the norm to avoid plastic.
Unfortunately, your coveted coffee maker may be the biggest BPA culprit in the kitchen.
BPA, or bisphenol A, is an industrial chemical used in plastic as far back as the 1960s. (1) BPA is commonly found in plastic water bottles and plastic food storage containers.
This coffee cookbook is filled with healthy recipes and reveals the natural benefits of your morning brew.
Click here to get your FREE Coffee Book Today!
BPA exposure is linked to health issues like: (2, 3)
High blood pressure
Infertility
Endocrine disorders
Certain types of cancer
To help avoid these health repercussions from BPA exposure, it is recommended that you stick to glass storage containers and stainless steel water bottles. It's also helpful to replace plastic children's toys with wooden toys, and to avoid canned foods, as the inner coatings often contain BPA. (4)
---
BPA in Coffee Makers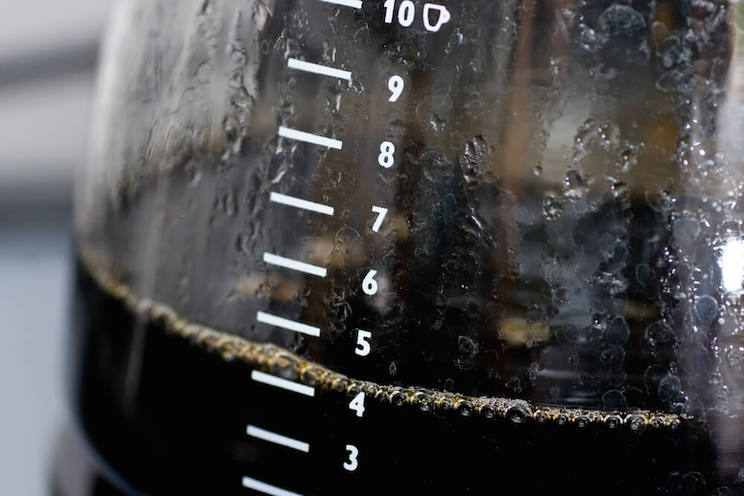 BPA in your coffee maker can expose you to significant amounts of the chemical every time you drink coffee. Chances are, if your coffee tastes like plastic, there is plastic residue coming from your coffee maker and leaching into your cup of coffee. Yuck.
So, how does BPA get into your coffee? The temperature of the liquid exposed to BPA makes a big difference in how much of the chemical is released. One study found higher amounts of BPA were released in plastic water bottles when they were exposed to boiling water. (5)
This is a huge concern when it comes to the coffee made from coffee makers where hot water comes in contact with plastic parts.
While boiling water releases more BPA than normal, keep in mind that BPA can still leach into the things we consume – even if not exposed to hot water. Studies found higher levels of BPA in urine after participants drank cold liquids from polycarbonate bottles for just one week. (6)
Chances are, if your coffee tastes like plastic, there is plastic residue coming from your coffee maker and leaching into your cup of coffee.
Another study looked at how BPA exposure from plastic utensils, storage containers, and coffee makers affected the concentration of BPA in urine. Participants used stainless steel bottles and lunch boxes, and made their coffee using a French press or ceramic drip instead of their standard coffee makers. After the eight-day study, BPA concentrations dropped by 66%. (7) While this could have been due to a cumulative effect of reducing large sources of BPA exposure, removing your daily exposure through the coffee you drink may be beneficial.
The Silent Spring Institute, an institute involved in identifying links between environmental chemicals and breast cancer, also stress the importance of avoiding BPA exposure in coffee by steering clear of automatic coffee makers. (8) They recommend brewing your coffee using a French press to avoid the plastic found in the containers and tubing of automatic coffee makers.
---
Does Your Coffee Maker Contain BPA?
So, how do you know if your coffee maker contains BPA? While the taste of your coffee would be a big indication, your coffee may still contain BPA even if you don't notice a plastic aftertaste.
Knowing if your coffee contains BPA is going to come down to whether or not your coffee maker contains plastic parts, like the plastic filter or the area that holds the water. Unfortunately, not every coffee maker is going to be labeled BPA-free. Even if the company doesn't use BPA in making the coffee machine, there's a good chance it uses BPS, which can be just as harmful. (9) BPS, short for bisphenol S and used as an alternative to BPA in plastic, is thought to hold similar endocrine-disrupting properties. A French study found a link between BPS exposure and an increased risk of developing type 2 diabetes. (10)
---
Healthier Ways to Brew Coffee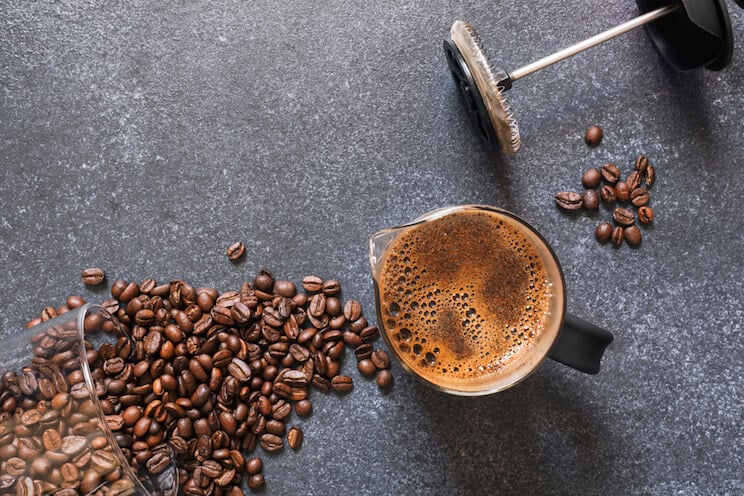 There are many stainless steel coffee makers that can replace your plastic one. However, they often come with a steep price tag. The good news is that there are other alternatives to plastic coffee makers that are healthier, easy, and affordable, too.
French Press
The French press is made from glass, so you don't have to worry about the plastic exposure. As a bonus, you can control how strong and even how hot you like your coffee. All you need to do is add ground coffee beans to the French press, and then add boiling or hot water. Wait a few minutes, depending on how strong you like your coffee, then press down and get ready to enjoy a super-fresh tasting cup of coffee.
Pour-Over Coffee Making Method
This is a simple method where you pour boiling water over ground coffee beans. Use unbleached coffee filters with a product like the Chemex to completely avoid any added toxins from winding up in your mug. This method does take a bit longer than making your coffee in a French press, but the taste is well worth it!
Moka Pot
Brew up a fresh cup of coffee right on your stovetop with a Moka Pot. Simply fill half of the pot with boiling water, add fresh coffee grinds to the filter basket on the top, and set over heat. This works by using the pressure from the boiling water to push the coffee into the chamber of the Moka Pot.
Cold Brewing
One of the easiest ways to make a cup of coffee without the use of a plastic coffee maker is to make a cold brew. It's as easy as adding ground coffee to a mug and then adding cold water. Allow the coffee to sit overnight in the fridge, then strain in the morning. Serve over ice.
---
The Bottom Line
If you're a big coffee drinker, avoid coffee makers with plastic parts that could leach hormone-disrupting BPA into your morning brew. By choosing to brew your coffee using safer methods, you can enjoy healthy cup of coffee while reducing your exposure to BPA.
(Want More Coffee Tips? Check Out: 9 Easy Ways to Make Your Coffee Healthier)