Let this simple brisket recipe do all the work as it tenderizes in the oven in a steamy bath of juicy drippings and savory beef stock.
The end result is melt-in-your-mouth brisket and a rich, flavorful broth. Cozy up to this easy recipe that's perfect for a weeknight supper or a big holiday dinner.
Before cooking, you'll want to let the beef rest at room temperature for a short period of time. This will allow for even cooking throughout while also bringing the internal temperature to the ideal range. It also helps to lock in more juice and cuts down on the cooking time.
Want to go Paleo? Not sure where to start?
Start with this FREE Paleo For Beginners Guide Today!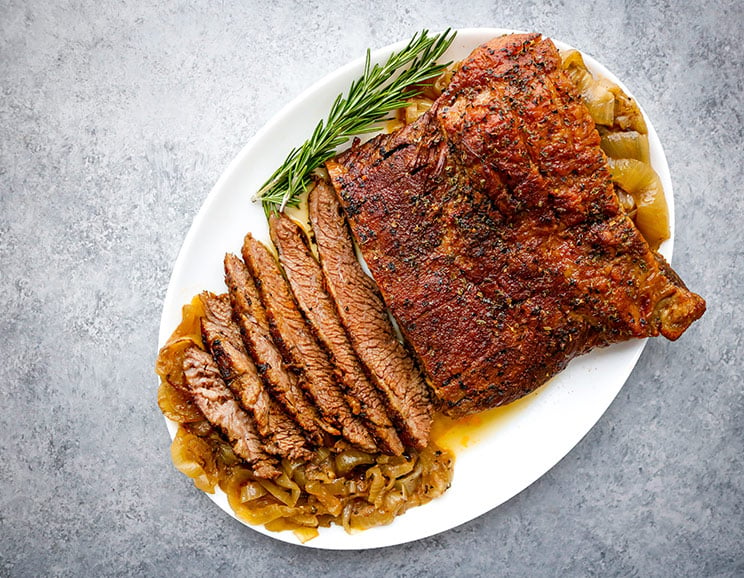 The fat layer on top of the brisket will need to be scored since this allows the fat drippings to drain easily as it roasts. This will help tenderize the meat while also allowing the beef drippings to marry with the stock and onions. Hello, dinner.
Tip: Save the drippings to create a savory gravy for smothering the brisket. Simply whisk two teaspoons of arrowroot powder with two cups of stock and drippings in a medium saucepan over medium heat until thickened.
Jennafer Ashley
The Boyfriend Brisket Recipe

Inactive Time:
45 mins
45 minutes
Cook Time:
4 hrs 10 mins
4 hours 10 minutes
Prep Time:
10 mins
10 minutes
The Boyfriend Brisket Recipe
Nothing says "dreamy" quite like a slow-cooked, melt-in-your-mouth, beef brisket with drool-worthy spices and caramelized onions.
Tools
Sharp knife

Large roasting pan
Ingredients
1 4 lb beef brisket

4 cups sliced white onions

2 t cumin

1 t paprika

1 t oregano

1/2 t garlic powder

1 t sea salt

1/2 t ground black pepper

1 cup beef stock

2 sprigs fresh rosemary
Instructions
Allow the beef to set out at room temperature for 30 minutes. Place the brisket (fat side up) on a cutting board and score 1-inch lines across and along the fat in a grid-like pattern.

Heat the oven to 300ºF and place the sliced onions in the bottom of a large oven-safe roasting pan. Pour the beef stock on top.

Combine the dried seasonings and sprinkle them evenly over the fatty side of the beef. Use your fingers to press the seasoning onto the beef. Place the beef on top of the onions and add the rosemary sprigs to the pan.

Cover and roast in the oven for 4 hours, flipping halfway through. Flip the roast once more with the fatty side facing up. Remove the rosemary and turn the oven to broil. Broil uncovered until the top of the beef is browned, about 5-7 minutes.

Remove the beef from the oven and rest covered at room temperature for 15 minutes. Slice into thin slices against the grain of the meat. Serve warm alongside onions. Add a few spoonfuls of drippings from the pan on top and enjoy!
Looking for Paleo ingredients? Here are a few we'd recommend:
Paprika (Simply Organic)
Garlic powder (Frontier)
Sea salt (REDMOND)
Black pepper (Frontier)

(You'll Also Love: Slow Cooker Beef Brisket Smothered with BBQ Sauce
)
Get 100% Grass Fed Beef, Free Range Organic Chicken, and Heritage Breed Pork delivered for FREE straight to your door
Avoid supermarket meat laced with dangerous growth hormones and antibiotics - get grass-fed, high quality meat for less than $6 / meal - with FREE delivery!
Avoid supermarket meat laced
with dangerous growth
hormones and antibiotics -
get grass-fed, high quality meat
for less than $6 / meal -
with FREE delivery!