Roast your chicken with a herb-infused rub featuring fresh rosemary, lemon, and buttery ghee!
Rotisserie-style chicken is easy to make right at home. All it takes is a few of your favorite herbs and seasonings to transform chicken into a mouthwatering dinner staple. Juicy on the inside and golden brown on the outside, this recipe is perfect for satiating hungry appetites. Serve alongside crispy Brussels sprouts or Paleo dinner rolls for a complete heart-healthy meal!
When shopping for the ideal chicken, you'll want to opt for free-range and pasture-raised choices to help minimize harmful antibiotics or additives. Seasoning your bird with a blend of melted ghee, herbs, and lemon will create an aromatic bath of drippings that'll lock in extra moisture and tenderness as it roasts.
Want to go Paleo? Not sure where to start?
Start with this FREE Paleo For Beginners Guide Today!
To get started, remove the giblets from the chicken cavity and blot the outside of the chicken with paper towels. You'll want to get it as dry as possible so that the herbs and seasonings stick to the skin. This will help seal in tons of flavor while achieving that oh-so-satisfying outer layer.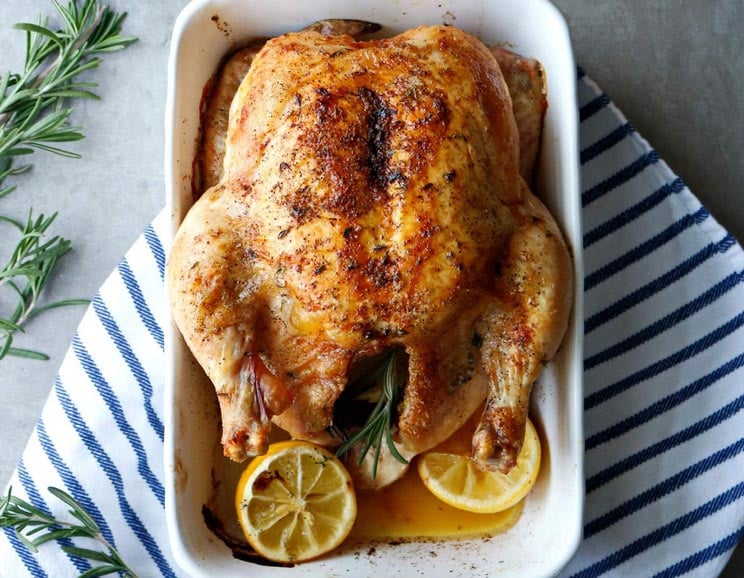 Next, liberally brush the entire chicken with melted ghee and herbs, making sure to save some of the buttery mixture for later. Place half a lemon and two sprigs of rosemary inside the cavity before roasting. These ingredients will later infuse with the steam and add more flavor and aroma.
Then, roast the chicken at 425°F for 45 minutes. Pull out the roasting pan and baste the chicken with the remaining ghee and herb mixture. Place it back into the oven and continue roasting until the internal temperature reaches 165°F. When ready, allow the chicken to rest outside the oven for 10 minutes before carving. Serve warm and enjoy!
Tips:
Use a meat thermometer and insert it into the meaty part of the leg to check the internal temperature.
Shred leftovers for tacos or chicken salad, and save the bones for bone broth!
Jennafer Ashley
Perfect Herb Roasted Chicken Recipe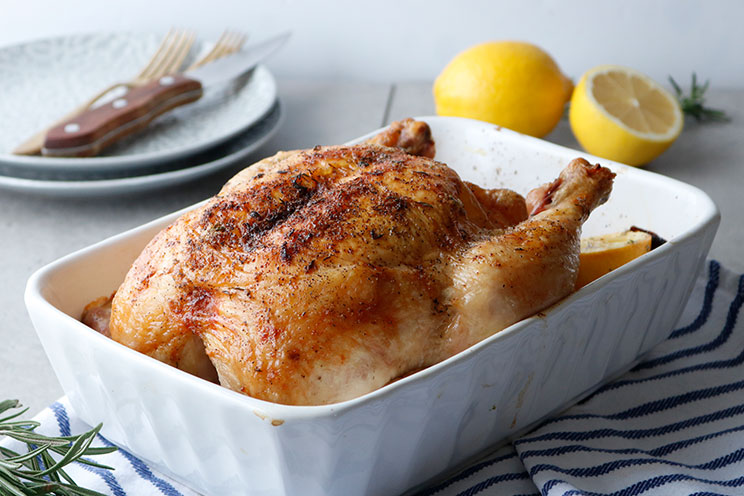 Prep Time:
5 mins
5 minutes
Perfect Herb Roasted Chicken Recipe
Roast your chicken with a herb-infused rub featuring fresh rosemary, lemon, and buttery ghee.
Tools
Oven-safe roasting pan

Small bowl

Meat thermometer

Basting brush
Ingredients
4 lb. whole chicken, giblets removed

2 T melted ghee

1 t fresh chopped thyme

1/2 t garlic powder

1/2 t sea salt

1/4 t ground black pepper

1/2 lemon

2 sprigs fresh rosemary
Instructions
Preheat the oven to 425°F and move the oven rack to the center.

Place the chicken in a roasting pan and pat dry with a paper towel. Tuck the wings behind the chicken.

In a small bowl, stir together the melted ghee, thyme, garlic powder, sea salt, and black pepper. Brush half of the mixture over the chicken.

Add the lemon half and sprigs of rosemary to the chicken cavity.

Roast for 45 minutes, then baste with the remaining ghee and herb mixture. Continue roasting for another 15 minutes, or until the chicken reaches an internal temperature of 165°F.

Allow the chicken to rest for 10 minutes before slicing. Serve warm and enjoy!
Looking for Paleo ingredients? Here are a few we'd recommend:
Ghee (Pure Indian Foods)
Garlic powder (Frontier)
Sea salt (REDMOND)
Black pepper (Frontier)
You'll Also Love: The 23 Best Chicken Recipes of All Time