You may have tried golden milk lattes and turmeric pumpkin spice lattes, but if you still find yourself hankering for a caffeinated jolt in the morning, give this warm, spicy awakening coffee a try.
You may think turmeric best melds with savory dishes like curries, meats and stews, but you'll be surprised just how well it pairs with your morning cup of Joe.
While you can enjoy the coffee's many layers of flavor, there's the added benefit of turmeric's health-enhancing properties thanks to its active ingredient, curcumin. This uniquely warm coffee gets its characteristic flavor from the ultra-yellow spice, which comes from a shrub closely related to ginger and is traditionally used in treating inflammation, stomach ulcers, and cancer.
Want to go Paleo? Not sure where to start?
Start with this FREE Paleo For Beginners Guide Today!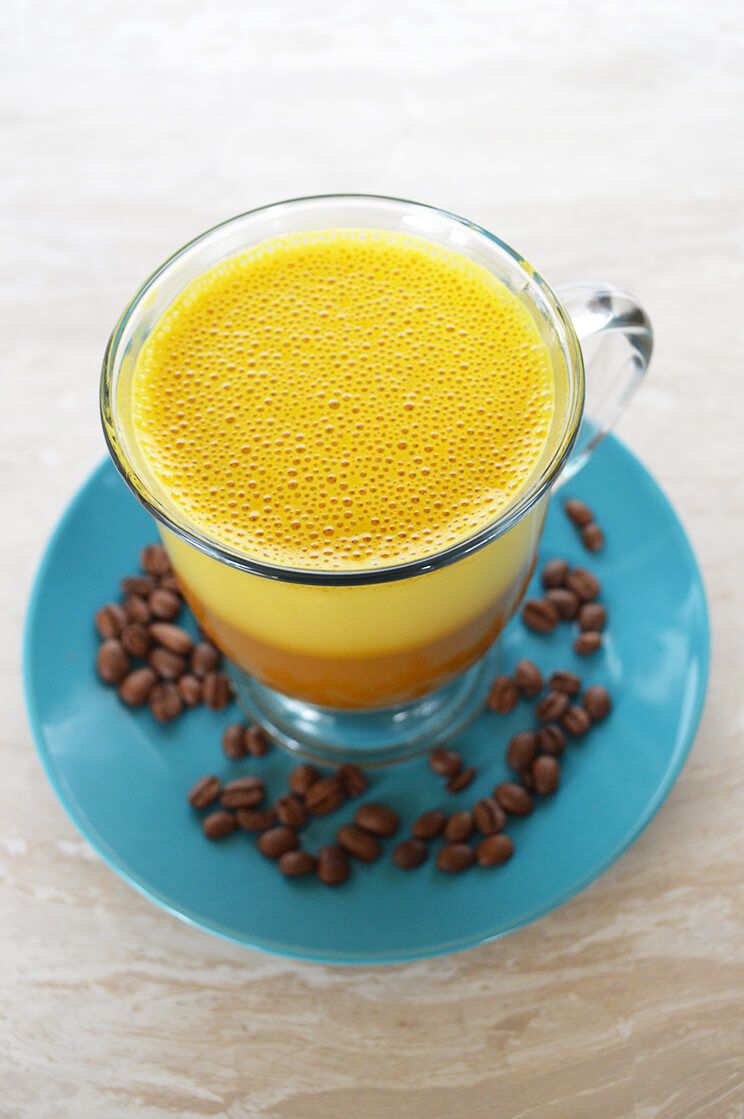 This coffee also boasts fellow superfoods coconut oil and coconut milk – a combination that makes for a rich flavor and a silky, creamy mouthfeel. Beyond flavor, the addition of coconut also makes the drink sustaining enough to energize you for the long day ahead.
Because this coffee is so nutrition-packed and calorie-dense, you can drink it as a breakfast all on its own or accompanied by something small and full of protein, like an egg muffin. You can also up the coconut oil content of the drink if you find yourself still hungry.
We make this coffee sweetener-free, but if you need some sweet to level out the spice, try adding a small amount of raw honey or maple syrup.
Courtney Hamilton
4-Ingredient Awakening Coffee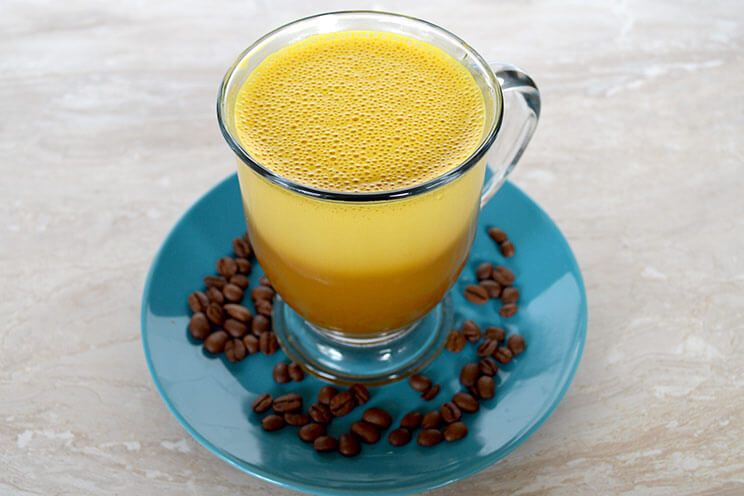 Cook Time:
3 mins
3 minutes
Prep Time:
2 mins
2 minutes
Nutrition facts:
1 grams of protein
4 grams of carbohydrates
16 grams of fat
4-Ingredient Awakening Coffee
This energizing coffee also is made with coconut oil and coconut milk for a rich flavor and a silky, creamy mouthfeel.
Ingredients
4 oz brewed strong coffee or espresso

4 oz coconut milk

1 t turmeric

1 T coconut oil, melted

Stevia, to taste (optional)
Instructions
Add coffee, coconut milk, turmeric, stevia, and melted coconut oil to a blender. Blend until frothy.

Enjoy!
Tip: Whatever you do, be careful while handling the turmeric. It will stain anything and everything – so use a measuring spoon to add it to your brew.
Looking for Paleo ingredients? Here are a few we'd recommend:
Coconut milk (Native Forest)
Turmeric (Simply Organic)
Cold pressed coconut oil (Viva Naturals)

(You'll Also Love: Thai Iced Coffee with Creamy Coconut Milk)