Honeycomb tripe simmers in a rich ghee and tomato sauce with veggies and crisp bacon for a protein-rich dish full of hearty flavor.
Tripe delivers vitamin B12 and minerals like zinc, selenium and choline—an essential nutrient that aids in cell functions throughout the body. Choline also acts like a cleanser, removing cholesterol away from the liver (a necessary job to help prevent fatty liver disease).
Pairing the honeycomb tripe with familiar ingredients like tomato paste, bacon and classic veggies helps to make the dish less intimidating. The texture of honeycomb tripe is similar to calamari: chewy and slightly spongy. While tripe does have a distinct smell, the flavor is mild and best paired with rich sauces to flavor it.
Love slow cooker recipes?
Click here to get your FREE copy of our delicious Slow-Cooker Recipes!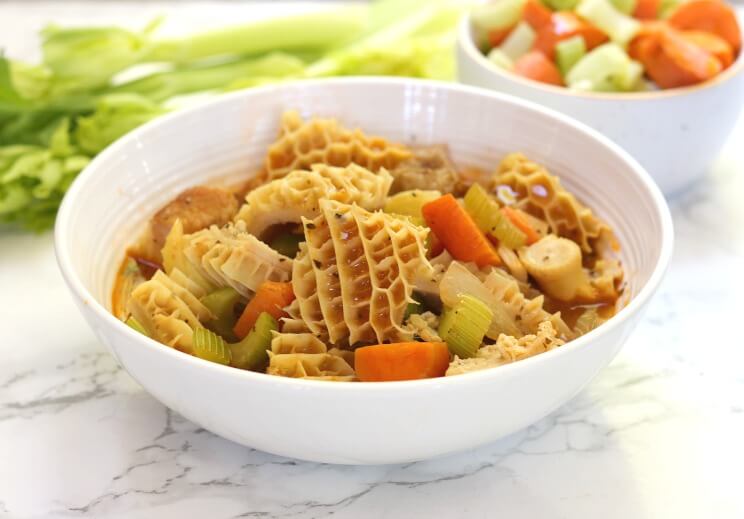 Bacon ends are ideal in recipes that require a deep flavor for their smoky taste and aroma. Because tripe is low in fat, the bacon ends add a smooth mouthfeel and rich backbone to the dish. If you are unable to find bacon ends in your area, purchase thick cut bacon and cut into bite-sized pieces. Bone broth is used in this stew (a hearty stock that's the gold standard in cooking) and adds heaps of minerals and amino acid rich collagen—essential for gut, skin and joint health.
Before making the stew itself, the tripe must be tenderized by boiling in water for up to 3 hours, depending on how tender you prefer it to be. Once tenderized, remove the tripe from the water and set it aside to cool slightly. Slice the tripe into bite-sized pieces of 1-2 inches. Smaller pieces are ideal for tripe beginners to make the texture more palatable. In a large pot or Dutch oven, tenderize vegetables in ghee until they begin to soften. Stir in bacon ends and cook 5-7 minutes, turning occasionally to brown on each side. Stir in seasonings and tripe pieces followed by bone broth, and simmer for 30 minutes uncovered to reduce slightly. Ladle into bowls and serve hot.
Jennafer Ashley
Tripe, Bacon, Bone Broth Gut-Nourishing Stew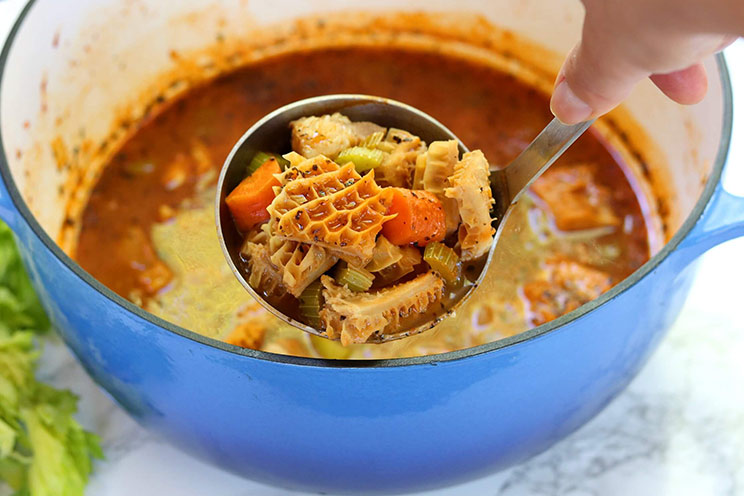 Cook Time:
2 hrs 40 mins
2 hours 40 minutes
Prep Time:
10 mins
10 minutes
Tripe, Bacon, Bone Broth Gut-Nourishing Stew
Honeycomb tripe simmers in a rich ghee and tomato sauce with veggies and crisp bacon for a protein-rich dish full of hearty flavor.
Ingredients
To Cook Tripe:
1 lb tripe

8 cups water

1 sprig of rosemary
For Stew:
1 lb pre-cooked tripe, cut into 1-2 inch pieces

1/2 cup bacon ends

1 cup carrots, chopped

1 cup celery, chopped

1/2 cup sweet white onion, finely chopped

4 cups beef bone broth

1 T ghee

2 T tomato paste

1 t garlic, minced

1 t dried basil

1/4 t sea salt
Instructions
Begin by rinsing tripe well and placing into a large pot covered with water. Add rosemary sprig. Bring to a boil over medium heat. Reduce to medium-low heat and cover with lid slightly cracked. Simmer 2 hours or until tripe is tenderized.

Remove tripe from pot and place into a strainer to cool. Once tripe is cool enough to touch, cut into small pieces.

Melt ghee in a Dutch oven or large pot over medium heat. Add garlic, onion, celery and carrots. Cook 5 minutes. Stir in bacon and continue to cook uncovered an additional 5-7 minutes, until bacon ends are lightly crisped.

Stir in sea salt, basil and tomato paste. Add tripe and stir well. Pour in bone broth and bring to a low boil. Simmer 30 minutes uncovered.

(You'll Also Love: Easy Crockpot Beef Stew Recipe)
Lose weight, fight inflammation, and soothe your digestion with delicious meals like juicy skirt steak with cucumber & radish salad, succulent pulled pork, and more!
FREE Cookbook:
80 Gourmet Paleo Recipes from
a Professional Chef trained at Le
Cordon Bleu in Paris
FREE Cookbook:
80 Gourmet Paleo Recipes
from a Professional Chef
trained at Le Cordon Bleu
in Paris