If you're anything like me, you might not have a lot of time to spend making dinner. But you also don't want to compromise on nutrients while you're getting a delicious meal on the table for your family.
Well, I've got good news for you… It doesn't have to take a ton of time. And you can easily sneak one simple ingredient into just about every meal, and it could make a huge impact on your health. [tweet_quote] Regularly consuming gelatin improves skin, joints, bones and hair.[/tweet_quote]
How does bone broth fight inflammation AND promote weight loss? Download our Free Bone Broth Guide And Recipes To Find Out Now!
Click here to get your FREE Bone Broth Guide And Recipes Today!
Meet gelatin! But not just any gelatin. It's gelatin from healthy, pastured animals (e.g., grass-fed cows). It's a powerful superfood that's often missing from our modern diet. With regular consumption, you'll find that gelatin will improve your skin, joints, bones, hair, teeth, nails, and (most importantly) gut health in ways that no other supplement can.
4 Easy Ways to Make Every Meal a Superfood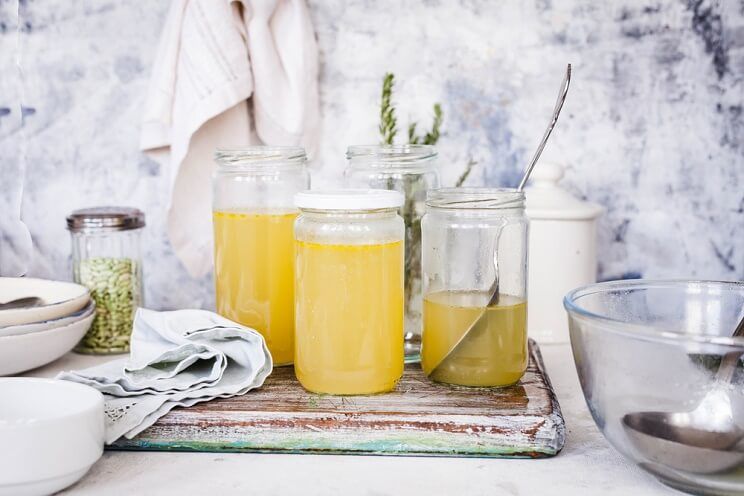 My favorite way to use gelatin in savory dishes is to use homemade bone broth, which is incredibly rich in gelatin and collagen—in place of water or milk.
Of course, soups are the easiest place to use broth, but you'd be surprised at just how many dishes can easily replace water or milk with bone broth. Every week, I make a big batch of broth and keep it in the fridge. But if you'd rather buy a good-quality broth instead, you can find healthy option here. [tweet_quote] Bone broth is a lot more versatile than just soups. Try using it as a milk or water replacement. [/tweet_quote]
When my daughter was in the hospital recovering from scoliosis surgery, one of the things that helped her heal quickly was the fact that I was adding bone broth to as many dishes as I possibly could.
Here are 4 of the easiest ways you can incorporate bone broth (even if it's just a splash) into every meal.
Add a splash of bone broth to:
1) Mashed Veggie Side Dishes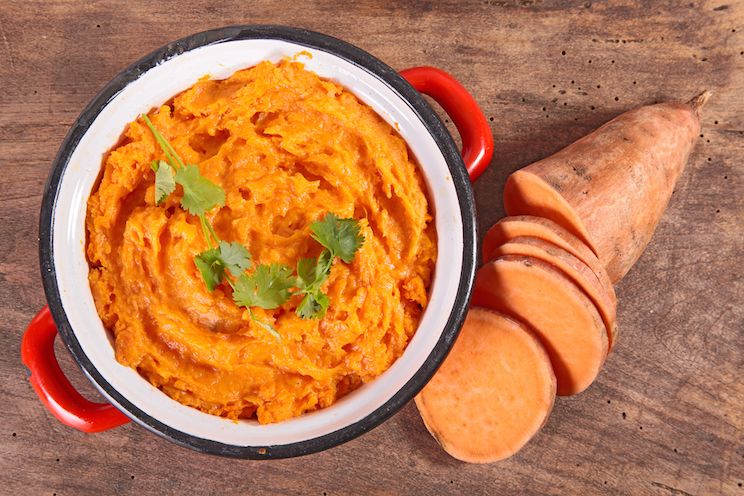 Making mashed sweet potatoes? Try using broth instead of milk for a more savory side dish. Whether you use pumpkin, sweet potato, or any other root vegetable, I promise it will be delicious.
You can also easily whip up a side of pumpkin purée. You'll just need 2 cups of cooked pumpkin + 6 tablespoons ghee + ¼ cup bone broth + a dash of sea salt, pepper, and cinnamon. From there, just mix all the ingredients over the stove on medium heat, and simmer until you get a thick, creamy consistency.
2) Reheating Leftovers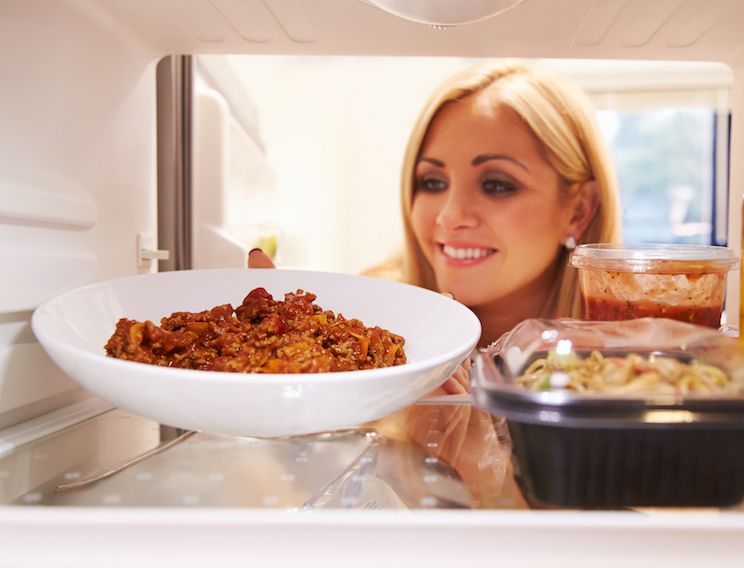 Anytime you need a little liquid to help reheat a dish, use a splash of broth!
In a small saucepan, add your leftover meat and vegetables, and turn heat on low. In order to keep it from sticking to the pan, add a splash of bone broth (approximately 2-3 tablespoons), and stir regularly until warm.
3) Sautéed Greens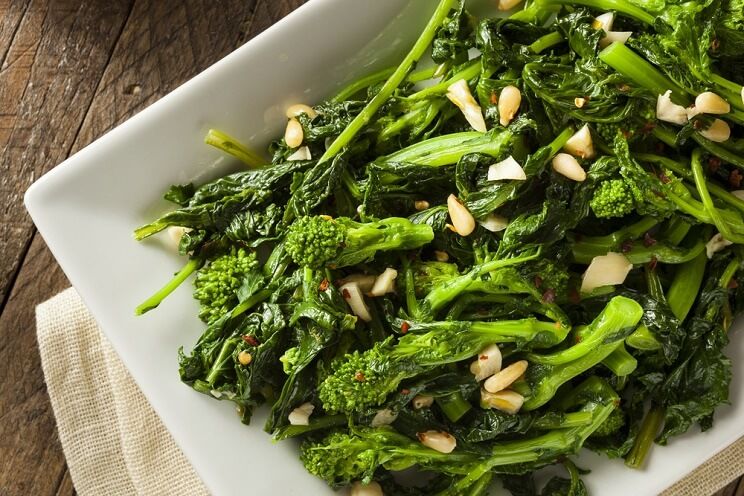 After sautéeing your veggies with the usual garlic and onions, reduce heat to medium-low, and add bone broth instead of water. You'll need just enough to make sure it's added to all the vegetables. Then cover and steam, until the greens are just tender. It's not only a great way to add the health benefits of gelatin to your greens; it's an easy way to boost your dish's flavor.
4) Sneak Into Sauces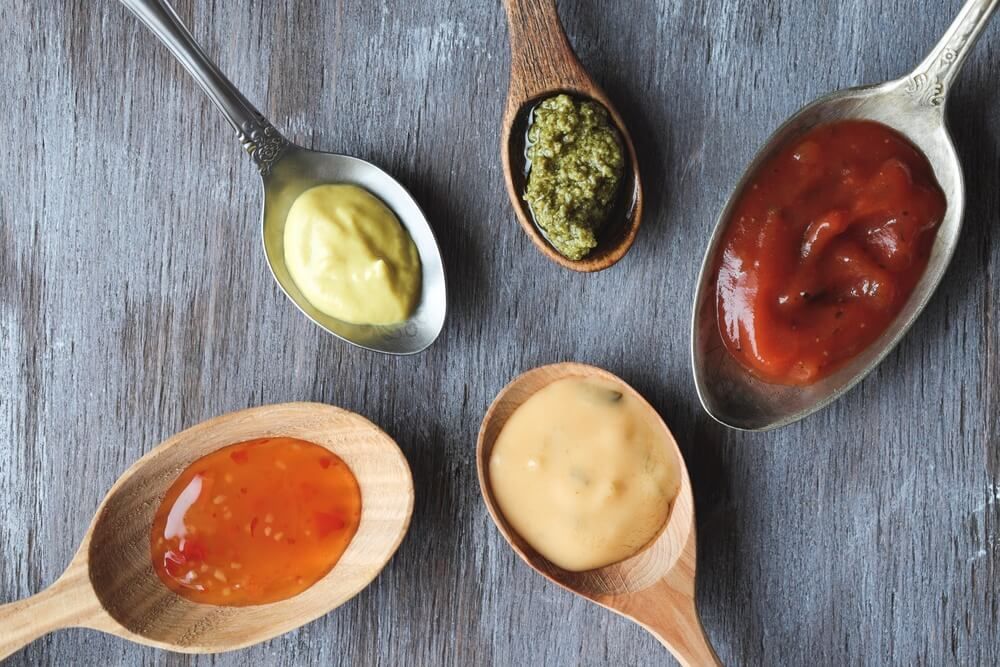 While your favorite recipe for savory sauce (or even a store-bought tomato sauce) is simmering, simply sneak in 2-3 tablespoons of bone broth. It'll add a couple of minutes to your cooking time (to allow the extra liquid to simmer down), which is well worth it for the added nutrients.
I have some great recipes in my eBook The Gelatin Secret, but I encourage you to modify your favorite sauce recipes with some broth when you want a more savory flavor.
Not much of a broth fan? There are many ways you can include both quality gelatin and collagen to your diet. In The Gelatin Secret, I delve into the research about how gelatin can benefit every part of your body—and help you live a healthier life. You'll also discover delicious recipes (both savory and sweet) and creative ways to add gelatin to any meal!
(Read This Next: 5 Health Benefits of Bone Broth (and How to Make Your Own!))