You don't need to be a new mom to suffer from diastasis recti. Here are telltale signs you have this form of core dysfunction, and what to do (and not do) about it.
Diastasis recti is a term that you'll rarely hear unless you have it, and even then, most may not know what condition is causing their constellation of symptoms that can range from a pudgy belly to urinary incontinence, and a host of other things in between.
While this typically impacts women who've given birth within the last year, it can happen to men and women who haven't had babies either, typically as a result of incorrect weight lifting or suffering from some other injury.
Suffering from a sore neck, back and shoulders? Get our mobility guide to ease pain and soreness.
Get The FREE Mobility Guide To Fix Your Pain Today!
What Is Diastasis Recti?
Diastasis recti is a physical condition where the rectus abdominis – or the area where your abs should be – suffers partial or complete separation. Basically, these muscles are connected to form that six-pack look, and when damage occurs, the muscles may partially or completely disconnect.
DR is especially common during and after pregnancy, with as many as 60 percent of women developing this condition, and 32 percent still having it at a year postpartum. (1) This is because the abs get pushed to the side while the uterus expands. It's nature's way of making room for the baby to grow, but not everyone's abs will bounce back and come together as they should without a little extra help.
---
Symptoms of Diastasis Recti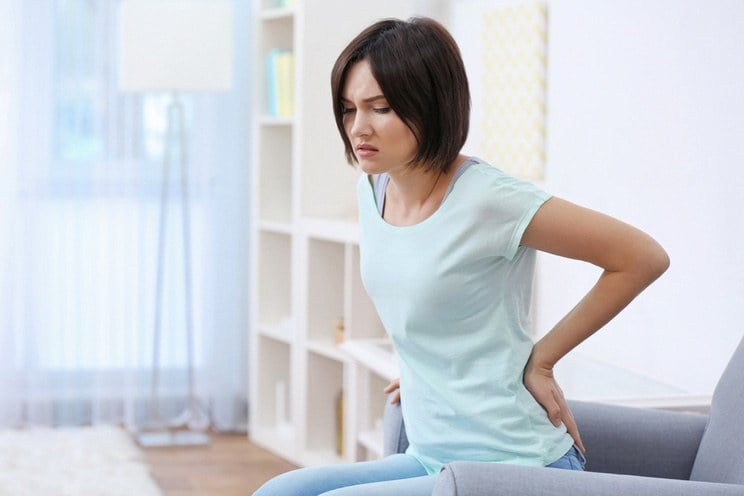 While not everyone who has diastasis recti will have all symptoms, the main one is having a belly that bulges out below the belly button. The others tend to be more common in women who've had more than one pregnancy or who give birth to twins, but anyone can suffer from any of them.
Common symptoms of diastasis recti include:
Belly bulge
Pelvic pain or pelvic floor dysfunction
Reduced ability to balance and stabilize
Bloating, constipation, or intestinal disturbance
Urinary incontinence
Hernia, in more extreme cases
---
Could You Have DR? How to Do a Self-Check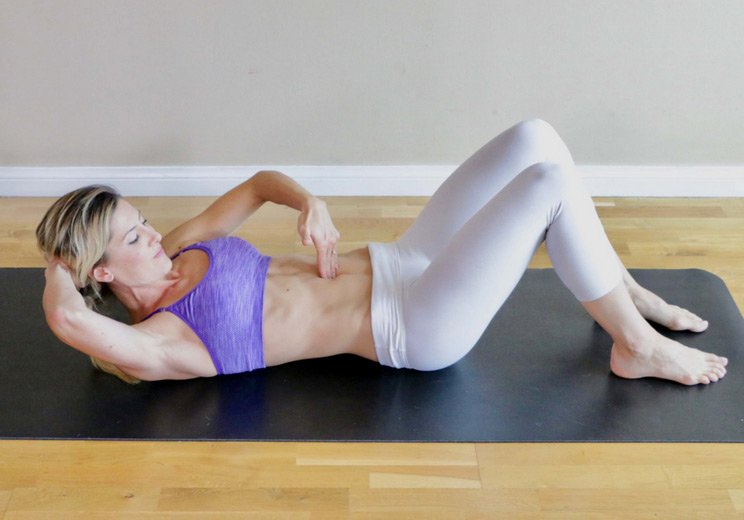 If you suspect that you might have diastasis recti, there's a simple at-home method that you can use to do a quick check.
To check your core for DR, do the following:
Lie down on the floor, back down, knees bent, with the feet flat on the floor.
Place one arm behind the head, elbow bent, as you would if you were preparing to do a stomach crunch.
Lift your head and neck slightly, keeping the rest of your body in position. Using your free hand, find your belly button and the line of muscle connective tissue that runs vertically above and below.
Gently press your finger down along this line, looking for a vertical gap.
If you do feel a gap, measure it in finger widths. You might be able to fit one, two, or more fingers in there horizontally.
While this is a great self-diagnostic test, it's always a good idea to get a proper diagnosis. Your doctor can use a caliper or ultrasound to obtain a precise measurement, and may recommend physical therapy for diastasis recti gaps that are larger than about two fingers wide.
---
3 Ways to Naturally Address Diastasis Recti
While diastasis recti can feel very unpleasant, it's important to remember that it is common and treatable. Even if you've gone years with DR, it can still be improved.
1. Wear an abdominal support or binder.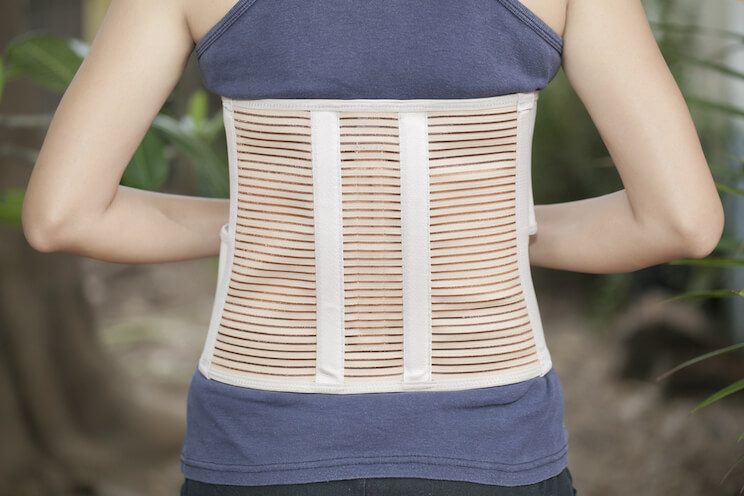 Sometimes, part of the problem with DR is that your belly is completely unsupported, which doesn't allow the muscles to come back together as they should. Wearing a stomach binder can help to keep the muscles pulled in tightly together and can also protect worsening the condition from incorrect methods of sitting, lifting, or poor posture.
There are dozens of varieties of binders that can be purchased, so ask your physical therapist, midwife or OB for a recommendation that will provide the best result for your particular situation.
Keep in mind that for women that are postpartum, some specialists may not recommend binding or support wearing until after eight weeks, while others may recommend it right away. This may depend on whether you had a vaginal or cesarean birth, since binding the abdomen after a c-section might slow healing time and worsen pain.
It's also important to be aware that even with a binder, it may take weeks to notice an improvement. Be patient and allow your body proper time to heal.
2. Know which exercises can help – and which to avoid.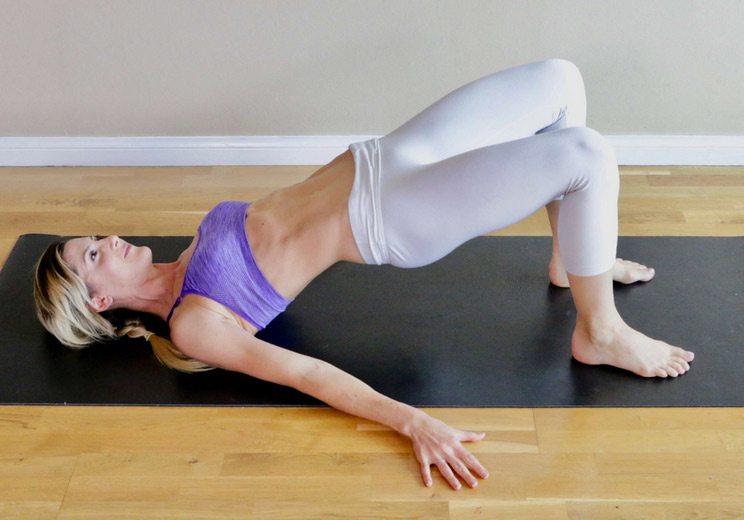 It's important to understand that while certain exercises can be therapeutic and helpful for diastasis recti, others can worsen the damage. Knowing what to avoid as well as what to do, are essential parts of healing the abs and pelvic floor.
Exercises not to do include:
Stomach crunches or sit-ups
Planks
Any yoga poses that rely on core strength for balance
Heavy lifting
Instead, try these helpful exercises:
Bridge poses
Proper breathing technique
Standing or "wall" push-ups
Start by doing these seven gentle exercises that heal diastasis recti two or three times per week, repeating the DR test every two weeks to see if your gap is closing.
Until your core is back to normal, doing exercises or movements that fully rely on the core will further damage and weaken the muscles. It's like trying to stand on a broken foot – you need the foot to heal before it can bear the weight of your body. Until your abs and core have returned to baseline strength and health, doing exercises that need a strong core won't make it heal faster, but will instead lengthen the time it takes to heal and can even worsen the problem significantly.
Following a diastasis recti program or working with a physical therapist is the safest way to reverse the condition without exacerbating the damage. It's important to know that even some online sources offer incorrect advice on how to handle pelvic floor problems. No, increasing the number of Kegels (the tightening of the pelvic floor muscles) that you do won't undo or correct a pelvic floor or DR problem.
3. Get physical therapy if needed.
Some doctors will refer anyone with DR measuring over two finger widths for physical therapy. Physical therapy can speed up the healing time and also boost pelvic floor health, which can include symptoms like urinary incontinence, intestinal pains and problems, and even sexual dysfunction.
While it's embarrassing to speak about pelvic floor issues, diastasis recti is not just a cosmetic issue that's about vanity. It is associated with real physical symptoms that need to be addressed for overall wellness and health.

(Read This Next: Natural Pain Relief – 9 Foods That Soothe Pain Without Drugs)