These nutty thumbprint cookies are perfect for weekend meal prepping. Bonus: they require absolutely zero baking!
Made with just eight ingredients, these raw, chewy cookies are easy to make and Paleo-friendly for a sweet snack packed with protein.
Unlike traditional thumbprint cookies, these are grain-free and made with almond flour, coconut flour and cashew butter, giving the cookies a boost of protein and healthy fats. Plus, the cashew butter adds that extra silky and creamy texture!
Love Paleo Desserts? Then you'll love our FREE Paleo Dessert Cookbook.
Click here to get your FREE copy of our delicious Dessert Recipes!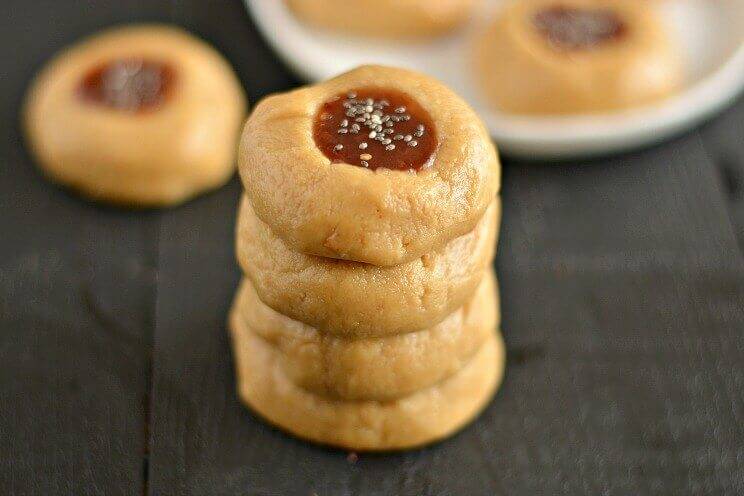 In true thumbprint style, these cookies have a jelly-filled center with sprinkles of chia seeds on top. To start, combine all the ingredients, except for the jelly, in a bowl. Roll the dough into balls, make thumbprints in the dough using a teaspoon, and fill with jelly. Then place in the fridge to harden for about one to two hours. The hardest part is the waiting, but you'll be rewarded with the perfect snack to satisfy your sweet tooth.
If you really want to get fancy here, make your own chia seed jam to fill the cookies with. Check out this 3-Ingredient Strawberry Chia Seed Jam recipe or simply mash a bunch of your favorite berries in a bowl with a tablespoon of chia seeds and you've got homemade jam!
Megan Olson
No-Bake Thumbprint Cookies with Silky Cashew Butter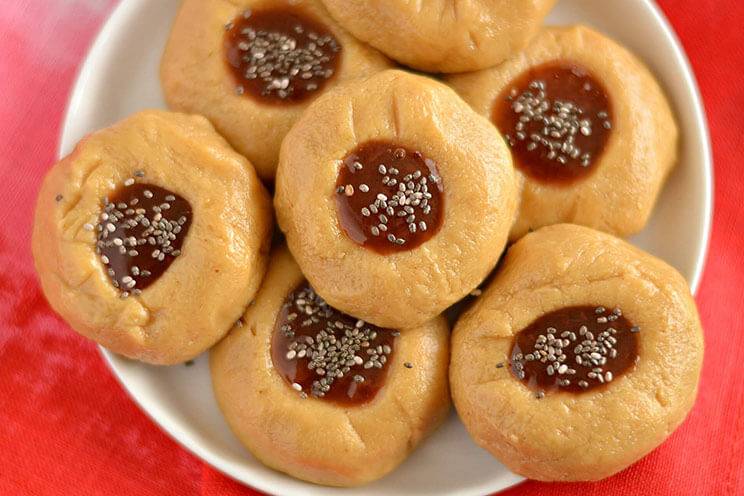 Prep Time:
30 mins
30 minutes
No-Bake Thumbprint Cookies with Silky Cashew Butter
Made with just eight ingredients, these no-bake cookies are easy to make for a sweet snack packed with protein.
Ingredients
¾ cup cashew butter

2 ½ T melted coconut oil

2 ½ T maple syrup

½ t vanilla extract

2/3 cup almond flour

1 T coconut flour

4 T jelly of choice

1 T chia seeds, for sprinkling
Instructions
In a large bowl, add cashew butter, melted coconut oil, maple syrup and vanilla extract. Mix until creamy.

Fold the almond flour and coconut flour into the batter. Stir until fully combined. The dough should be soft and sticky. If not, refrigerate it for 20 minutes to harden prior to forming the cookies.

Roll 2 tablespoons of the dough into balls between your hands and place on a slip mat or parchment paper. Repeat the process until you use up all the dough (you'll have about 12 balls total).

Using a ½ teaspoon measuring spoon, create a well in the center of each cookie. This will also flatten the dough into a cookie shape.

Fill each cookie well with ½ teaspoon of the jelly. Then sprinkle the top of each cookie with chia seeds.

Refrigerate the cookies 1-2 hours until firm and serve. Keep cookies in the refrigerator to maintain freshness.
Tip: For a nut-free version, swap sunflower butter for the cashew butter instead.

(You'll Also Love: No-Bake Cheesecake Cookies)