Make these fluffy pumpkin protein waffles with two healthy scoops of collagen!
Kick-off pumpkin season with warm, gluten-free waffles you can serve for breakfast or dessert! These nutritious waffles are naturally sweetened with bananas and pumpkin purée, and they have extra staying powder thanks to protein-rich collagen sourced from grass-fed beef.
Key Ingredients For A Flawless Waffle Batter
To make the batter for these pumpkin protein waffles, we start with soaked cashews for a nice creamy base. Then we add mashed banana for sweetness, and a combination of pumpkin purée and pumpkin spice to really enhance those fall flavors.
Love Coconut Flour Recipes? Then you'll love our FREE Coconut Flour Recipes.
Click here to get your FREE copy of our delicious Coconut Flour Recipes!
Next, we toss in a bit of coconut flour to add some density and add eggs to hold everything together. The end result is a smooth, thick batter ready to be poured into the hot waffle maker!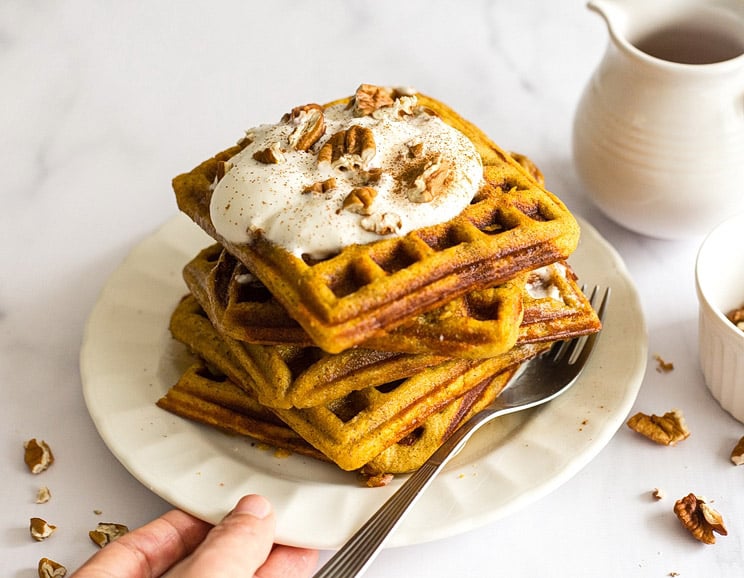 Here's Why You'll Want To Add Collagen
As a bonus, we sneak in a little grass-fed collagen to help nourish your gut. Collagen is full of health benefits and can help improve digestion, relieve joint pain, and prevent bone loss, just to name a few.
Fortunately, collagen easily dissolves into the batter so that you can't even taste it. Plus, it works to slightly thicken the batter so that it doesn't stick to the waffle iron.
A Quick Note On Waffle Makers
Most waffle irons come with a light to let you know when the batter is done cooking. However, it's usually not very accurate and the batter tends to require more time to fully heat on the inside.
The best way to ensure the waffles cook to perfection is to check for steam coming out of the waffle iron. This happens after you pour the batter into the heated machine and close the lid. When the steam stops, it's time to remove your waffle and enjoy!
Helpful Tips For Getting Started:
Double-up and freeze for later. You can stash the cooked waffles in the freezer and enjoy them throughout the week. Just let them thaw for five minutes before reheating in the oven or toaster.
Swap out the mashed banana for applesauce. You can use equal amounts interchangeably – both taste just as great!
Load up on all the best toppings. Try other add-ons like butter, your favorite jam, chopped almonds, or even pistachios.
Felicia Lim
Spiced Pumpkin Protein Waffles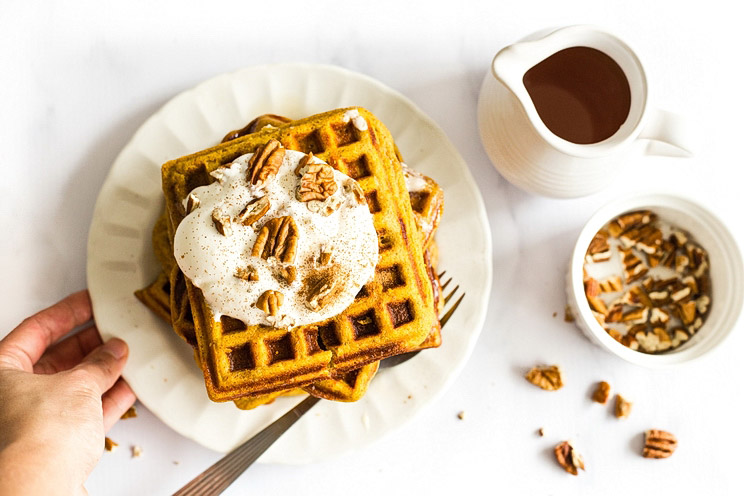 Cook Time:
15 mins
15 minutes
Prep Time:
10 mins
10 minutes
Nutrition facts:
20 grams of protein
40 grams of carbohydrates
36 grams of fat
Spiced Pumpkin Protein Waffles
Make these fluffy pumpkin protein waffles with two healthy scoops of collagen.
Ingredients
½ cup raw cashews, soaked for at least 15 minutes and drained

¼ cup filtered water

1 cup mashed banana

½ cup pumpkin purée

5 large eggs

¼ cup melted coconut oil, plus more for brushing

½ cup coconut flour

2 T pumpkin spice

2 T collagen powder

2 t baking powder

¼ cup whipped coconut cream, for topping

1 T chopped pecans, for sprinkling

2 T raw honey, for drizzling
Instructions
Put the soaked cashews and water in a blender and pulse until smooth, scraping down the sides as needed.

Add the banana, pumpkin, eggs, and coconut oil and continue pulsing for 30 seconds. Stop when the mixture is smooth and thick.

Add the coconut flour, pumpkin spice, collagen powder, and baking powder into the blender. Pulse for 20 more seconds to get a thick homogeneous batter, then set aside.

Heat the waffle iron and lightly brush it with melted coconut oil.

Ladle about 1½ cups of batter onto the waffle iron and use a silicone spatula to spread it out. Cover the lid and let it cook until it's no longer steaming.

Once the waffle is cooked, use a spatula to remove the waffle from the iron and set aside. Repeat until there is no more batter left.

Serve waffles warm topped with whipped coconut cream and chopped pecans. Drizzle raw honey on top and enjoy!
Looking for Paleo ingredients? Here are a few we'd recommend:
Raw cashews (Terrasoul Superfoods)
Cold pressed coconut oil (Viva Naturals)
Coconut flour (Anthony's)
Collagen (Vital Proteins)
Baking powder (Hain)
Coconut cream (Native Forest)
Raw pecans (NOW Foods)
Raw honey (Bee Farms)
When it comes to supporting healthy skin, hair, nails, and joints, not all collagen powders do the trick. Our friends at Bright Naturals are about to release an amazing new collagen powder specifically targeted at youth and beauty. Stay tuned to grab yours as soon as it comes out!