Enjoy a classic lunchtime favorite with this Turkey Cobb Salad packed with veggies, protein, and everything you need to power through the day.
Turkey doesn't only have to be for the holidays. Roasting a turkey breast is a faster and easier way to enjoy all the flavor and taste of traditional turkey, without having a 12-pound bird in your refrigerator.
Roasting a turkey breast takes only about a hour or less, and if you are only preparing it for a single person, it's enough meat for about a week's worth of this delicious salad – say hello to your new favorite weekly meal-prep idea!
Love slow cooker recipes?
Click here to get your FREE copy of our delicious Slow-Cooker Recipes!
Another added bonus of roasting only the breast? No basting. That gives you plenty of time to prepare the remaining ingredients – like the bacon and hard-boiled eggs – because no Cobb salad is complete with either!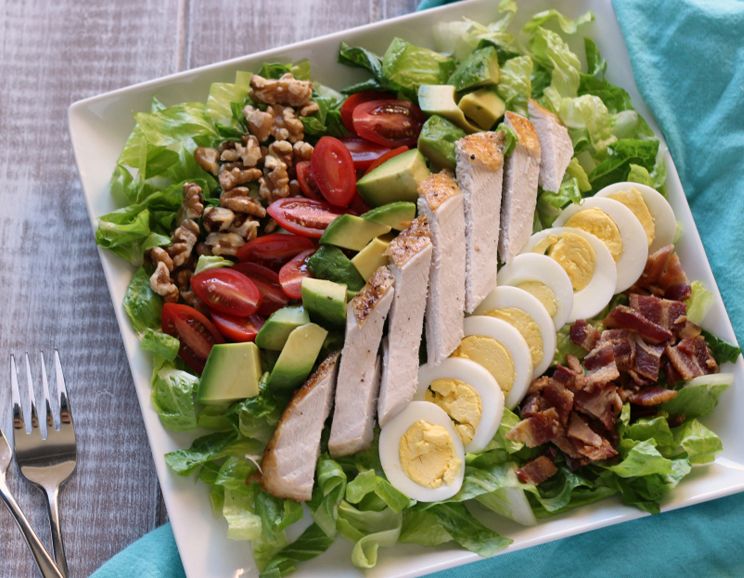 My favorite way to prepare hard-boiled eggs is to place the eggs in a saucepan full of room temperature water and allow them to warm slightly for about 5 minutes. Place the saucepan on the stove and turn to high heat. Turn your timer on for 20 minutes and allow the water to boil the entire time.
Once your timer goes off, remove the saucepan from the stove and run cold water over the eggs to begin the cooling process. Allow the eggs to sit in cold water for about 10 minutes, and peel them while warm – it makes it so much easier to peel them! Place the peeled eggs in a container and chill in the refrigerator until you're ready to add them to your salad.
By the time your turkey breast has roasted, all of your other ingredients will be finished and ready to eat.
PS: This recipe works just as great with chicken breast!
Deanna Dorman
Protein-Packed Turkey Cobb Salad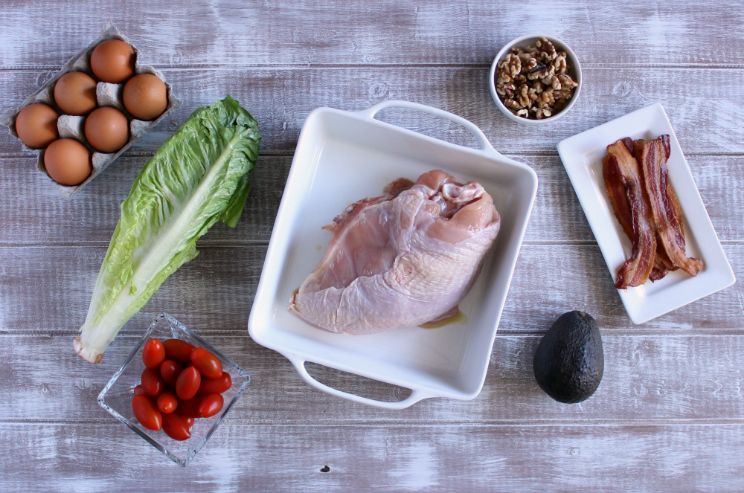 Cook Time:
60 mins
60 minutes
Prep Time:
15 mins
15 minutes
Protein-Packed Turkey Cobb Salad
Ingredients
1 1/2 - 3 pound organic turkey breast

2 T grass-fed butter or ghee

salt & pepper to taste

For the Salad:

2 heads of romaine lettuce, shredded

6 hard boiled eggs, chilled & sliced

3-4 slices bacon, crumled

1/2 cup grape tomatoes, halved

1 avocado, diced

1/4 cup walnuts

For the Dressing:

1/2 cup extra virgin olive oil or avocado oil

1/4 cup apple cider vinegar

1 t Dijon mustard

1 t raw honey

salt & pepper to taste
How To Make It
1. Preheat oven to 450℉, and generously grease a baking dish with butter or ghee.
2. Place the turkey breast bone side-down in the dish and brush with melted butter or ghee. Season with salt and pepper to taste and bake for 45-60 minutes depending on the size. Make sure the internal temperature reaches 160℉. Remove the breast from the oven and let it rest 10-15 minutes before slicing.
3. While the turkey is roasting and resting, prepare the rest of your ingredients. Chop your veggies, cook the bacon, and peel & slice your eggs.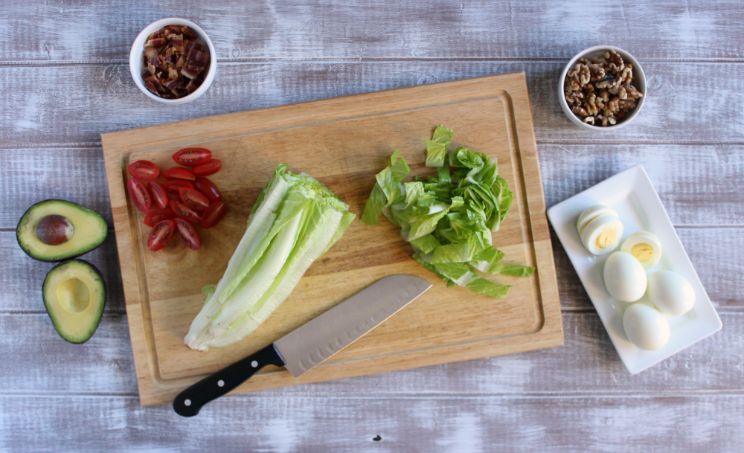 4. Create a simple vinaigrette by combining olive oil, apple cider vinegar, mustard, honey, and salt and pepper to taste in a small bowl and whisk to emulsify.
5. Once the turkey has rested, carefully slice and cut into bite-sized pieces.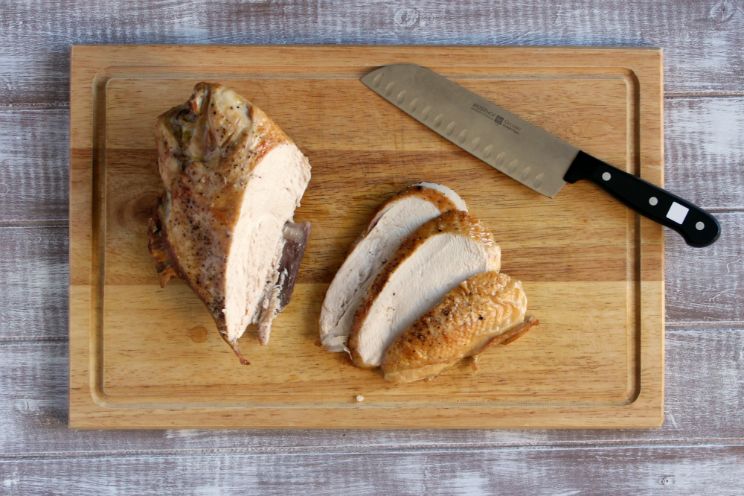 6. Prepare your salad by combining a bit of each ingredient in a medium bowl, drizzle with the vinaigrette, and enjoy!

(You'll Also Love: 24 Perfect Paleo Salad Recipes)