Combine your favorite Paleo breakfast foods with these savory sweet potato boats.
In this simple recipe, sweet potatoes get twice-baked, once to soften the potatoes so the flesh can be scooped out and once more to bake the eggs inside.
Leaving the skins on sweet potatoes means there is plenty of fiber in each serving. Sweet potatoes can be baked up to 24 hours beforehand and then sliced when you're ready to add the eggs for quick prep. Yams, white sweet potato, or even purple potatoes all work in this recipe.
Love Paleo Breakfasts? Then you'll love our FREE Paleo Breakfast Recipes.
Click here to get your FREE copy of our delicious Breakfast Recipes!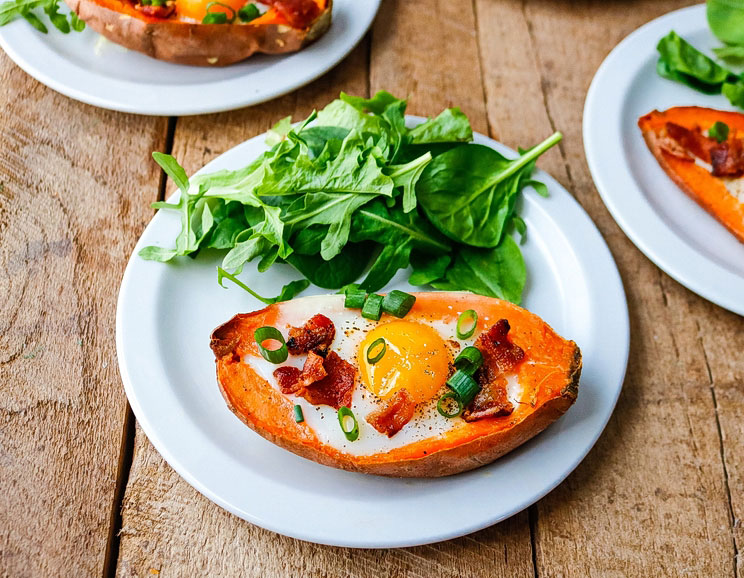 How To Make An Egg Boat
In order to make room for the eggs, we scoop out ¼ to ⅓ cup of sweet potato. This leaves enough room for the eggs to spread and bake without overflowing. About 15 minutes cooks the egg whites and leaves the yolk runny. For fully cooked egg yolks, allow an extra 5 minutes of baking.
Pasture-raised bacon and chopped green onion finish off each potato boat, adding herby and smoky flavors that round out the recipe. Go ahead and sub in turkey or beef bacon if you'd like.
Other great toppings include nutritional yeast (for "cheesy" flavor without the dairy), chopped basil, or fresh chopped thyme.
Helpful Tips To Get You Started:
You need the right shape. Look for sweet potatoes that are evenly shaped and not too thin, with plenty of room for the eggs to fit. Medium or large potatoes work best.
How would you like your eggs? Eggs can also be scrambled and poured into the sweet potatoes, or you can bake them another 5 minutes for well-done eggs.
Don't waste the filling! Reserve the sweet potato flesh that is scooped out to use in sweet potato fritters, mashed sweet potatoes, or even sweet potato brownies.
Enjoy these fresh. These egg boats are best enjoyed hot out of the oven for optimal flavor and texture.
Jennafer Ashley
Baked Sweet Potato Egg Boats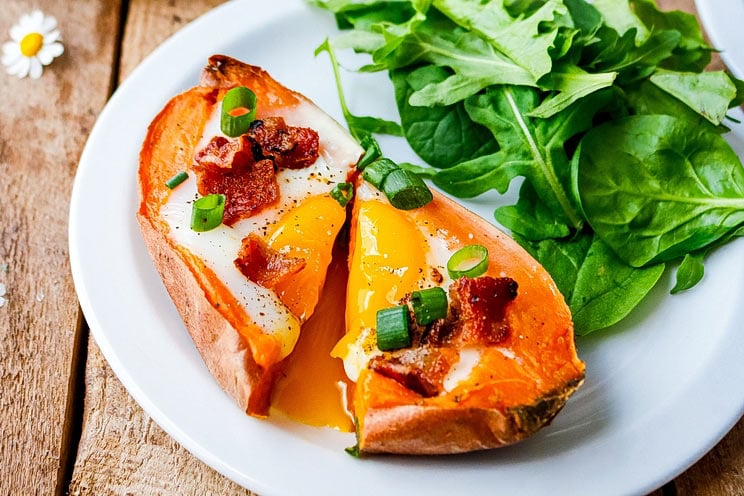 Inactive Time:
15 mins
15 minutes
Cook Time:
1 hr 15 mins
1 hour 15 minutes
Prep Time:
10 mins
10 minutes
Nutrition facts:
9 grams of protein
14 grams of carbohydrates
8 grams of fat
Baked Sweet Potato Egg Boats
Combine your favorite Paleo breakfast foods with these savory sweet potato boats.
Tools
8-by-10-inch baking dish

Parchment paper
Ingredients
2 medium sweet potatoes

1 t avocado oil

4 large eggs

1/2 cup chopped green onion

2 strips bacon, cooked and chopped

1/4 t salt

1/8 t ground black pepper
Instructions
Preheat the oven to 375ºF and line the bottom of a medium casserole dish with parchment paper. Wash and dry the sweet potatoes, and poke holes in them with a fork. Lightly grease the sweet potatoes with avocado oil.

Place the sweet potatoes in the baking dish and bake until fork-tender, about 1 hour. Cool the potatoes at room temperature for 15 minutes.

Reduce oven to 350ºF. Slice the sweet potatoes in half and scoop out the flesh in the center to create a small well, leaving about ½-inch sweet potato flesh around the edges. Crack the eggs into the sweet potato halves. Return them to the oven for 15 minutes to cook eggs.

Top the sweet potatoes with green onion, crumbled bacon, salt and pepper. Serve hot.
Looking for Paleo ingredients? Here are a few we'd recommend:
Avocado oil (Bella Vado)
Black pepper (Frontier)
Sweet potato egg boats make an amazing breakfast, as do these sweet potato toasts with sweet and savory variations.