You religiously slather on sunscreen every time you head outside. But what if we told you that certain sunscreens are actually bad for your health? Here's how to make sure you're buying the right product.
It's important to protect your skin from UV rays to prevent everything from minor sunburn to scary skin cancer, but there's a lot of confusion about which sunscreen ingredients are safe.
Instead of assuming that all sunscreen is better than none, start checking the labels of your sunscreen. We'll help you break down which active and inactive ingredients are the safest products for you and your family in this easy sunscreen shopping guide.
Want naturally radiant skin? We've created a FREE guide to give you the best tips & tricks for natural skincare.
Click here to get your FREE copy of our Skincare Guide!
How Does Sunscreen Work?
Sunscreen works like this: certain ingredients help to bounce the sun's UV rays off our skin, instead of letting it absorb. UV blockers can be made from either chemical or mineral ingredients.
Each sunscreen is labeled with an SPF, or "sun protection factor", which indicates the product's strength. For example, a sunscreen with an SPF of 30 provides 30 times the protection of no sunscreen at all. Contrary to what some people believe, the SPF has nothing to do with the number of hours you're protected from the sun. Most sunscreen needs to be reapplied every 60 to 90 minutes to be effective.
Why Chemical Sunscreen Is Bad
Research from 2019 found that chemicals in sunscreens don't just sit on the skin and reflect away the sun's rays. Instead, these chemicals penetrate the skin and can leech into the bloodstream after a single day of use – and facial sunscreen is absorbed four times faster! (1) We're not talking about an untraceable amount here, either. In fact, some study participants had chemical blood concentrations that exceeded the FDA's allowable safety standards for nontoxic substances. (2)
This can be dangerous for several reasons. Certain sunscreen ingredients can cause neurotoxicity, reproductive problems, affect fetal development, and reduce fertility in both men and women. (3, 4)
These alarming findings call for new sunscreen safety guidelines by the FDA, but these changes are often slow to take effect. In the meantime, it's important to make your own informed health decisions about sunscreen.
---
7 Toxic Sunscreen Ingredients to Avoid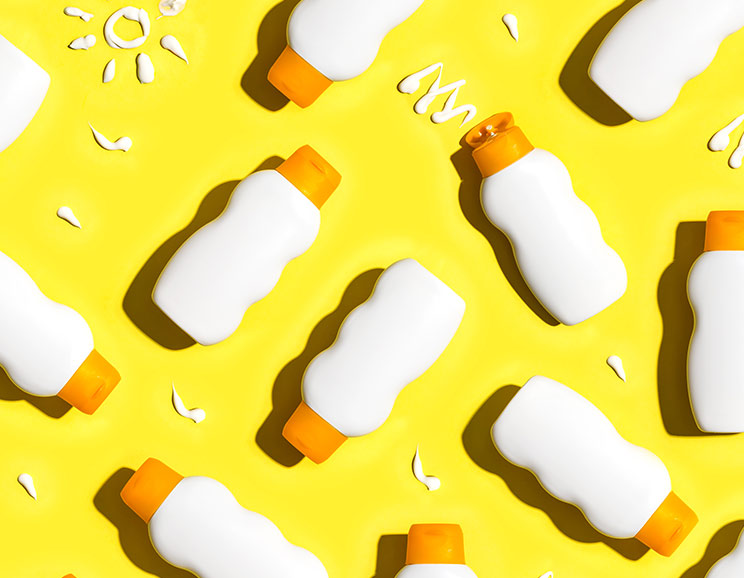 It's not always apparent what type of UV blockers are used in sunscreen by looking at the front of the bottle, so it's important to turn it around and read both the active and inactive ingredients sections. The following chemicals are the worst offenders for chemical exposure, so if your sunblock contains one or more of these, it might be time for a replacement.
1. Oxybenzone
Oxybenzone is widely used in sunscreen products in the U.S. It is a chemical UV blocker so pervasive that 96 percent of Americans currently have some in their system. This toxin is detectable in urine after just a few hours of use, and can affect your hormones. (5, 6, 7)
Studies find that it isn't safe for reproductive health, either. High levels of oxybenzone is associated with changes in birth weight and gestational age, potentially causing preterm birth or abnormal birth weight. (8) Another name for oxybenzone, dihydroxybenzophenone, is tied to higher associations with fertility complications like fibroids and endometriosis, along with longer time to pregnancy, sperm quality problems, and changes in gestational size and age. (9)
2. Avobenzone
Avobenzone is another common sunblock used in chemical sunscreens. You might have heard about it in recent headlines, where it was reported that this ingredient can rapidly leech into the bloodstream. (10)
The Environmental Working Group questions its safety for those who have allergies, skin conditions, or cancer. (11) That's because avobenzone can cause skin irritation after long-term repeated exposure.
3. Octinoxate
Octinoxate is another common sunscreen ingredient, and it was recently restricted in Hawaii due to its damaging impact on coral reefs. Animal studies show that it can affect hormone health, including pituitary, estrogen, progesterone, and androgens. This toxin can be detected in human urine, blood, and even breast milk, most likely due to pervasive sunscreen exposure. (12, 13)
4. Homosalate
Homosalate is another common UV blocker that disrupts hormone health, particularly estrogen and androgens. (14) It is found in most chemical sunscreen products. The Environmental Working Group's major concern for this chemical is not the presence itself, but how it breaks down into chemical byproducts as it is exposed to sunlight. (15)
5. Octisalate
Octisalate is a sun blocker widely found in U.S. chemical sunblocks. This toxin can promote contact dermatitis or allergies in those with sensitive skin. It is also an environmental toxin because it doesn't break down after entering the water supply. (16) The primary use of this ingredient is to make avobenzone more stable when exposed to sunlight.
6. Octocrylene
Octocrylene is another UV blocker that can cause allergic reactions in certain adults and in children. (17) Research also shows that it can produce reactive oxygen species (ROS) that have the potential to interfere with healthy cellular signaling. Oxidative damage can lead to cell death, which could ultimately lead to cancer, infections, and even neurodegenerative disorders. (18, 19)
7. Methylisothiazolinone
Methylisothiazolinone is a preservative commonly found in many chemical sunscreens and even baby wipes, as it's designed for children or adults with sensitive skin. (20) It's considered an inactive ingredient, but it can comprise as much as 70 percent of a sunscreen product.
This product is labeled safe for sensitive people because it has an overall low potential for causing an immediate reaction. However, there is a risk of eczema and other allergic reactions in children when used over time. In fact, it's so dangerous that methylisothiazolinone was once named the "contact allergen of the year" by the American Contact Dermatitis Society. (21)
---
How Mineral Sunscreen Is Different
Now that we've explored some of the damaging side effects of chemical sunblock, the good news is that there are safer alternatives. Mineral sunscreens rely on naturally occurring ingredients that change the way that the skin interacts with UV rays. Instead of creating a chemical reaction, they naturally protect the skin from absorbing all of the radiation and don't leech into the bloodstream.
According to the Mayo Clinic, true mineral sunscreen is a gentler, safer option for sun protection. (22) However, not every sunscreen labeled "mineral" will be better. Some mix chemical and mineral sunblock ingredients, while others have inactive ingredients that can also be toxic, like fragrance and preservatives.
Ultimately, simpler is better when it comes to mineral sunscreen. Let the natural ingredients do their job, and keep added ingredients to a minimum.
Common mineral sunblock ingredients: Zinc oxide or titanium dioxide.
---
The 10 Best Mineral Sunscreens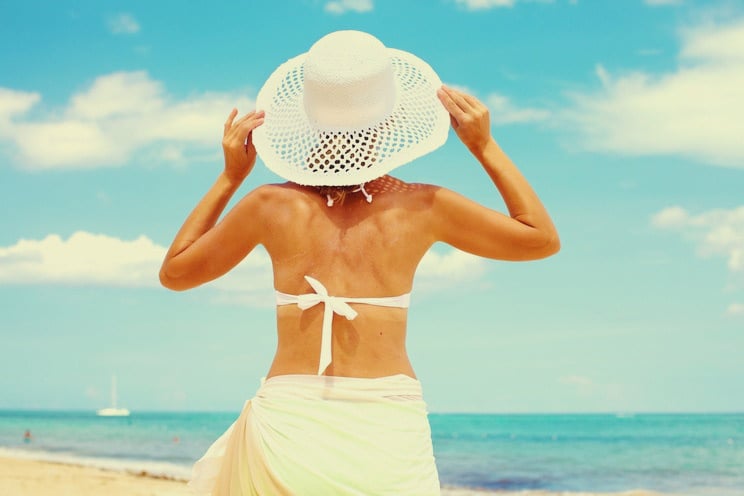 Sifting through the massive offering of mineral sunscreens can be daunting. We rated the top 10 mineral sunblocks that contain the fewest amount of toxic ingredients while effectively protecting the skin.
1. Baby Bum Fragrance-Free Mineral Sunscreen
This all-around mineral sunscreen says it's for babies, but it's great for adults, too. With no weird scents, it won't irritate sensitive skin and stays on for long-lasting protection.
SPF: 50
Uses: Full-body sunscreen
Price: $14
Where to buy: Amazon
2. Thinkbaby Safe Sunscreen
Here's another gentle all-over sunscreen for adults and children. It contains soothing aloe and feels gentle on the skin.
SPF: 50+
Uses: All-purpose sunscreen
Price: $10
Where to buy: Amazon
3. Sunology Body Mineral Sunscreen
This sunscreen boasts 80 minutes of water and sweat resistance, so you can get active in the sun without worrying about reapplying too much.
SPF: 50
Uses: Active sunscreen protection, water, and sweat resistant
Price: $13
Where to buy: Amazon
4. Alba Botanica Sensitive Fragrance Free Mineral Sunscreen Lotion
Want to get a little sun glow on your face? This lower SPF will still keep your skin protected while giving you a nice summery glow.
SPF: 30
Uses: Lower SPF all-over sun protection for adults
Price: $7
Where to buy: Amazon
5. Attitude Natural Care Hypoallergenic Mineral Sunscreen
This sunscreen is Environmental Working Group-verified and deemed safe for babies and children. It's also perfect for anyone with sensitive skin. Plus, it has a lovely vanilla scent!
SPF: 30
Uses: Babies, kids, all-over protection
Price: $19
Where to buy: Amazon
6. Two Peas Organics Waterproof and Unscented Mineral Sunscreen
Mineral sunscreens can sometimes feel like they sit on top of your skin and add a white film, but this light and airy sun protection rubs in much better.
SPF: 30
Uses: Light and non-greasy, all-over sun protection
Price: $13
Where to buy: Amazon
7. Babo Botanicals Clear Zinc Sportstick Sunscreen
This easy-to-apply sun block stick is great for face touch-ups, sensitive spots, or extra protection for areas that tend to burn (hello, top of the nose and cheeks). It's also great for kids and makes re-application a snap.
SPF: 30
Uses: On the go, touch-up spots, kids, and adults
Price: $11
Where to buy: Amazon
8. Goddess Garden Face the Day Mineral Moisturizer
This sunscreen also acts as a moisturizer, so it's the perfect two-in-one summer product. It'll keep your sensitive facial skin safe from burning, and you can easily put make-up right on over it.
SPF: 30
Uses: Face moisturizer and protection, under make-up application
Price: $16
Where to buy: Amazon
9. Badger Active Broad Spectrum Unscented Mineral Sunscreen
Sensitive skin and the sun don't mix. Fortunately, this ultra-gentle formulation will protect the skin from the sun's burning rays and still allow for fun in the sun. It's non-greasy formula won't irritate sensitive skin.
SPF: 30
Uses: Activity in the sun, sensitive skin
Price: $14
Where to buy: Amazon
10. Bare Republic Baby Mineral Sunscreen Stick
Another stick option, this baby-friendly sun stick is the best way to protect your kids on-the-go. It's also a high-SPF and doesn't look obnoxiously white when applied – perfect for touch-ups even over make-up.
SPF: 50
Uses: Kids, babies, face, touch-ups, on the go
Price: $15
Where to buy: Amazon
Concerned about your skin? Eat yourself beautiful and clear your acne, wrinkles, and fine lines with our Primal Beauty program! Developed by Certified Integrative Clinical Nutritionist Neely Quinn, Primal Beauty has over 200 recipes that rejuvenate your skin, hair, and even help you with weight loss. Eat your way to an incredible makeover today!