Switching to a low-calorie sweetener like Splenda to avoid the pitfalls of regular sugar? Here's why you might want to think twice.
Too much added sugar in your diet can be harmful, leading to weight gain and an increased risk of developing neurological disorders like Alzheimer's. (1) For this reason, you may have decided at some point to switch to a low-calorie sweetener such as Splenda or Equal. Unfortunately, these sugar alcohols can be even more dangerous than consuming natural sugar.
Read on to see exactly what sugar alcohols are, and how they affect your body.
In need of a sugar detox?
Click here to get your FREE Sugar Detox Guide + Sugar-Free Recipes!
What Are Sugar Alcohols?
Sugar alcohols (also called "polyols") are hybrids of sugar and alcohol molecules. While they are referred to as "alcohols", they actually don't contain alcohol.
Sugar alcohols are found in fruits and vegetables. However, they are also produced industrially and processed from glucose in ingredients like cornstarch.
Unlike artificial sweeteners, sugar alcohols do contain calories (although it's fewer than plain sugar). In appearance, sugar alcohols look nearly identical to white sugar crystals, and because of their chemical structure, will taste very similar to regular sugar.
Natural Sugars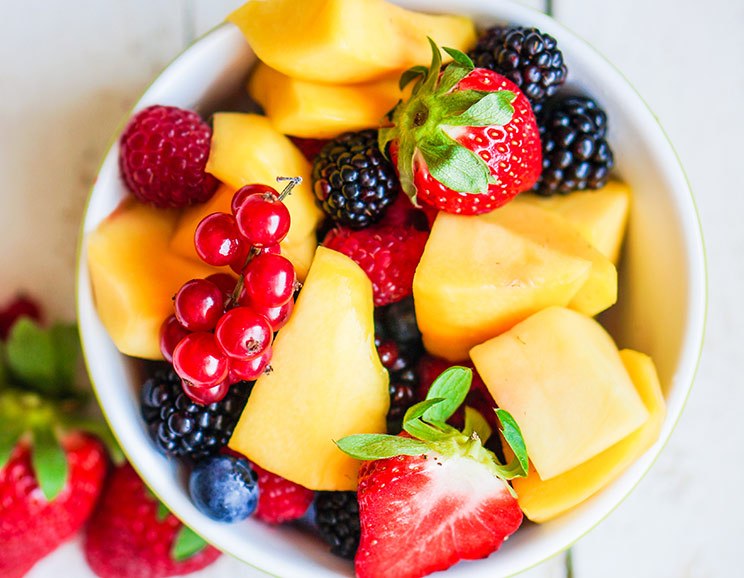 Sugars are carbohydrates found in many foods, including fruits, veggies, sugarcane, and even milk. The sugar in fruit and veggies is encased in fiber that slows absorption of fructose, giving liver more time to metabolize them. These natural sugars are also easily recognized by your body and are all broken down into glucose.
There are several types of natural sugar, including:
Sucrose. This is commonly known as "table sugar," and is present in sugar cane, fruits and vegetables.
Fructose and glucose. Found in fruits and veggies, including starchy tubers.
Lactose. The sugar found in milk.
Maltose. Found in malted drinks and beer.
Popular Sugar Alcohols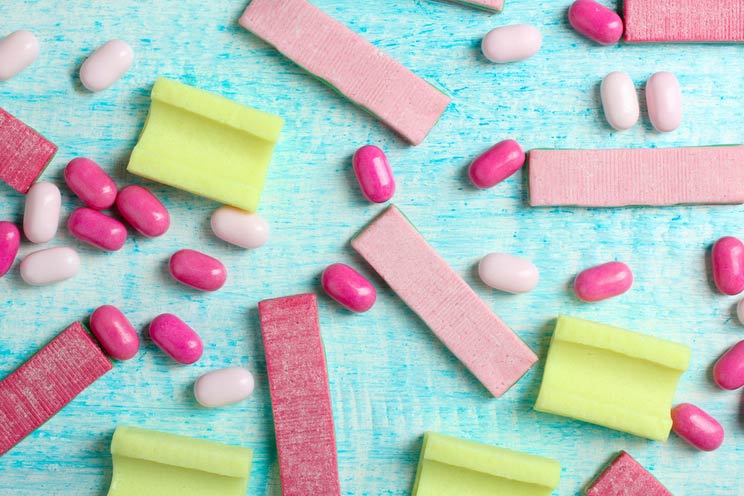 Sugar alcohols, on the other hand, are derived from natural sugars, but aren't wholly sugar. Instead, an industrial process extracts them from fruits and vegetables, which results in a sweet substance that has about a third of the calories of regular sugar.
Below is a list of common sugar alcohols. You're probably familiar with a few.
Aspartame: Equal, NutraSweet, and NatraTaste Blue
Sucralose: Splenda
Acesulfame K (aka ACE K): Sunette, Equal Spoonful, Sweet One, and Sweet 'n Safe
Saccharin: Sweet'n Low
Xylitol: Mints, gums, toothpaste
Sorbitol: Truvia
---
Are Sugar Alcohols Safe?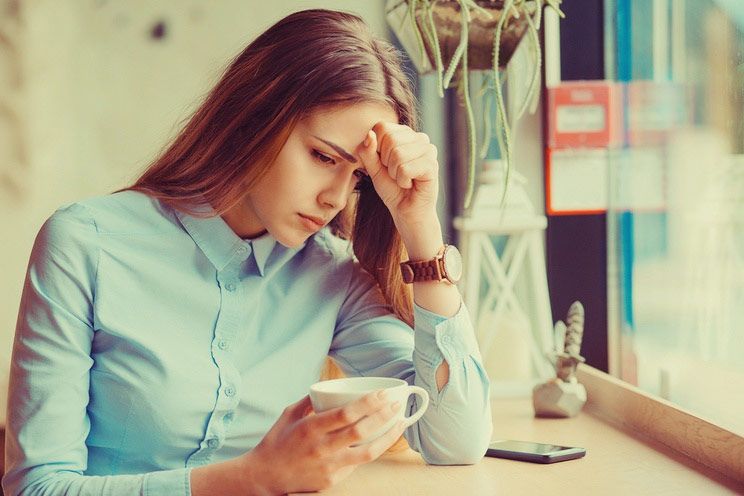 Unfortunately, while sugar alcohols do provide less sugar and calories than regular sugar, they also come with many unwanted side effects.
For instance, aspartame alone has been shown in studies to have carcinogenic (i.e., cancer-causing) effects. Aspartame is also linked to impaired memory performance and increased oxidative stress in the brain, which can lead to brain cell damage. (2, 3)
Studies on other sugar alcohols, such as sucralose, are shown to contribute to the development of blood cancers like lymphoma and leukemia. (4)
In addition, Acesulfame K and its main component, methylene chloride, increased liver, lung, and mammary gland cancer rates in mice. (5)
Due to the number of studies linking sugar alcohols to not only side effects like nausea and bloating, but also cancer, they are anything but safe.
Remember, added sugar alcohols are not natural. They are industrially processed from natural foods to create a substance your body doesn't recognize. When this happens, your body can react in extreme and unpredictable ways.
---
Best Natural Sweeteners to Use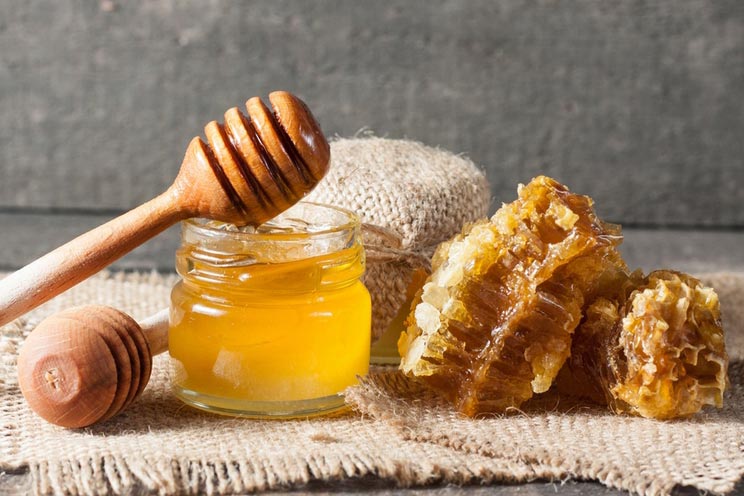 As you can see, while consuming too much sugar is dangerous in and of itself, the side effects of consuming sugar alcohols are downright scary. Luckily, natural sweeteners and sweet herbs can not only be tasty, but can also offer health benefits.
Take a peek at the best natural sweeteners below.
Raw Honey
Raw honey makes an excellent, all-natural sweetener that has plenty of health benefits. Studies show it's antibacterial, anti-inflammatory, and contains enzymes and antioxidants that help prevent DNA damage. (6)
Maple Syrup
Maple syrup contains over 24 different antioxidants, which can help prevent aging and DNA damage. (7)
Stevia
Stevia is a no-calorie sweetener that is extracted straight from the stevia leaf native to South America. It has been used for hundreds of years as a natural sweetener and has been shown to be safe in over 200 studies. (8) However, watch out for stevia-based packaged sweeteners (like Truvia) that have added ingredients like sugar alcohols and artificial fillers.
Monk Fruit
Monk fruit is a small green gourd resembling a melon, and the extract is used as a no-calorie sweetener in a similar fashion as stevia leaf. According to studies, monk fruit may also be able to reduce oxidative stress, one of the hallmarks of many diseases. (9) Like stevia, you'll also want to avoid monk fruit-based sweeteners that have sneaky sugar alcohols added. So make sure to always check the ingredients label.
Coconut Sugar
Coconut sugar comes from coconut palm sap that is dehydrated into sugar crystals. It contains several trace minerals and vitamins, and also has a lower glycemic index than sugar – meaning you don't get as much of a blood sugar spike from it. (10)
Bonus: Applesauce – as long as there is no added sugar or you purée your own – can make a fantastic sweetener in your baked goods. This puréed fruit also adds richness and moisture to keep cakes and cookies from drying out.
Keep in mind that although these sugars are natural, they are still sugar (minus stevia and monk fruit) and will add to your daily sugar intake. Use them in moderation.
---
How Much Sugar Should You Consume Per Day?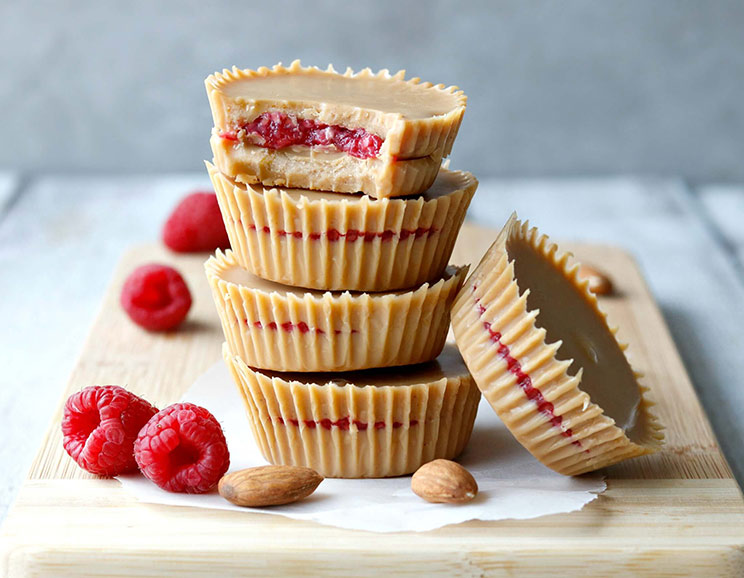 According to the American Heart Association, the maximum amount of added sugars you should eat per day are as follows:
Women: 100 calories per day (25 grams or 6 teaspoons)
Men: 150 calories per day (37.5 grams or 9 teaspoons)
Now, keep in mind this figure is still pretty high, especially when you consider that most natural foods aside from fruit and honey don't contain a lot of concentrated sugar. It's harder to reach these figures when you're focusing on quality grass-fed meats, fresh leafy veggies, squashes, sweet potatoes, and nuts.
If you eat packaged foods – even if they're "Paleo" – it can be easy to reach this sugar limit, especially if it's a packaged dessert or snack.
In all, try to keep your intake below the above figures and your body will thank you.
---
Naturally Sweet Recipes
Forgoing sugar alcohols and replacing them with natural and herbal sweeteners is anything but boring. Whip up some of the decadent recipes below for taste bud proof that natural is always best.
(Read This Next: Cacao vs Cocoa – The Difference and Why It Matters)