This stuffed acorn squash recipe is perfect for a holiday side dish and even doubles as a tasty dessert!
Today, I'm taking roasted acorn squash to the next level by stuffing it with fresh cranberries to make it extra decadent. Acorn squash roasted for an hour in the oven transforms this humble vegetable into a heavenly, sweet dessert that melts in your mouth.
I kept the recipe simple by mixing the fruit, walnuts and almonds with a few fall-inspired spices. I love the combination of tart cranberries with sweet cinnamon and the natural sweetness of the acorn squash.
Love Paleo Desserts? Then you'll love our FREE Paleo Dessert Cookbook.
Click here to get your FREE copy of our delicious Dessert Recipes!

Since the ingredients are simple, you can experiment with different ingredients. Apples, oranges, grapes, nuts, and seeds would all make excellent additions to the base recipe. Get creative, you can't go wrong here!
Once the acorn squash roasts for an hour in the oven, this humble vegetable transforms into a heavenly dessert that melts in your mouth.
Megan Olson
Acorn Squash Stuffed with Cranberries and Apples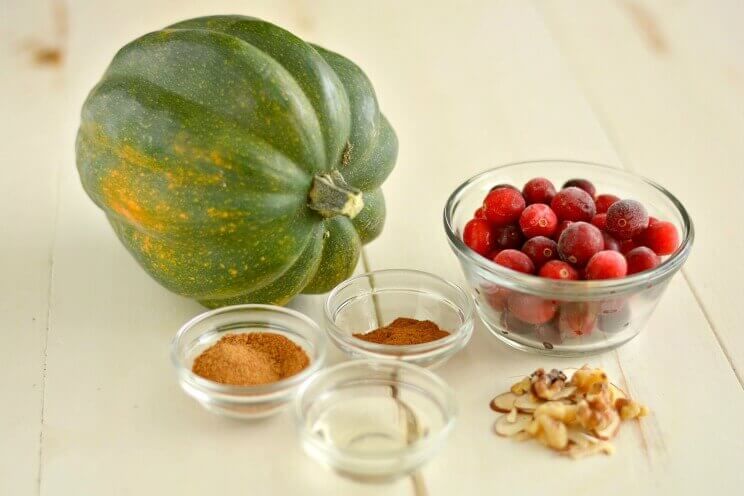 Cook Time:
1 hr 30 mins
1 hour 30 minutes
Prep Time:
10 mins
10 minutes
Acorn Squash Stuffed with Cranberries and Apples
This Apple Cranberry Stuffed Acorn Squash is perfect for a holiday side dish, but it also doubles as a tasty dessert!
Ingredients
1 acorn squash, sliced lengthwise with seeds removed

¼ cup raw walnuts

¼ cup raw slivered almonds (optional, but recommended for crunch!)

½ cup fresh cranberries

2 T coconut oil, divided

½ t cinnamon

¼ t nutmeg
Instructions
Preheat the oven to 375°F. Prepare an 8x8-inch baking dish with parchment paper and set aside.

Slice the acorn squash lengthwise. Using a spoon, remove seeds and discard.

Place the squash on the prepared baking dish. Drizzle one tablespoon of coconut oil on each slice and cover each half with aluminum foil.

Place in the oven and bake for 30 minutes.

While the squash is baking, combine the cranberries, walnuts, almonds, cinnamon and nutmeg in a small bowl.

After 30 minutes, remove the squash from the oven and remove the foil. Transfer the cranberry mixture to the squash cavities, dividing the mixture evenly between the two.

Replace the foil over each squash half and place back in the oven. Bake at 375°F for 1 hour until squash is tender and cranberries are softened.

Remove from the oven and serve immediately.
Pro Tip: You can top the squash with coconut cream to make this extra decadent!

(You'll Also Love: Mango Bacon Butternut Squash Hash Recipe)