Indulge your senses with this sticky toffee pudding drizzled in an irresistible coconut toffee sauce.
This sticky toffee pudding cake is my favorite comfort food, and I don't need a special occasion to make this heavenly goodness. The cake is super rich and served with a syrupy, caramelized toffee sauce. If you're new to baking, don't worry. Our Paleo version of this classic dish is simple and easy to make. All you have to do is soak the dates in hot water with baking soda (which softens the date's skin), blend them with the rest of the ingredients, then bake and enjoy with warm toffee sauce.
Love almond flour recipes? Get our free almond flour recipe cookbook here!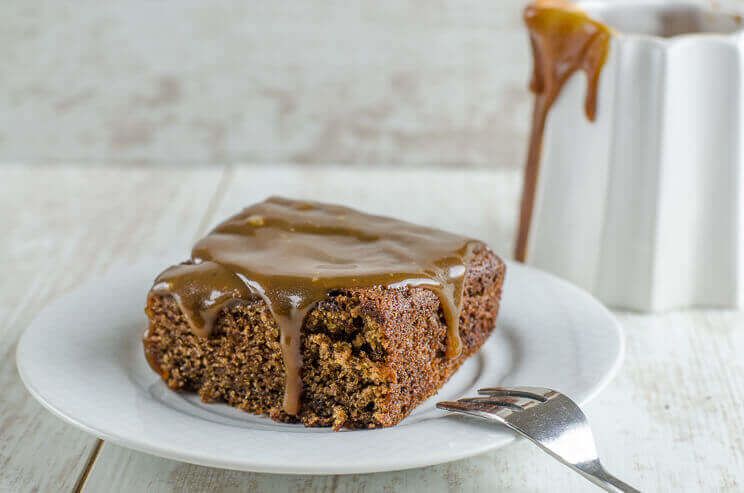 The toffee pudding cake can be refrigerated in an airtight container for up to 4 days, or you can freeze it and reheat it later. If you opt to freeze the cake, cut it into individual squares without the toffee sauce, tightly wrap each square with aluminum foil, and store the squares in the freezer for up to two months. When you're ready to eat them, simply take out a square, let it thaw and reheat it in the oven at 350°F for 10 minutes.
Dina Hassan
Irresistible Sticky Toffee Pudding with Coconut Toffee Sauce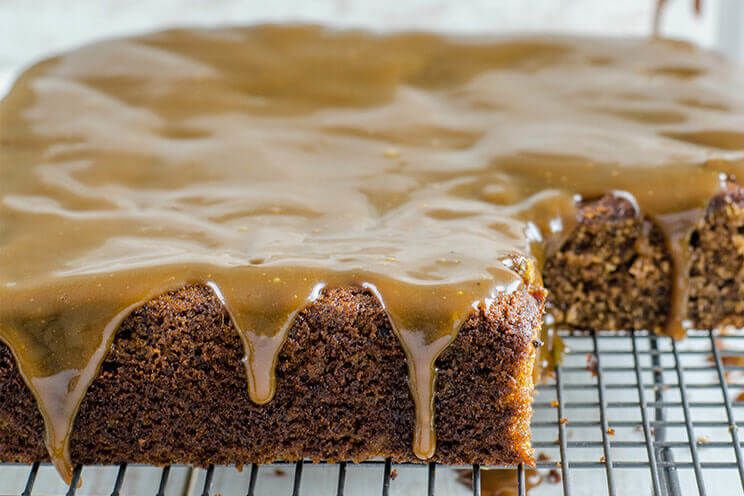 Cook Time:
50 mins
50 minutes
Prep Time:
20 mins
20 minutes
Irresistible Sticky Toffee Pudding with Coconut Toffee Sauce
Indulge your senses with this sticky date pudding drizzled in an irresistible toffee sauce.
Ingredients
For the Date Pudding Cake:
2 ½ cups pitted fresh dates, chopped

1 ½ cups boiling water

1 ½ t baking soda

½ cup coconut oil

1 cup coconut sugar

3 eggs

1 ¼ cup almond flour

¾ cup tapioca flour

¼ cup coconut flour
For the Toffee Sauce:
1 ½ cups coconut sugar

1 cup coconut cream

¼ cup grass-fed butter

1 t vanilla extract
Instructions
Preheat oven to 350°F. Lightly grease a 9-inch square pan and line with baking paper.

Place dates and baking soda in a heatproof bowl. Pour over boiling water and let stand uncovered for 20 minutes or until the dates are tender.

In a separate large bowl, mix almond flour, tapioca flour and coconut flour until combined.

In a blender, add the date mixture, coconut sugar and coconut oil. Blend until well combined. Add eggs and flour mix to the blender; blend until combined.

Pour the mixture into the prepared cake pan. Bake for 45-50 minutes or until a toothpick inserted in the middle comes out clean. Let cool in pan for about 10 minutes, then carefully flip onto a wire rack.

To make the toffee sauce, place coconut sugar and coconut cream in a saucepan over medium heat. Stir until the sugar is dissolved. Bring to boil, then reduce the heat and simmer for 12-13 minutes, until thickened slightly.

Remove from heat and mix in grass-fed butter and vanilla extract. Serve warm or at room temperature with the sticky date pudding cake.
Tip: For extra sweetness, serve the pudding cake with a scoop of Paleo Caramel Toffee Ice Cream!

(You'll Also Love: One-Pan Apple Pecan Coffee Cake)