Seared scallops with herb-infused lemon butter sauce will melt in your mouth!
When it comes to seafood, you can never go wrong with the magic combination of garlic and lemon. If you like a little kick, the nutty flavor of the butter sauce works wonders with a little paprika and some chili flakes.
Scallops might seem intimidating to cook, but they are very easy to make. A quick sear in the pan is all it takes to make these restaurant-quality scallops at home – all you need are a few basic ingredients and less than 10 minutes.
Want to go Paleo? Not sure where to start?
Start with this FREE Paleo For Beginners Guide Today!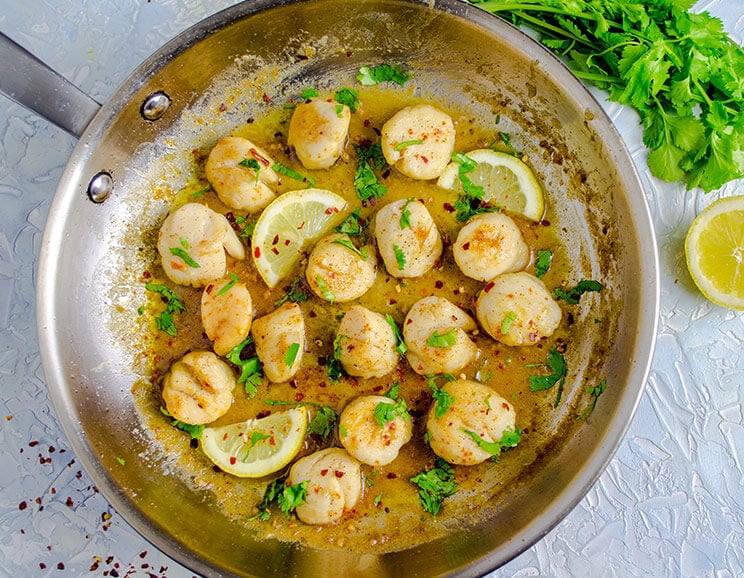 The secret to giving scallops their perfect, golden-brown edge is to sauté them in butter on medium heat for about 1- 2 minutes per side. It's tempting, but don't move the scallops around the pan, except to turn them! This is key to getting the crust just right.
Be sure not to overcook the scallops on the initial sear, as they'll continue cooking once taken off the heat. You'll know the scallops are ready when the centers are still slightly translucent and fairly springy when you press down with your thumb.
Once the scallops have reached this level of doneness, remove from the skillet and prepare the sauce by adding butter and garlic, cooking until fragrant. Add the lemon juice, then return the scallops for a few seconds per side. Serve with fresh chopped parsley.
Tip: Because scallops cook so quickly, you should have everything for your meal ready before preparing them. Try serving them with a fresh salad, sautéed vegetables or mashed cauliflower.
Dina Hassan
Seared Scallops with Lemon Garlic Butter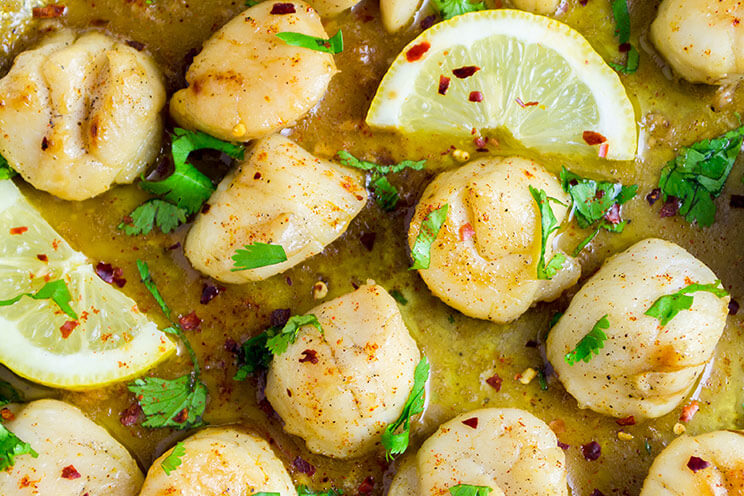 Cook Time:
5 mins
5 minutes
Prep Time:
2 mins
2 minutes
Seared Scallops with Lemon Garlic Butter
Seared scallops with herb-infused lemon butter sauce will melt in your mouth!
Tools
Large skillet

Tongs or thin spatula
Ingredients
1 lb bay scallops

3 T grass-fed butter

2 garlic cloves

1 T lemon juice

¼ t red pepper flakes

¼ t paprika

Salt and pepper, to taste

Chopped fresh parsley
Instructions
Rinse scallops with cold water and pat dry.

Remove the small side muscle (the little flap of tissue along the sides of the scallops) with your fingers. Season with salt and pepper.

Melt 1 tablespoon grass-fed butter in a large skillet over medium heat. Once the skillet is hot, add the scallops and sear for 1-2 minutes per side, until the edges are golden brown and translucent in the center.

Remove the scallops from the skillet, set aside and keep warm.

To make the lemon garlic butter, add the remaining tablespoons of butter to the same skillet along with the garlic and stir occasionally until fragrant. Stir in lemon juice and season with paprika, chili flakes, salt and pepper.

Return the scallops to the skillet and heat for a few seconds per side. Serve immediately and top with chopped fresh parsley.

(You'll Also Love: Pan-Seared Sea Scallops with Garlic Aioli)