Easily roast up artichokes with melted ghee, lemon, and fresh herbs for a savory 6-ingredient appetizer!
We get it, roasting artichokes can seem a bit intimidating – especially when it comes to prepping beforehand. But with a few simple tricks and a little bit of practice, this simple recipe will have you feeling like an artichoke pro in no time!
The Basics of Artichoke Anatomy
Rich in essential vitamins and prebiotics, this fiber-rich veggie keeps most if its edible meat in the "heart" and inner leaves. The heart is where you'll find the mecca of the meat and is often used in dips, salads, and soups.
Love slow cooker recipes?
Click here to get your FREE copy of our delicious Slow-Cooker Recipes!
The outer leaves of the artichoke contain little to no meat, except near the base (where the leaves attach). Trimming these pieces off will remove the prickly parts and leave you with only the tender meaty portions underneath.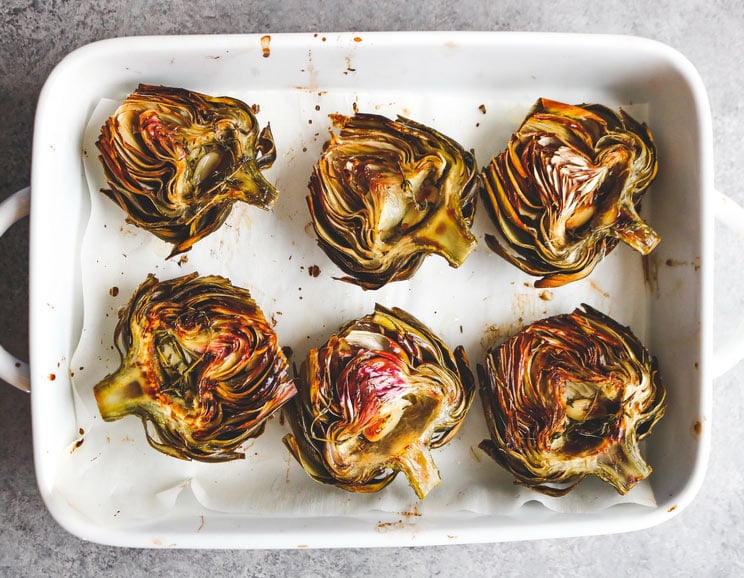 The fuzzy choke on the inside is something you'll want to remove completely and truly lives up to its name as the piece that's hardest to swallow. Biting into it by accident won't kill you, but we definitely wouldn't recommend its fibrous texture to anyone (unless you like the taste of bundled hay).
Helpful Tips to Get Started:
Keep the artichokes ripe with lemons. Rubbing halved lemons over the artichokes before roasting will help slow down the browning process that naturally occurs when sliced – much like avocados or apples.
Stuff your artichokes with fresh herbs. Garlic, rosemary, thyme, or oregano are great options for filling the inner cavity of your pitted artichokes. The steam from roasting will help infuse the artichokes with flavor and aroma.
Use ghee to caramelize the artichokes. Before roasting, you'll want to brush a liberal amount of ghee over both sides of the artichoke. This will help create a golden-brown texture with a buttery taste that trumps all other oils.
Check for readiness with two methods. Artichokes roast for approximately one hour, but smaller artichokes will be ready sooner. To check for tenderness, you can use a sharp knife to poke into the center (it should easily glide in) or tug at the leaves to see if they pull apart effortlessly.
Jennafer Ashley
Garlic Roasted Artichokes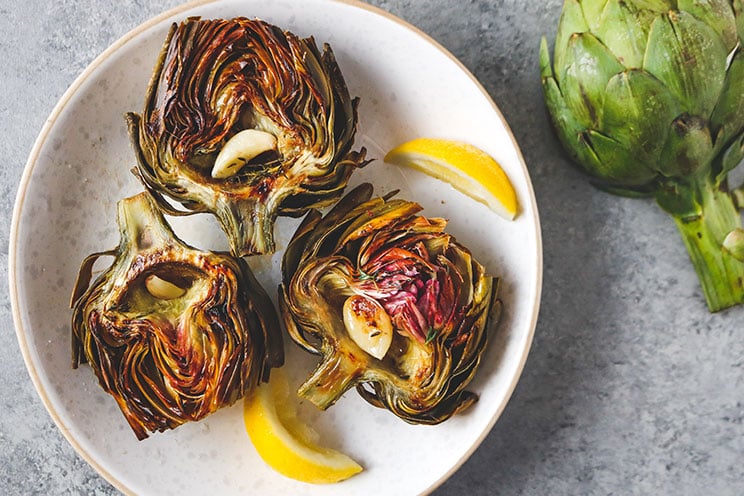 Cook Time:
1 hr 5 mins
1 hour 5 minutes
Prep Time:
15 mins
15 minutes
Garlic Roasted Artichokes
Easily roast up artichokes with melted ghee, lemon, and fresh herbs for a savory 6-ingredient appetizer.
Tools
9 x 13-inch baking dish

Parchment paper

Foil
Ingredients
3 artichokes

1 lemon, halved

3 T melted ghee

6 garlic cloves

12 sprigs thyme

1/4 t sea salt

1 T lemon juice
Instructions
Preheat the oven to 400°F and line a baking dish with parchment paper.

Trim the stem of each artichoke to 1 inch.

On the opposite end, slice off 1 inch from the top.

Use scissors to snip off the pointy tips from the leaves and rub the outside with halved lemons.

Slice the artichokes in half lengthwise and scoop out the fuzzy choke center.

Place the artichokes (cut side up) onto the prepared baking dish and brush with melted ghee.

Fill the center with a clove of garlic and 2 sprigs of thyme, then turn the artichokes over (so the cut side is facing down) and continue brushing with ghee.

Roast for 10 minutes uncovered, then carefully tent the pan with foil.

Bake for an additional 55 minutes or until the leaves are tender. Check for readiness by inserting a knife into the artichoke.

Season with salt and squeeze the lemon juice on top. Serve hot and enjoy!
Looking for Paleo ingredients? Here are a few we'd recommend:
Ghee (Pure Indian Foods)
Sea salt (REDMOND)

(You'll Also Love: Easy Gut-Boosting Roasted Fennel with Garlic & Chives)