Easy, delicious and comforting one-pot meal: This Easy and Healthy Ratatouille gets better the longer it's in the fridge, and it's delicious as a side dish, vegetarian dinner or served with poached eggs for breakfast.

Ratatouille is a classic French stewed vegetable dish, traditionally made from zucchini, tomato, pepper and eggplant. Fresh seasonal vegetables and herbs are the key ingredients to this tasty nourishing dish. Vegetables are a fantastic way to get a bounty of nutrition so this meal is a great way to feel good whilst enjoying every hearty bite. Instead of grated Gruyere cheese top with Paleo-friendly cashew "cheese".
This Ratatouille is so easy to create that you may find yourself making it several times for the mid-week dinner. Serve it alongside zucchini noodles, grilled salmon or a baked sweet potato to get a mega dose of healthy goodness into your body. I also often serve the leftovers with poached eggs for breakfast.
Love slow cooker recipes?
Click here to get your FREE copy of our delicious Slow-Cooker Recipes!
Rebecca Hughes
Easy and Healthy Ratatouille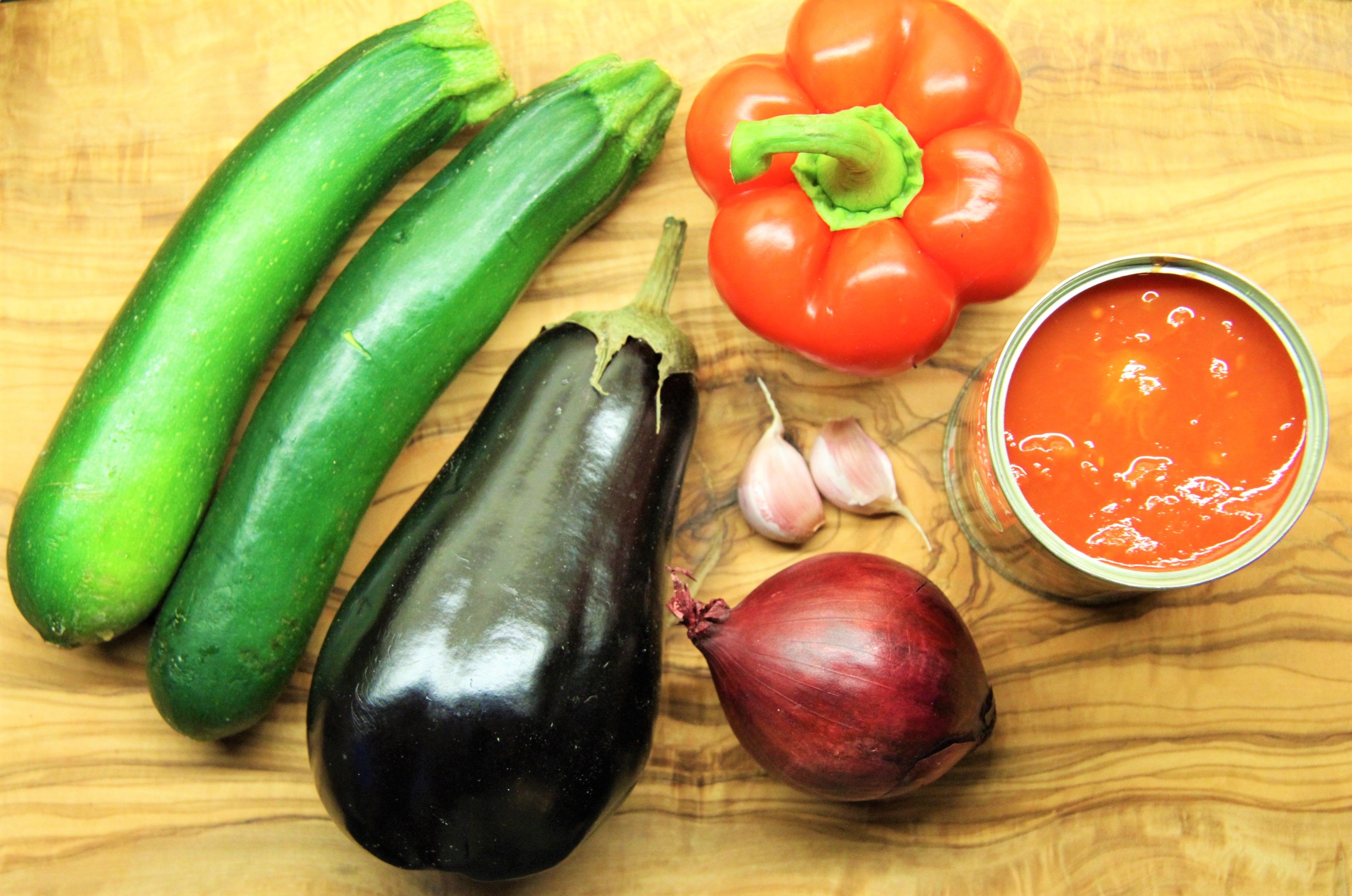 Cook Time:
45 mins
45 minutes
Prep Time:
10 mins
10 minutes
Easy and Healthy Ratatouille
Ingredients
1 large onion, chopped

4 garlic cloves, sliced finely or minced

1 red pepper, chopped

2 zucchinis, chopped

1 aubergine, chopped

1 400g can chopped tomatoes

1 to 2 T dried rosemary, thyme or mixed herbs

Handful fresh basil leaves
How to Make It
1. Use a large saucepan and turn on to a medium-high heat.
2. Add a little water to the pan.
3. Add the onion and garlic, and cook for a few minutes.
4. Then add the pepper, zucchini and aubergine, and stir to combine.
5. Add the chopped tomatoes and dried herbs. Stir everything together.
6. Add water. There wants to be enough to allow all the ingredients to cook but don't add too much to make a watery stew. It wants to be a rich veggie stew!
7. Cook the ratatouille on a low-medium heat for 40 to 50 minutes with a lid placed on the pan but not fully closed. Keep a little gap to allow some steam out of the pan.
8. Stir occasionally. Add more water if required. The whole mix wants to reduce to a rich tomato ratatouille.
9. Once cooked, serve with preferred side dishes.
10. Top with fresh basil.
(You´ll Also Love: Simple Moroccan Vegetable Tagine)
Lose weight, fight inflammation, and soothe your digestion with delicious meals like juicy skirt steak with cucumber & radish salad, succulent pulled pork, and more!
FREE Cookbook:
80 Gourmet Paleo Recipes from
a Professional Chef trained at Le
Cordon Bleu in Paris
FREE Cookbook:
80 Gourmet Paleo Recipes
from a Professional Chef
trained at Le Cordon Bleu
in Paris