Blend up a butterscotch pudding in just five minutes for a quick and creamy dessert!
Love caramel and butterscotch flavors? Try this Paleo-friendly pudding recipe made with all natural and wholesome ingredients. Not only is it spoon-licking good, but you can easily whip up a batch in just five minutes!
Replace traditional dairy ingredients with coconut milk and coconut cream to keep things easy on your tummy. Coconut sugar adds a decadent sweetness that's perfect for creating that signature butterscotch flavor. Note: Maple syrup or honey will not work as a substitute for coconut sugar, since it does not add the same flavor or consistency.
Love Paleo Desserts? Then you'll love our FREE Paleo Dessert Cookbook.
Click here to get your FREE copy of our delicious Dessert Recipes!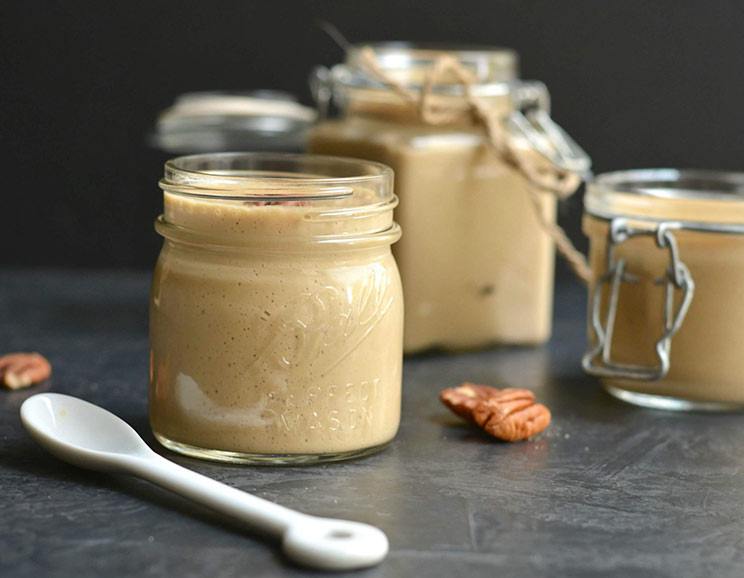 To get started, simmer all ingredients together in a pot for 2-3 minutes. Don't skip this step since it's required to thicken the pudding. The ghee will create a smooth, buttery taste while adding a bit of fluffy texture. Once the pudding is heated to perfection, transfer it to a high-speed blender (or immersion blender) and blend for 30 seconds or until smooth in texture.
The best way to enjoy this pudding is to transfer it to mini glass jars (for single servings), chill for a minimum of 30 minutes, and serve with a spoon. Top it with your favorite nuts, seeds, dried fruit, coconut shreds, and more!
Megan Olson
Blender Butterscotch Pudding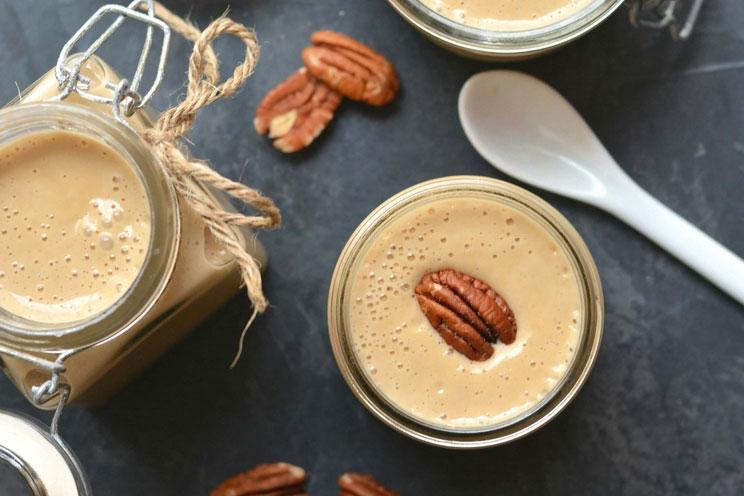 Cook Time:
33 mins
33 minutes
Prep Time:
2 mins
2 minutes
Blender Butterscotch Pudding
Blend up a butterscotch pudding in just five minutes for a quick and creamy dessert.
Tools
Blender

Large pot

8 mini glass jars
Ingredients
3 large egg yolks

1½ cups full-fat coconut milk

½ cup coconut cream

3 T ghee

3 T water

½ cup coconut sugar

¼ cup tapioca flour

½ t pure vanilla extract

¼ t sea salt

Optional toppings: nuts and seeds, shredded coconut
Instructions
Place all ingredients in a large pot and warm to a medium simmer.

Whisk the ingredients together continuously for 2-3 minutes until thick.

Reduce the heat and transfer to a blender. Blend for 30 seconds or until smooth.

Transfer to mini glass jars and chill in the refrigerator for 30 minutes.
Watch the Recipe Video Below!

Looking for Paleo ingredients? Here are a few we'd recommend:
Coconut milk (Native Forest)
Coconut cream (Native Forest)
Ghee (Pure Indian Foods)
Coconut sugar (Wholesome)
Tapioca flour (Authentic Foods)

(You'll Also Love: Dark Chocolate Orange Chia Pudding)