Bet you can't keep your spoon away from this dairy-free Banana Bread Bottom Cheesecake!
Ripe bananas are perfect for baking banana bread, and this Paleo cheesecake version will take your dessert from yummy to irresistible!
The recipe starts with a simple banana bread base made with almond flour and ripe bananas. Cinnamon and fresh bananas provide a naturally sweet flavor to the bread without using any extra sugar. Dates are added to the second layer of cheesecake, while cashews, coconut oil, and coconut milk keep things both creamy and dairy-free.
Love Paleo Desserts? Then you'll love our FREE Paleo Dessert Cookbook.
Click here to get your FREE copy of our delicious Dessert Recipes!
To get started, blend bananas, eggs, vanilla, and salt into a food processor until smooth. Then, gradually add in almond flour, tapioca, cinnamon, baking powder, and baking soda. Stream in the melted coconut oil as you continue blending on high until smooth. Next, transfer the batter into a prepared springform and spread the mixture into an even layer. Bake the bread for 55 minutes and remove once it starts to brown.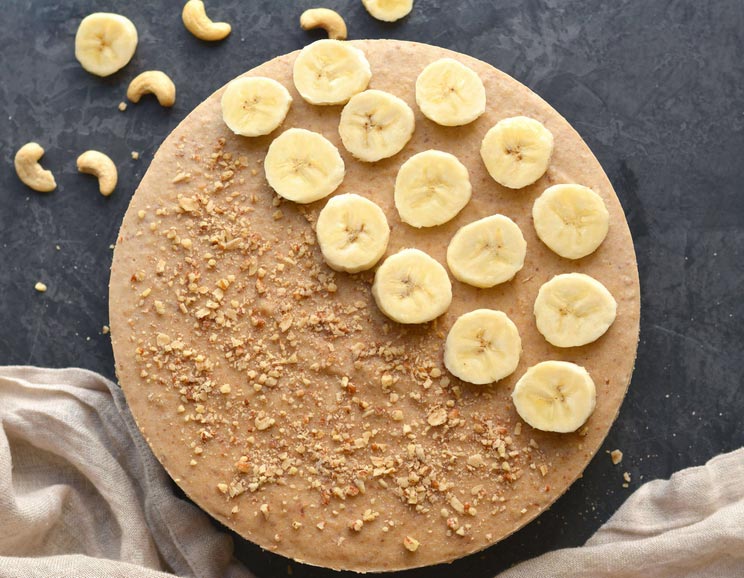 Tip: Test readiness by inserting a toothpick into the center of the bread and removing it to check that it's clear of any uncooked dough.
Once the bread is baked to golden perfection, it's time to make the cheesecake!
While the bread is cooling, begin prepping the cheesecake ingredients into a food processor and blend until smooth. Spread the blended mixture on top of the banana bread in an even top layer. Note: The cheesecake will be fluid, but it will set up nicely after it's refrigerated for about two hours. Depending on temperature, the cake may need more or less time to set. You'll know it's ready once the cheesecake feels solid.
After setting is complete, roughly chop the cashews and sprinkle them on top of the cake along with a few slices of bananas. Then, drizzle your favorite homemade Paleo caramel sauce on top for an added bonus!
Serve this cheesecake any time of year for a healthier dessert your guests will love!
Megan Olson
Banana Bread Bottom Cheesecake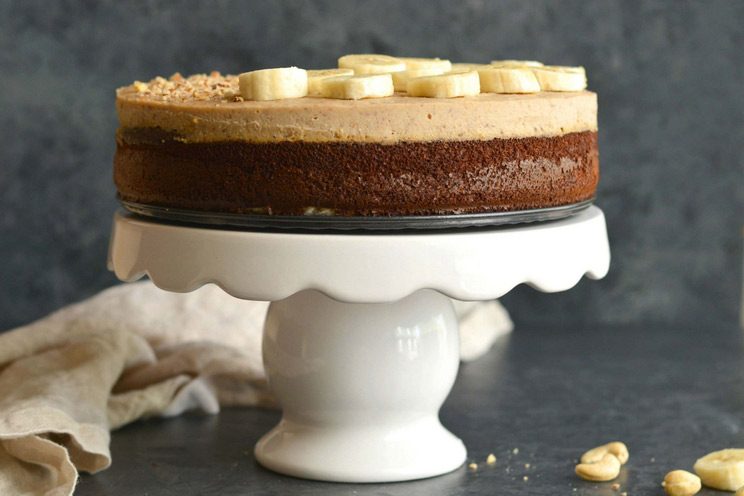 Cook Time:
3 hrs 25 mins
3 hours 25 minutes
Prep Time:
20 mins
20 minutes
Banana Bread Bottom Cheesecake
Bet you can't keep your spoon away from this dairy-free Banana Bread Bottom Cheesecake.
Tools
Food Processor

7" Springform Pan
Ingredients
For the Banana Bread Layer:
1 ¾ cups almond flour

½ cup tapioca flour

4 large eggs, room temperature

4 small ripe bananas

¼ cup coconut oil, melted

1 t vanilla extract

1 T cinnamon

½ t baking powder

1 t baking soda

¼ t salt
For the Cheesecake Layer:
2 cups dates, pitted

2 cups raw cashews, soaked for 30 minutes and drained

¾ cup coconut oil, melted

1 ½ cups full-fat coconut milk

¼ cup banana

Optional: ¼ cup chopped raw cashews and ¼ cup sliced bananas for topping
Instructions
Preheat the oven to 350°F. Line the bottom of a 7-inch springform pan with parchment paper and grease the sides with coconut oil.

For the banana bread layer: Combine bananas, eggs, vanilla extract and salt to a food processor and pulse until smooth.

Next, add the almond flour, tapioca, cinnamon, baking powder and baking soda. Blend on high, streaming in melted coconut oil while pulsing. Blend until smooth.

Transfer the batter to the prepared springform pan and spread into an even layer.

Bake for 50-55 minutes or until brown on top and a toothpick can be inserted in the center clean. Cool the banana bread in the pan for 30 minutes.

For the cheesecake layer: While the banana bread cools, prepare the cheesecake by placing all cheesecake ingredients into a food processor and blending until smooth. Scrape down the sides and blend again as needed.
For both layers: When the banana bread is cool, spread the cheesecake layer over the top.

Place in the refrigerator for two hours or until the top is set and hard.

Gently remove the springform. Top with chopped cashews and sliced bananas (optional), slice, and serve.

Keep in refrigerator up to seven days or in the freezer for 30 days.
Looking for Paleo ingredients? Here are a few we'd recommend:
Almond flour (Bob's Red Mill)
Tapioca flour (Authentic Foods)
Cold pressed coconut oil (Viva Naturals)
Coconut milk (Native Forest)

(You'll Also Love: Raw Cranberry No Bake Cheesecake)