With all of the bars, benches, and monkey bars, it turns out that playgrounds make for the perfect workout! And no gym membership is required.
Whether you're a parent trying to juggle taking care of the kids and getting workouts in, or just looking for a new way to exercise, this playground workout is all you need. If you do have kids, it's a great way to encourage them to stay active—since they'll see you having fun while staying healthy.
Playgrounds are quite literally the perfect gym to get you toned up and building strength. This workout uses various pieces of park equipment—from monkey bars to swings—to get you fit from head to toe!
Suffering from a sore neck, back and shoulders? Get our mobility guide to ease pain and soreness.
Get The FREE Mobility Guide To Fix Your Pain Today!
Playground Workout
Complete 2-4 sets of each exercise before moving onto the next exercise. Or make this workout into a circuit, and perform each exercise in a sequence. Then repeat the entire thing a total of 2-4 times.
Pull Ups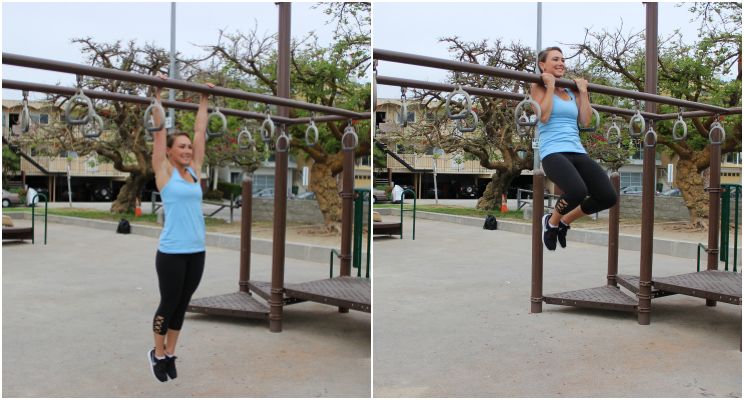 Find a horizontal bar, which you can easily jump up to and reach. Usually, the monkey bars are a great place to look. Pictured is a traditional neutral-grip position, but you can also do wide or narrow variations—or any variation you prefer. Jump up and hold onto the bar. Then draw your shoulder blades down your back and away from your ears. Use your biceps, and squeeze your shoulder blades together as you draw your chest up towards the bar— holding at the top for a second. With control, lower back down and repeat for 10-20 repetitions.
Monkey Bars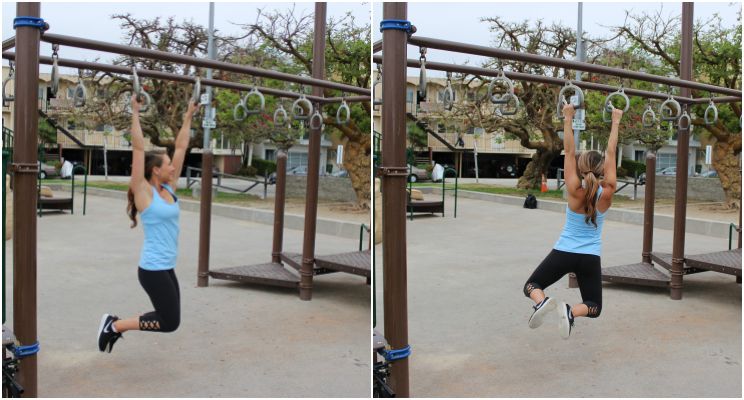 This exercise will really have you feeling like a kid again! Find a set of monkey bars, and "walk" (one hand at a time on each bar). Remember to pull your shoulders away from your ears, and keep you back muscles engaged.
Hanging Knee Pulls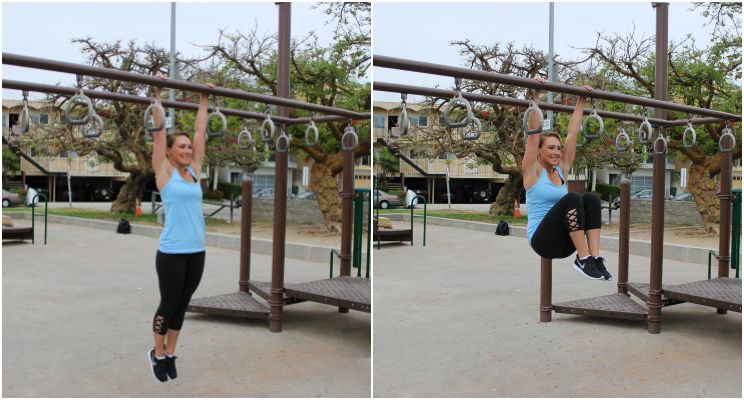 Hold onto the horizontal bar, pulling your shoulder blades down away from your ears. Engage your abdominals, and use your lower abs to pull your knees into your chest. Then to repeat, lower the legs back (keeping them straight). Complete 10-15 repetitions without allowing your body to swing too much.
Bench Jumps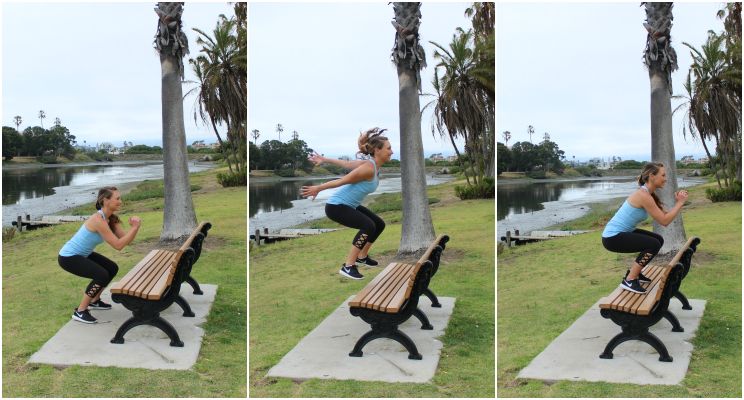 Find an open bench that is about knee-height off the ground. (But to help save your joints, try to avoid a concrete bench.) Stand about a foot away from the bench. Lower down into a low squat position, keeping the weight on your heels. Using all your strength and power, jump up. Slightly pulling your knees in towards your chest, propel yourself forward to land your feet on the bench. Aim to get your entire foot on the bench. To land as softly as possible, go heels first. Step one foot back at a time to the ground, and repeat 10-20 times.
Step Up & Lateral Raise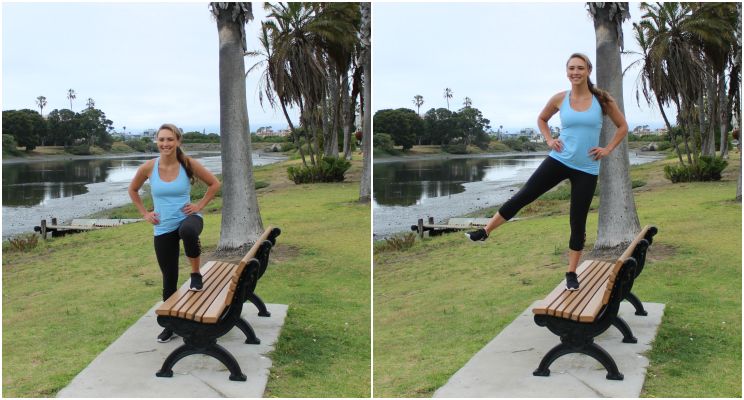 Once you complete your Bench Jumps, turn to face the side of the bench. Start with your left side towards the bench, and step your left foot onto of the bench. Again, make sure the entire foot is on the bench. Press through the heel of the left leg to straighten it, and stand on top of the bench. To work the outside of the opposite leg, you'll also lift the right leg out to the side at the top of the movement. As you lower back down, bring the right leg back in, and step down on the ground. Keep the left foot on the bench the entire time, and repeat 15-20 times on each leg.
Tricep Dips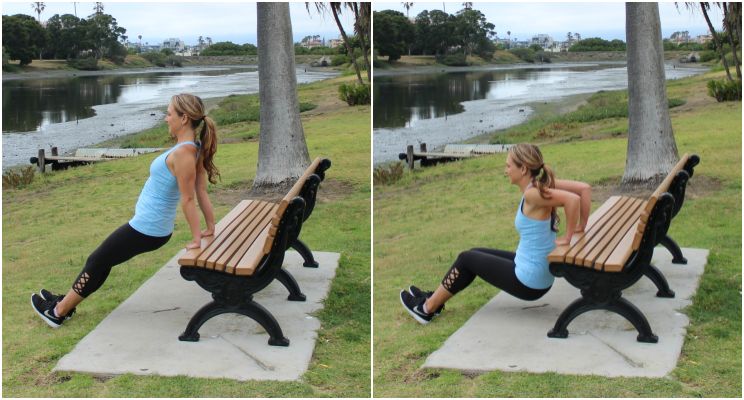 Sit on the edge of the bench, and place your hands on it—so that your fingers are hanging off, facing towards you. Lift your hips up just in front of the bench, with your shoulders over your wrists. Bend your elbows and lower down, making sure to keep your elbows pressing back and your chest lifted. (Don't "sink" into your shoulders). Press back up, using the backs of your arms. Complete 15 repetitions.
Swing Push-ups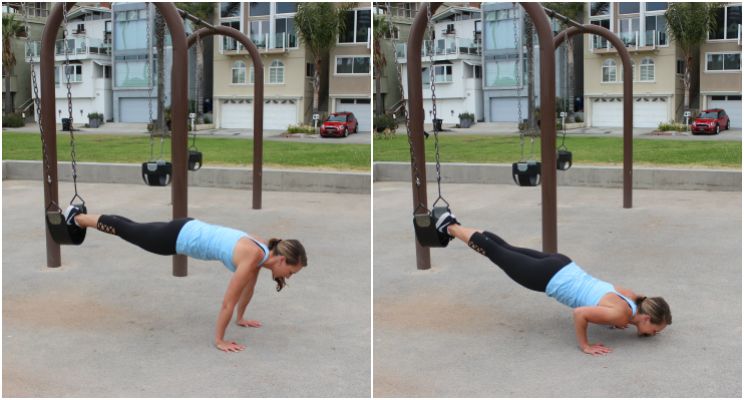 Now head over to the swingset and find an open swing. Turn to face away from your swing and lower down to a plank on your hands. Carefully, lift one foot onto the swing at a time—keeping your shoulders over your hands, and engaging your abs a ton. Keep the swing as steady as possible as you bend the elbows, and lower down into a push-up. Use the chest and triceps to push back up to your plank, and repeat 10-20 times.
Swing Rows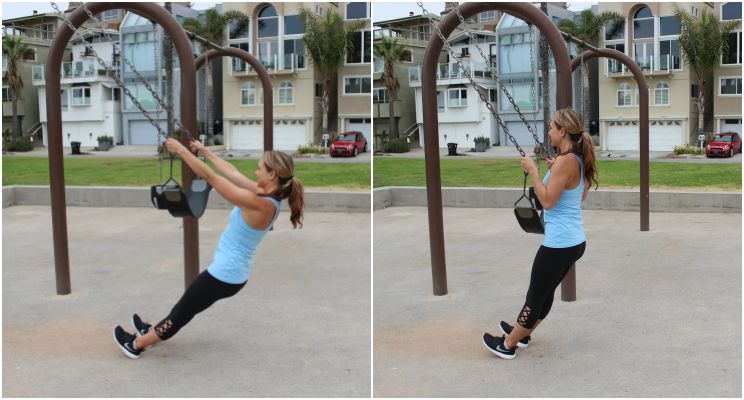 Stand up, turn around, and face the swing. Grab a hold of the chains, and plant your feet down. As if you were trying to dig your heels slightly into the ground, lift your toes up. Flex through your feet as you lean your upper body back (almost as if you were in a reverse-plank position). Keeping your core engaged and palms facing in, row the swing in towards your chest—squeezing the shoulder blades together, and engaging your back muscles. Extend the arms back straight as you lean back again, still keeping those abs engaged. Complete 15-20 rows.
Swing Knee Tucks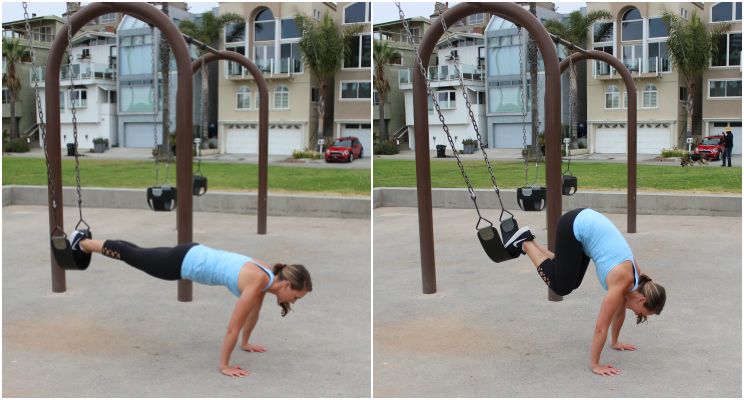 Come back down to the ground, and into your plank position with your feet on the swing. Keep your shoulders over your hands, as you use your lower abs to pull your knees (and the swing) in towards your chest. Straighten back to a plank position, making sure you don't let your hips drop or sag down. Repeat right away for 10-15 repetitions.


(Your Next Workout: 7 Minute Strength Interval Jump Rope Workout)