Warm up stiff, achy joints with these gentle mobility exercises.
The fastest way to warm-up the body is move all the major joints through their full range of motion. A lack of mobility can cause stiffness and tightness in the body, which can lead to injuries during your workout or even in daily life.
The good news is you have the ability to maintain healthy joints in just five minutes with these easy exercises below. I recommend doing the exercises at least twice a day to stay mobile and feeling good. They're perfect for a pre-workout routine, or anytime of the day you are feeling stiff!
Suffering from a sore neck, back and shoulders? Get our mobility guide to ease pain and soreness.
Get The FREE Mobility Guide To Fix Your Pain Today!
You'll need:
A yoga mat or towel
A yoga strap or scarf
---
Full-Body Mobility Workout to Increase Flexibility
Wrist Circles | 10 reps each direction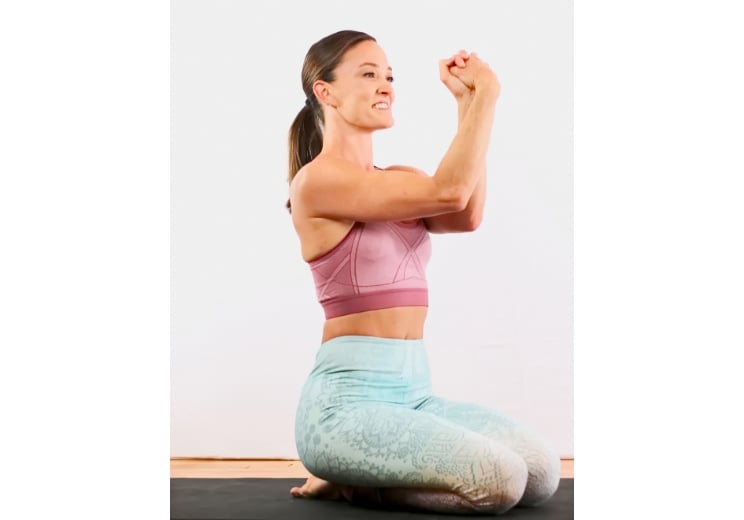 Wrist circles are a great way to maintain strong and functional wrist joints. I highly recommend them after typing at a computer all day or before wrist-heavy exercises like planks or push-ups.
Start sitting or standing, and hold both arms in front of you at shoulder height.
Interlace your hands together, bringing your elbows and forearms as close together as possible. Keep this form throughout the whole exercise.
Start a slow wrist circle one direction. If this feels comfortable, increase the speed.
Complete 10 full circles, then reverse direction for another 10 reps.
Cat Cow | 7 reps

Keep your breath steady and continuous throughout this exercise. You can use a yoga mat or towel to keep your knees comfortable.
Start on your hands and knees in a tabletop position, wrists stacked under shoulders and knees right below hips.
On an inhale, drop your belly towards the ground, arch the back, and lift your gaze towards the ceiling to come into cow pose.
Exhale to round the back, hollow out the belly, and look at your navel, coming into cat pose.
Moving with your breath, alternate between cat and cow for seven full reps.
Bent Leg Circles | 10 reps per side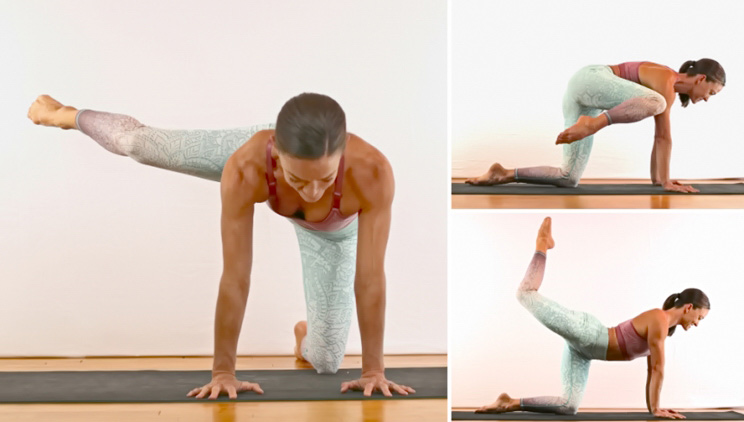 This warm-up exercise is a great way to take note of the full potential of your hip joint.
Start in tabletop position.
Lift your right leg up to the side, keeping the knee bent. Then, slowly bring your knee towards your shoulder and draw a big circle with your knee.
Complete five circles, then switch directions.
Repeat with the left leg.
Note: I suggest going slower at first to feel how big of a circle you can make, then increase your speed to a moderate pace once you feel comfortable. Remember to keep your breath steady!
Standing Ankle Circles | 20 reps per side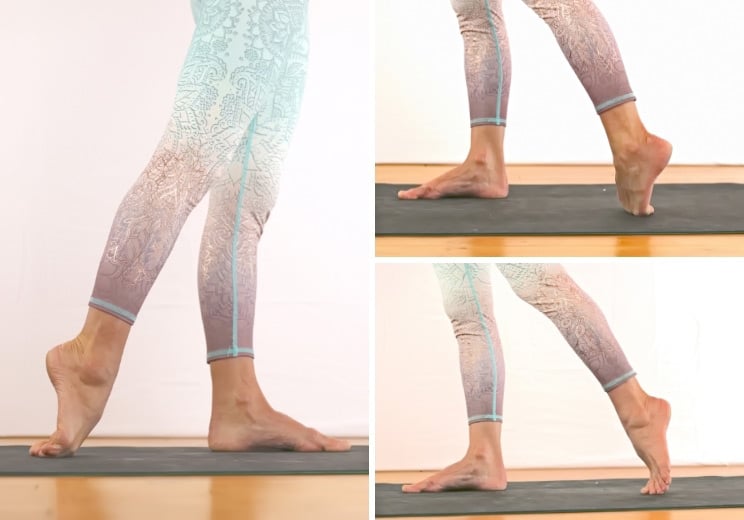 Loosening up the ankle joint can help relieve tightness in the muscles around the foot. Use your yoga mat or towel if the top of your foot is sensitive.
Come to a standing position with your toes pointing directly forward and your hands on your hips.
Bring your right foot directly behind you on the ground in a pointed position. Keep most of your weight on your left foot to avoid too much pressure on your right ankle.
Start circling the ankle in one direction while keeping your toes on the ground.
Circle 10 times, then reverse direction for another 10 circles.
Repeat on the other foot.
Standing Knee Circles | 7 reps each direction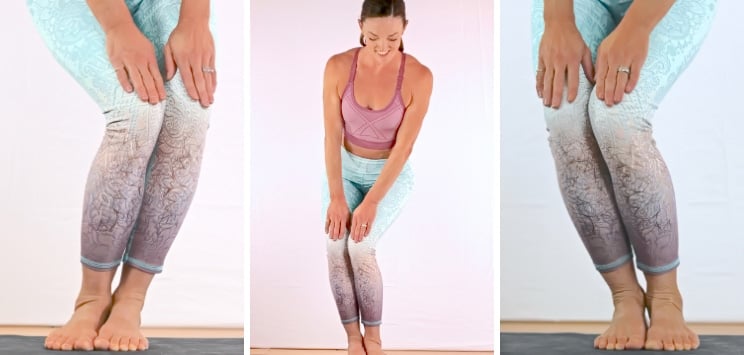 This exercise is a great way to warm-up the ankles, knees, and hip joints. Make sure the feet, ankles, knees, and inner thighs stay together to keep the knee joint safe.
Stand with your feet together. Bend your knees and place your hands on your thighs.
Keeping your feet flat on the ground, slowly make small circles with your knees. Focus more of the movement in the ankle joint than in the knee joint.
Complete seven circles, then switch direction.
Torso Rotation Swings | 10 reps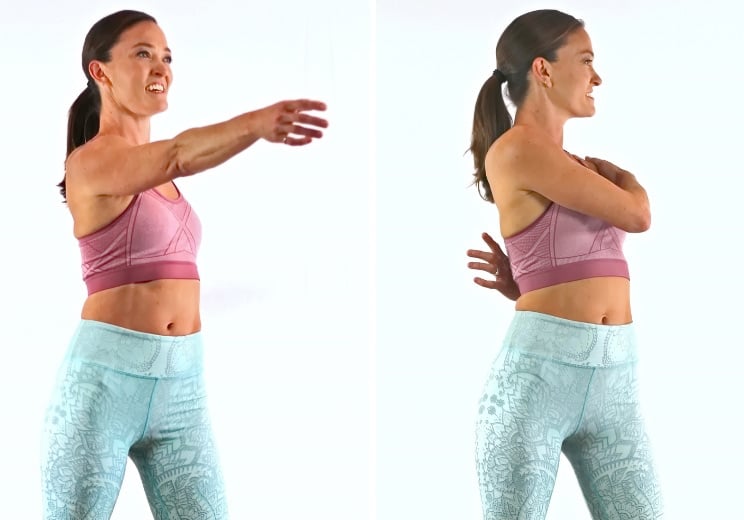 Gently twisting the torso is a healthy way to warm-up the spine while working the oblique muscles.
Stand with your feet slightly wider than your hips. Keep a small bend in the knees.
Swing your arms to twist your torso in one direction. Your head, neck, and chest should all move together. One arm will wrap around the front and one will wrap around your back.
Then twist in the opposite direction. Try to let your arms relax to create a swinging motion.
Continue twisting side-to-side until you've completed 10 full reps.
Note: Allow the legs to twist a little to avoid any knee strain. Let the body soften and relax.
Arm Circles with Strap | 10 reps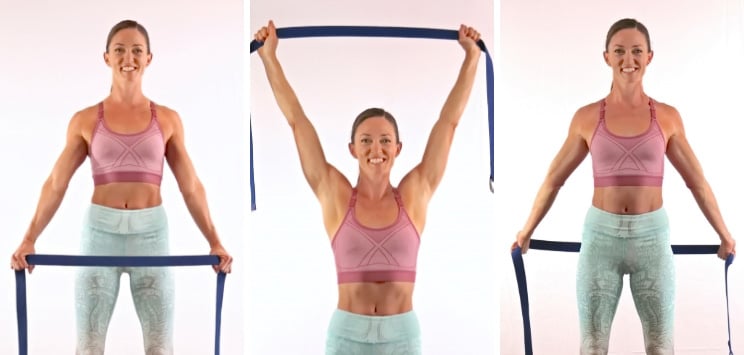 Use a strap in this exercise to dive deep into full range of motion in the shoulder. I suggest going extra slow at first, and start with wide arms to ensure that the elbows stay straight. Once you feel confident, you can bring the hands closer.
Stand tall with your feet hip-width distance apart. Hold the strap down in front of you with your hands wider than your shoulders.
Slowly raise your arms above your head and then back behind you, making one big circle with the arms.
Keeping the arms straight, bring the arms back over the head and return to the starting position.
Repeat for 10 reps. If you need more of a challenge after a few rounds, bring the hands closer together. Notice how your shoulders feel after moving them through the full range of motion.
Note: You can also do this exercise without a prop.
Head Circles | 5 reps each direction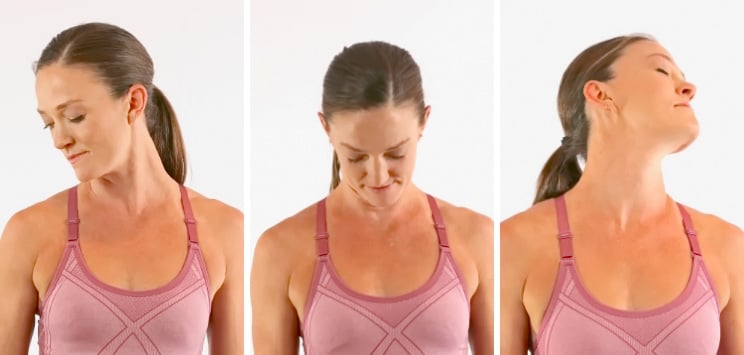 Move slowly in this warm-up exercise so you don't get dizzy, and avoid dropping your head all the way back. If you do feel dizzy, try doing this exercise seated or with your hands resting on a wall.
Stand with your feet shoulder-width apart.
Without forcing or straining the neck, slowly draw an imaginary circle with your nose, starting one direction. The circle can go as far to the side and forward as you would like. Avoid dropping the head all the way back.
Complete five circles, then switch directions.

(Your Next Workout: Light Dumbbell Full Body Workout – Tone & Sculpt)