This superhero bodyweight workout is designed with one goal in mind: to challenge you to become better, stronger, and more capable than you were yesterday.
For this superhero-worthy workout, all you need is a towel and a smooth surface floor, like hardwood or tile. Since these exercises require minimal space, it's a great routine to do at home or when you're traveling. You'll be working on strengthening and toning your body from head to toe, including your abs, legs, and arms.
For this challenge, you'll be performing 6 different exercises as a circuit, and repeating that circuit 3 times. Follow the number of reps given, take 60 seconds of rest between exercises, then rest about 2-3 minutes between rounds of the superhero bodyweight workout circuit.
Beginners can do the circuit just once and/or reduce the amount of reps of each exercise.
Looking for an easy way to get started working out? Grab our FREE Beginners Workout Guide – 3 Weeks To Tighter Abs, Sculpted Arms, And Toned Legs, by clicking here!
If you're advanced, try adding 2 more reps to each exercise and completing the circuit up to 4 times.
The Total-Body Superhero Bodyweight Workout
Repeat circuit 3X
60 seconds rest between exercises
2-3 minutes rest between rounds
Squat Thrusters | 8 reps


This move works your core, butt and legs.
Start in a squat position with your hands in front of your chest. Make sure that your heels are planted firmly into the ground and your weight is shifted back into your butt.
Tip forward so that you're on your toes and place your hands on the ground about 6 inches in front, shoulder-width apart.
Put weight on your hands and jump back into a plank position. Flex your butt, legs and core while exhaling, then jump back into the squat position.
Repeat for all reps without standing up.
Knuckle Burpees | 6 reps

Knuckle Burpees are a variation of regular burpees that work your hand and wrist strength in a new way. If you're on a hard surface, place folded towels under your knuckles.
If you are using towels, place them about 1 foot in front of you and stand tall reaching your arms up over your head. Stretch and extend as much as you can while keeping your core tight and straight and your arm muscles flexed.
Next, squat down and lean forward so you can place your closed fists onto the towel pads or floor in front of you. Step back into a plank position and lower your body towards the ground with control, keeping your elbows close to your rib cage. Press back up to the plank and then step your feet back to the squat position. Pressing your heels into the ground, stand straight up and repeat.
Beginners: Stick with the stepping version.
Advanced: Add a jump to the standing part!
Slide Plank Pikes | 6 reps


This plank variation challenges your abs to bring your legs in with control.
Start in a plank position with your toes on a towel.
Start to drag that towel towards you with your feet, lifting your butt as high as you can and keeping your legs straight. You should be able to get your feet within 2-3 feet from your hand position.
Make sure that you fully contract your abs and round your lower back as much as possible. Take a big exhale at the peak of the movement, then slide your feet back out to the plank position.
Beginners: If you have tight hamstrings, feel free to bend your knees when bringing in your legs.
Sliding Single Arm Push-Ups | 5 reps per side


A variation of the single arm push-up, this move is not for the light of heart and requires your upper body to put in some work.
Start in a modified (knees down) push-up position with your hands shoulder-width apart and one hand on a towel. (I put an extra towel under my knees to cushion them.)
Slide the hand on top of the towel out in front of you while bending the other elbow to a 90° bend and lowering down. Reach that towel out as far away from you as you can without collapsing in your shoulders or core. The arm that is sliding in and out should remain completely straight.
Slide the towel back towards you as you straighten that bent arm. Continue sliding in and out on one side, then switch sides to get the same number of reps on your other side.
Prone Superman Pull and Curl | 8 reps


This move is great for toning your lower body and strengthening those back muscles!
Lay face-down on the ground with a towel underneath your face. Close your fists and flex your arms while extending them out in front of you. Flex your feet so that you engage your butt and leg muscles. Lift your arms and legs up off the ground simultaneously, like a superman lift.
Next, pull your fists down towards your shoulders, with elbows flared out to the sides. At the same time, curl your heels in towards your butt to flex your hamstrings and glutes. Make sure to lift your chest and knees off the ground as much as possible.
Flex every muscle on the backside of your body.
Exhale and then slowly lower back to the face-down position. Repeat.
Superhero Lunge Takeoffs | 5 reps per side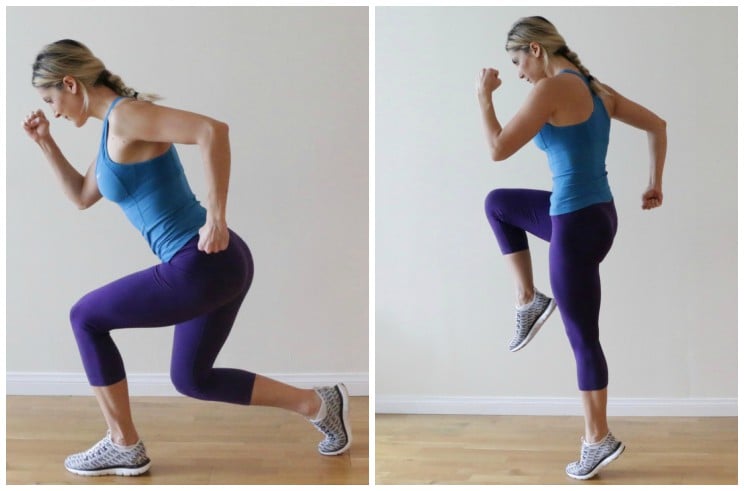 This move works your legs, butt and calves.
Start in a semi-back lunge position with your front knee at a 90° bend and with your back foot up on its toe. Bring your arm opposite the front leg forward in a 90° position and your other arm back in a running position.
Switch arms at the same time as lifting up so that your back knee comes up past your waist and you lift up onto the toes of your standing leg. Go all the way up onto your toes before lowering back down again.
Quickly drop back to that back lunge position. Repeat all reps on one side before switching.
Beginners: Use a shallow lunge and skip the calf raise.
Advanced: Jump at the top position instead of the calf raise.


(Your Next Workout: The Hotel Bed Bodyweight Workout)