These sweet Pina Colada Muffins are a refreshing treat. A light, satisfying dessert that will transport you to the beach with every bite!
I have been dreaming about making these Pina Colada Muffins forever. There's just nothing better than biting into sweet, citrusy bursts of pineapple flavor!
These muffins are very simple to make and are filled with delicious fresh fruit.
It's not just a sweetener -- it's medicine, too! Discover The Benefits of Nature's Superfood: Honey
Click here to get your FREE copy of our Honey Guide!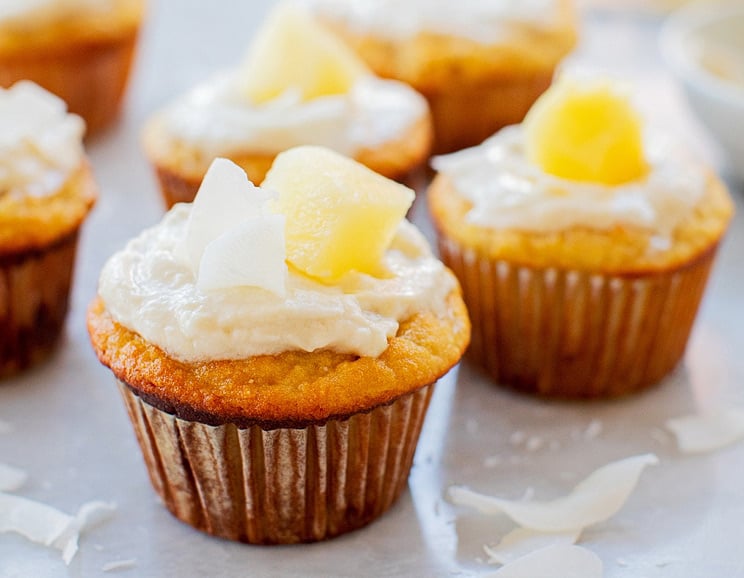 To make the muffins, all you need to do is mix the ingredients (the almond flour and coconut flour combined with sweet pineapple and hints of honey is magical) and bake until the edges are set. They should be slightly browned before you pull them out of the oven.
Did I mention these Pina Colada muffins come with a glazed frosting too? The glaze is made with coconut cream and maple syrup with more of that sweet pineapple laced into it! I recommend you make extra frosting to layer on other morning treats, like warm Paleo pancakes and waffles.
Tip: To save time, freeze the glaze while the muffins are baking. I warn you, though. You will want to eat all of them at once!
Megan Olson
Pina Colada Muffins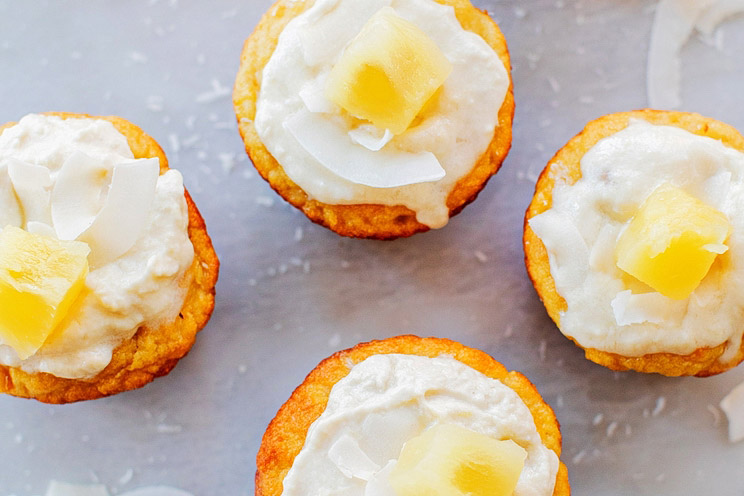 Cook Time:
25 mins
25 minutes
Prep Time:
5 mins
5 minutes
Nutrition facts:
9 grams of protein
25 grams of carbohydrates
17 grams of fat
279 calories
Pina Colada Muffins
These muffins are very simple to make and are filled with delicious fresh fruit.
Tools
Muffin tin

Large mixing bowl

Blender

Spatula
Ingredients
For the Muffins:
6 large egg whites

1 cup almond meal

¼ cup coconut flour

½ cup pineapple, sliced into ¼-inch pieces

¼ cup honey

¼ t vanilla extract

½ t baking soda

1 T unsweetened shredded coconut

¼ cup unsweetened shredded coconut for topping
For the Glaze:
⅛ cup unsweetened coconut cream

1 T maple syrup

¼ cup pineapple
Instructions
To Make the Muffins: Preheat the oven to 350°F and prepare a muffin tin with liners.

In a bowl, whisk together the egg whites, honey, and vanilla until fluffy.

Fold in the almond meal, coconut flour, baking soda, chopped pineapple, and shredded coconut in with the wet ingredients.

Divide the batter among 6 muffin cavities.

Bake for 25 minutes, or until the tops are set and golden brown around the edges.

To Make the Glaze: While the muffins are baking, add the glaze ingredients to a blender and pulse until the pineapple chunks break down. Set the glaze inside the freezer and let it cool until the muffins finish baking.

Remove the muffins from the oven and let them cool inside the pan for 3 minutes. Transfer them onto a baking rack and let them cool completely.

Remove the glaze from the freezer and use a spatula to spread about 2 tablespoons on top of each muffin. Sprinkle the shredded coconut on top.

Refrigerate leftovers in an airtight container for up to one week.
Looking for Paleo ingredients? Here are a few we'd recommend:
Almond meal (Barney)
Coconut flour (Anthony's)
Raw honey (Bee Farms)
Vanilla extract (Frontier)
Baking soda (Bob's Red Mill)
Coconut cream (Native Forest)
You'll Also Love: Kick Back and Relax with This Fresh Paleo Piña Colada Sangria