Get ready for a thirst-quenching drink that will satisfy your sweet tooth and pack an anti-inflammatory punch.
When it's warm out, nothing sounds better than a sweet, fruity drink to quench our thirst. This mango turmeric agua fresca is just that.
With a blender and just 5 minutes, you can treat yourself to a satisfying drink that's healthier than any soda or sugar-sweetened drink you can buy at the store. Naturally sweetened with fresh, ripe mangoes and packed with anti-inflammatory ground turmeric, you'll crave this easy warm-weather beverage all season long.
Love turmeric recipes?
Add power-packed anti-inflammatories to every meal with these FREE turmeric recipes!
You'll love the vibrant yellow hue from the combination of mango and turmeric, and the well-spiced, sweet flavor that results. Finish that sweetness off with fresh mint, lime wedges, and a sprinkle of chili powder for an explosion of flavor.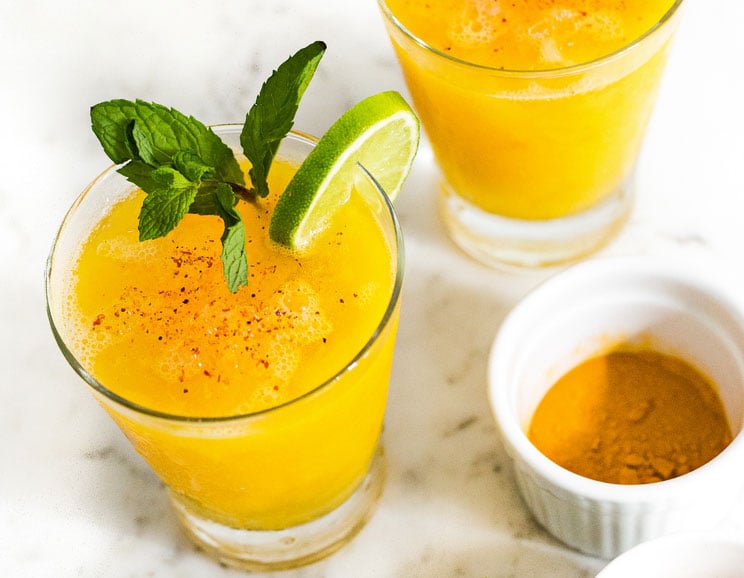 How To Cube The Mangoes and Crush The Ice:
Not sure how to cube a mango? I've found that the easiest, cleanest way to cut mangoes is to cut off a third of the mango, lengthwise, with the skin on.
Use a small knife to cut horizontal lines and vertical lines into the flesh, then press the flesh away from the skin and cut it off. There you go! Perfectly cubed mangoes in a matter of seconds.
While some fancy fridges may deliver crushed ice at the press of a button, don't worry if you don't have one at home. To crush ice, place one cup of ice cubes in the bowl of your blender and blend for 30 seconds, until you get diamond-sized ice chunks.
Keep the crushed ice in a bowl in the freezer until you're ready to use it!
Helpful Tips To Get You Started:
Too much heat? If you're not big on spice, simply leave out the chili powder and sprinkle some ground cinnamon on top instead. It'll achieve the same warming effect, without the heat.
Need more sweetness? In general, ripe mangoes should be sweet enough that you don't need to add any additional sweetener to the drink. However, if you prefer your agua fresca a bit sweeter, simply add one teaspoon of raw honey or maple syrup at a time until it's sweet enough for you.
Take care with your knife. Sweet, ripe mangoes tend to be slippery in the hand, so take care when cubing your mango. Never use a dull knife for a job like this – you're more likely to injure yourself.
Felicia Lim
Mango Agua Fresca with Anti-Inflammatory Turmeric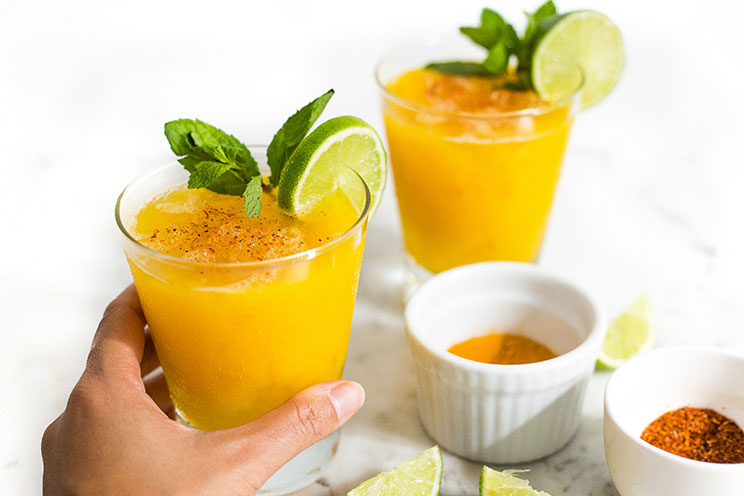 Prep Time:
5 mins
5 minutes
Nutrition facts:
2 grams of protein
33 grams of carbohydrates
1 grams of fat
Mango Agua Fresca with Anti-Inflammatory Turmeric
Get ready for a thirst-quenching drink that will satisfy your sweet tooth and pack an anti-inflammatory punch.
Ingredients
2 cups diced mango

3 cups water

⅓ cup lime juice

1 T ground turmeric

1 cup crushed ice

Chili powder, for sprinkling

Fresh mint sprigs, for garnishing

Lime wedges, for garnishing
Instructions
Combine the diced mangoes, filtered water, lime juice, and ground turmeric in the bowl of a blender. Blend until smooth, about 2 minutes.

Fill two glasses with ¼ cup crushed ice each, and then divide the mango mixture evenly between both glasses. Top each glass with an additional ¼ cup crushed ice, then sprinkle with chili powder to taste. Garnish the agua frescas with fresh mint sprigs and lime wedges.
Looking for Paleo ingredients? Here's what we recommend:
Turmeric (Simply Organic)
PS: If you want more deliciously healthy, easy recipes, get our FREE Paleo Eats Cookbook shipped to you now.