This tropical-take on a Paleo Pizookie is the perfect size for sharing.
With a chewy and crunchy coconut macadamia skillet cookie and creamy, airy banana coconut ice cream, this Pizookie rivals any chain restaurant flavor-wise and destroys it nutrition-wise.
The ice cream is not cream at all, but rather a deceptively similar banana whip, while the coconut-heavy and macadamia nut-studded cookie offers Paleo-friendly dietary fats.
Love coconut flour recipes? Get our free coconut flour recipe cookbook here!
Both coconut sugar and maple syrup rank low on the glycemic index, making this Pizookie a more healthful indulgence to share. Feel free to double or triple the recipe for a larger skillet!

Courtney Hamilton
Coconut Macadamia Nut Paleo Pizookie with Banana Ice Cream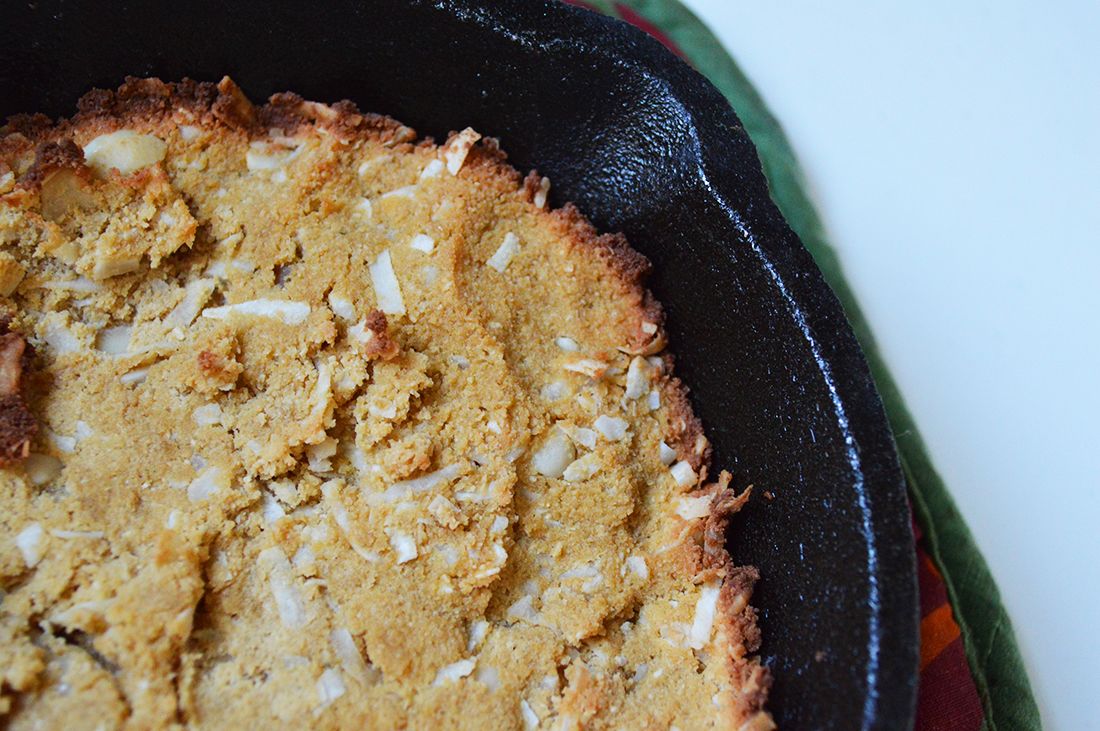 Cook Time:
20 mins
20 minutes
Prep Time:
10 mins
10 minutes
Coconut Macadamia Nut Paleo Pizookie with Banana Ice Cream
Ingredients
1 egg

1 T coconut oil, melted

1 T coconut sugar

1½ T maple syrup, divided

2 heaping T coconut flour

½ t baking powder

2 T shredded unsweetened coconut, divided

1 T macadamia nuts, chopped

2 bananas, sliced and frozen
How to Make It:
1. The night before, slice and freeze bananas in an airtight container, unless you have frozen bananas on hand.
2. Preheat oven to 375°F. In a bowl, whisk together egg, coconut oil, coconut sugar, and ½ T maple syrup.
3. Sift coconut flour and baking powder together. Gradually whisk in dry ingredients to wet ingredients. Fold in macadamia nuts and 1 T shredded coconut.
Tip: If the mixture becomes too crumbly, add small amounts of water to thin it out.
4. Spread cookie dough into greased mini cast iron skillet. Bake for 20 minutes.
5. While the cookie bakes, purée frozen banana slices, 1 T maple syrup and 1 T shredded coconut in a food processor for roughly 3 minutes. The bananas will eventually form an airy ice cream-like whip.
Tip: If your bananas have frozen into a hard mass, break into manageable pieces for the food processor.
6. Top cookie with banana ice cream and enjoy!
PS: Try this cookie and ice cream duo with other Paleo variations like chocolate chip cookies and pistachio ice cream!