Munch on these cheesy, oven-baked Paleo "Doritos" by the handful.
Most Paleo chips are made from veggies, but these Dorito-inspired chips are entirely different! Crafted from a simple combination of flax meal and almond meal, these homemade chips are high in fiber, protein and healthy fat. Mix with a little water, and you'll have an impossibly EASY dough that comes together in only 5 minutes!
Once you have a nice workable dough, you'll roll them out into small circles and slice them into triangles with a pizza cutter, so they resemble the Doritos shape we all know and love. Tip: A rolling pin comes in handy for rolling out the dough, but a sturdy can or bottle from the pantry works just as well!
Want to snack smarter and curb cravings? Get your FREE 25 Healthy Paleo Snacks Cookbook here.
Click here to get your FREE copy of our Snack Recipes Cookbook!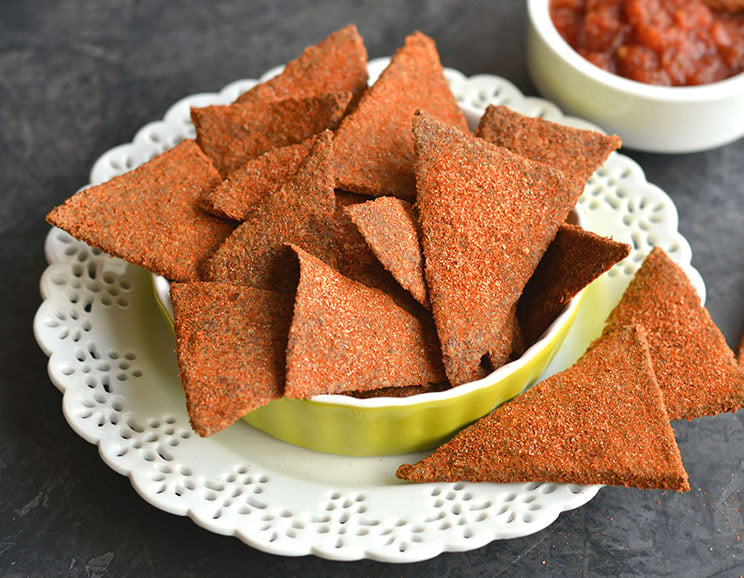 The chips bake for about 10 minutes to crisp up. Then, they're turned into Paleo Doritos when tossed with a smoky and cheesy coating of onion and garlic powders, nutritional yeast and paprika. The easiest way to do this is by mixing the spice blend in a Mason jar. Then, sprinkle each just-cooled chip with lime juice before dunking the chips into the jar. Shake thoroughly to coat. The lime juice helps the spices stick while adding a nice tangy flavor!
These Paleo Doritos are great for adding to packed lunches, munching on the go, or enjoying as an afternoon snack with a side of chunky salsa. Keep them fresh by storing them in a sealed container for up to 2 days.
Tip: You can substitute the almond meal with psyllium husks or ground chia.
Megan Olson
Replace Toxic Chips with These DIY Paleo Doritos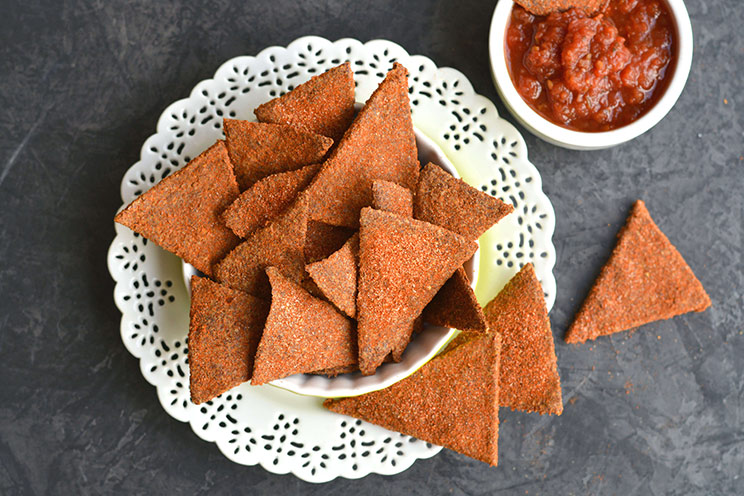 Cook Time:
15 mins
15 minutes
Prep Time:
35 mins
35 minutes
Replace Toxic Chips with These DIY Paleo Doritos
Munch on these cheesy, oven-baked Paleo "Doritos" by the handful.
Tools
Baking sheet

Parchment paper

Skillet

Wooden spoon

Rolling pin

Pizza cutter
Ingredients
For the Chips:
1 cup flax meal

2 T almond meal

½ cup water

¼ t sea salt
For the Seasoning:
1 T paprika

1 T onion powder

1 T garlic powder

½ T nutritional yeast

1 T lime juice
Instructions
Preheat the oven to 325°F and prepare a baking sheet with parchment paper.

Heat a skillet to medium heat. Add the ingredients for the chips to the skillet. Using a wooden spoon, stir the dry ingredients together with the water until it forms a sticky dough. If the dough isn't sticking, add 2 tablespoons of water at a time until it forms. Turn off the heat.

Transfer the dough from the skillet to a large sheet of parchment paper. Place another large sheet of parchment paper over the top of the dough. Using a rolling pin, roll the dough to ¼ inch thickness.

Use a pizza cutter to cut the dough into one large circle. Then slice the dough into 12 triangles.

Combine the dough scraps with your hands and form into a ball. Cover again with the parchment paper and roll into a ¼ inch thickness. Cut the dough into a circle again using the pizza cutter, then slice into 12 triangles.

Place the triangles on the prepared baking sheet.

Bake for 12-15 minutes, or until crispy. Remove from the oven and cool on the baking sheet.

While the chips are cooling, mix the dry seasonings together in a glass jar or bowl.

Sprinkle the chips with lime juice, then place the chips one by one in the seasonings and shake it around to coat. Place back on the baking sheet and repeat for all the chips.

Serve immediately or store them in a sealed container for up to 2 days.
Watch the Recipe Video Below!

Looking for Paleo ingredients? Here's what we recommend:
Almond meal (Barney)

(You'll Also Love: 23 Tasty Ways to Make Veggie Chips)