Whip up this one-pan shrimp and sausage dish for a quick meal filled with bold flavors.
Cajun spices are mixed with spicy andouille sausage, shrimp, and plenty of tender veggies for a hearty meal you can cook up in minutes.
Perfect on its own or as a side, you can easily serve this hearty dish over fluffy cauliflower rice or veggie noodles. Feel free to add extra Cajun seasoning for more heat or tone it down by reducing it to your preference.
Love slow cooker recipes?
Click here to get your FREE copy of our delicious Slow-Cooker Recipes!
Cooking With Paleo-friendly Sausage
Sausage is not expressly off-limits on the Paleo diet, but you should carefully scan ingredient labels to avoid sneaky additives and preservatives. When in doubt, try to opt for pasture-raised sausage to ensure you get optimal quality.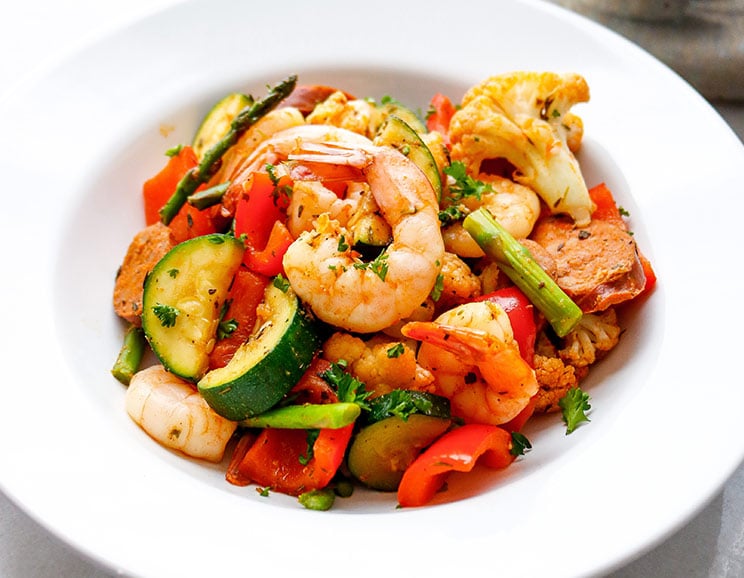 For this recipe, we use smoked andouille sausage to add a rich grilled flavor that mixes well with the added garlic, peppers, and onion. Not only does it cook up quickly, but it also comes in other varieties like pork, chicken, and turkey.
Some Tips To Get You Started:
Prep in advance to make things easy. The vegetables can be chopped ahead of time and stored in the refrigerator for less hassle.
Experiment with different proteins. If seafood isn't your thing or you have an allergy, cubed chicken breast works just as well.
Shop your spice cabinet or opt for store-bought seasoning. Cajun seasoning is a blend of spices most people already have in their pantry, but feel free to use a store-bought blend for easier prep.
Cook seasonal. Any seasonal variety of vegetables can be used in this dish. Try chopped onion, yellow squash, and sweet potatoes (depending on what's growing near you).
Jennafer Ashley
One-Pan Cajun Shrimp Sausage Veggie Meal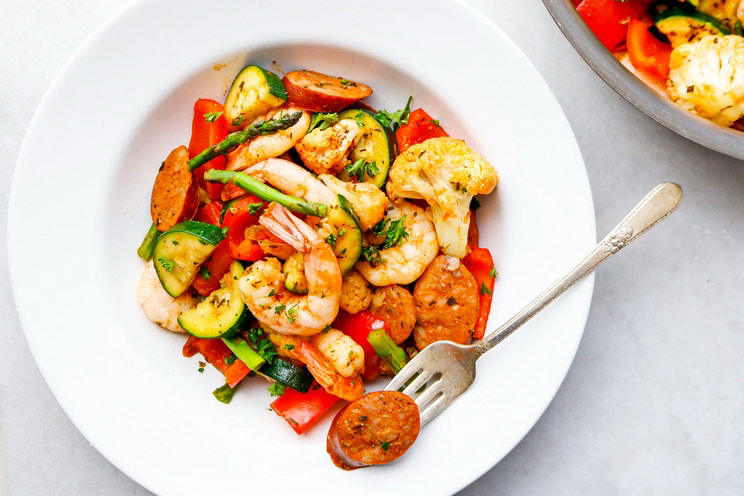 Cook Time:
15 mins
15 minutes
Prep Time:
10 mins
10 minutes
Nutrition facts:
30 grams of protein
7 grams of carbohydrates
11 grams of fat
One-Pan Cajun Shrimp Sausage Veggie Meal
Whip up this one-pan shrimp and sausage dish for a quick meal filled with bold flavors.
Ingredients
For the Veggies:
2 T avocado oil

1 cup cauliflower florets

1 cup chopped bell pepper

1 cup sliced zucchini

1 cup chopped asparagus
For the Cajun Seasoning:
1 t paprika

1 t dried oregano

1 t dried thyme

½ t onion powder

½ t garlic powder

½ t salt

¼ t ground black pepper

⅛ t cayenne pepper
For the Shrimp and Sausage:
1 lb raw large shrimp, peeled and deveined

2 cups pasture-raised smoked andouille sausage, sliced
Instructions
To Cook the Veggies: Heat the avocado oil over medium heat in a large skillet. Add the cauliflower florets, bell peppers, zucchini, and asparagus. Cook for 5 minutes.
To Make the Cajun Seasoning: Combine all the Cajun seasonings in a small bowl and stir to combine. Set aside and continue cooking the veggies.
To Cook the Shrimp and Sausage: Move the vegetables to one side of the pan and add the shrimp and andouille sausage.

Stir in the Cajun seasoning until the mixture is evenly coated; then cover and cook for an additional 10 minutes.

Serve hot and enjoy!
Looking for Paleo ingredients? Here are a few we'd recommend:
Avocado oil (Bella Vado)
Paprika (Simply Organic)
Thyme (Simply Organic)
Onion powder (365 Everyday Value)
Garlic powder (Frontier)
Sea salt (REDMOND)
Black pepper (Frontier)
Cayenne pepper (Simply Organic)

(You'll Also Love: One-Pan Cajun Chicken and Cauliflower Rice Recipe)