This one-dish recipe makes for a delightful holiday or weekend breakfast option. One-dish Apple Pecan Coffee Cake is paleo-friendly, full of flavor yet low in sugar and is made with the perfect blend of cinnamon, pecans and apples.
We use a blend of arrowroot and coconut flour, which produces a nice cake-like texture. Best of all, this coffee cake is mixed and baked all in the same dish so cleanup is nice and quick. Serve this cake up with a drizzle of grade B maple syrup and enjoy!
To make it, check out the simple recipe below! We recommend using a 9 or 10-inch cast iron skillet but if that's not something you have hand, no sweat! You can also use a 9×9-inch baking dish.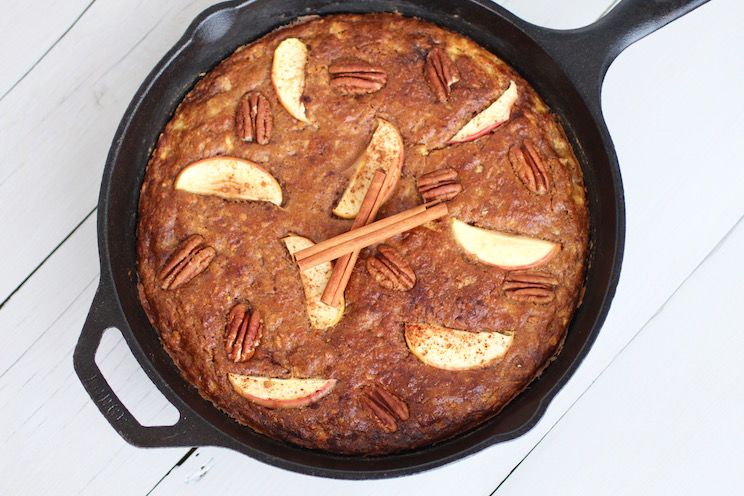 Cast iron heats more evenly than stainless steel or aluminum pans, which makes them ideal for a wide range of uses, including baking, braising and sautéing. They can go from stove to oven without worry and they're easy to clean. A well-seasoned cast iron pan can be wiped clean in most cases but for stuck on food you can add a splash of hot water and some kosher salt to scrub it clean without removing much of the seasoning.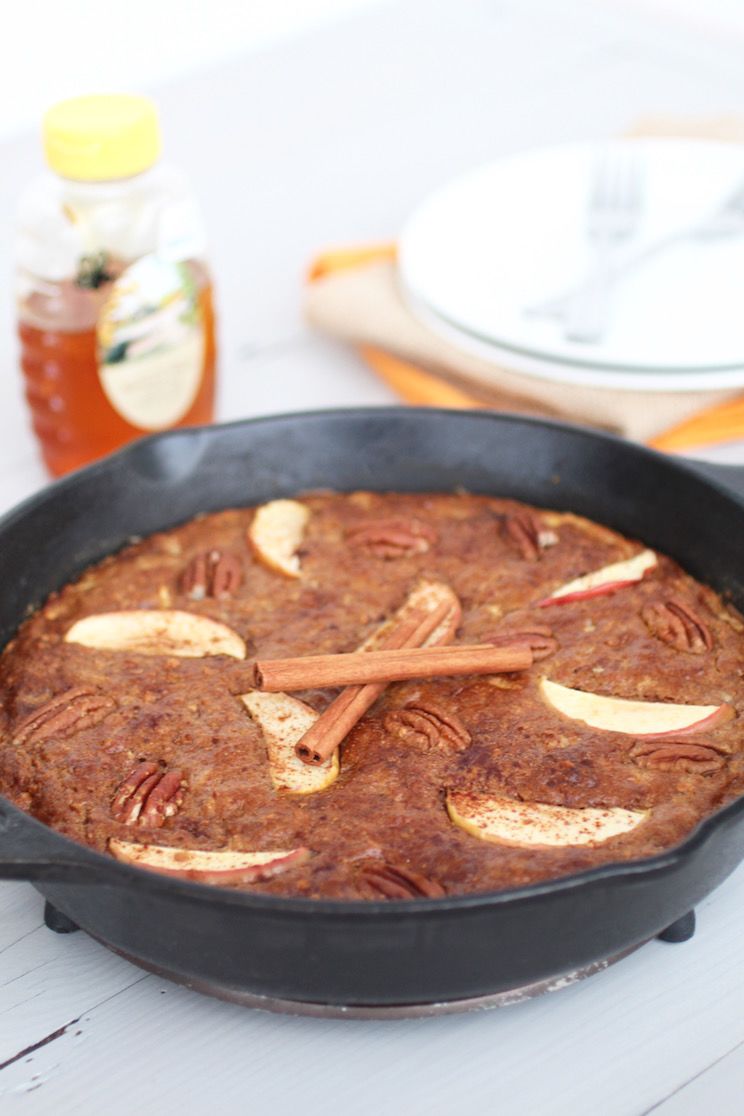 Cooking with cast iron is also a good way to add a little iron to your diet. Acidic foods such as tomatoes leach small amounts of iron from the pan and into the food. Be careful though how much and how often you cook with acid in your pan as this can cause the pan to rust and require you to do a little more maintenance and upkeep to keep your pans in great working shape.
Love coconut flour recipes? Get our free coconut flour recipe cookbook here!
And if that isn't enough, we love cast iron because it looks great when going from oven to table. There's just something about rustic beauty and simple sophistication of a well-loved cast iron piece. Invest in one now, care for it as you go and you'll have a piece to pass onto future generations.
The Real Food Dietitians
One-Pan Apple Pecan Coffee Cake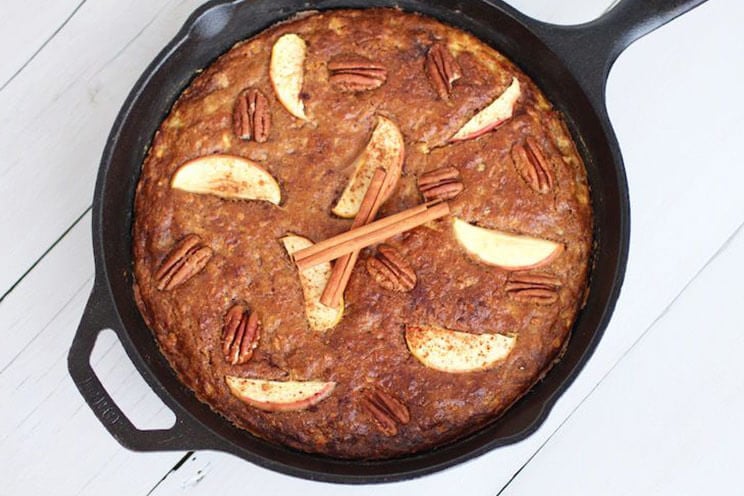 Cook Time:
25 mins
25 minutes
Prep Time:
15 mins
15 minutes
One-Pan Apple Pecan Coffee Cake
This coffee cake recipe is grain, gluten and dairy-free and makes for a delightful breakfast option. Best of all it's mixed and baked entirely in one cast-iron (or 9x9) dish so cleanup is minimal.
Tools
10-inch cast iron skillet or 9x9 inch glass dish

whisk
Ingredients
3 eggs

2 medium apples (1 cup finely chopped + 6-8 thin slices for top)

¼ cup almond butter* (may substitute any nut or seed butter of choice)

¼ cup pure maple syrup + additional for topping

2 T coconut oil, melted

⅓ cup arrowroot flour

¼ cup coconut flour

2 t ground cinnamon

½ t ground nutmeg

1 t baking soda

¼ t salt

½ cup pecans, chopped + 8-10 pecan halves
Instructions
Preheat oven to 350℉ degrees.

Crack eggs into a 10-inch cast iron skillet that has been seasoned or greased (may also used a greased 9-by-9-inch glass dish). Whisk eggs.

Add finely chopped apples, almond butter, coconut oil, and maple syrup or honey and mix.

Add arrowroot flour, coconut flour, cinnamon, nutmeg, baking soda, salt, and pecans, and mix.

Top with apples slices, pecan halves and a sprinkle with cinnamon.

Bake in the oven for 20-22 minutes or until toothpick inserted in the middle comes out clean. Remove from oven and let set for 5-10 minutes. Cake will continue to bake during this time.

Serve and drizzle with pure maple syrup.
Looking for Paleo ingredients? Here's what we recommend:
Coconut Flour (Nutiva)
Almond Butter (Barney)
Cashew Butter (Georgia Grinders)

(You'll Also Love: Top 45 Cast Iron Skillet Recipes)