Keep these relaxing melatonin chocolates by your bedside to whisk you away into dreamland. Everyone will be jealous of your sleepytime chocolate stash!
Combining the relaxing effects of melatonin along with antioxidant-rich dark chocolate creates just the right amount of calming benefits before bedtime. Melt a piece of sleepytime chocolate in your mouth when you are ready to wind down and experience an overall sense of relaxation within 20 minutes.
Melatonin, a hormone secreted by the pineal gland, helps to regulate sleep cycles. Unfortunately, with busy schedules and stress, falling asleep isn't as easy as shutting your eyes and waiting for melatonin to kick in. For people with trouble sleeping, melatonin supplements can help them fall asleep quicker without resorting to prescription sleep aids. You can find melatonin supplements in pill and liquid form in health food and grocery stores, but this recipe calls for the liquid kind.
Do you wake up feeling fatigued, depressed, and restless? Break the cycle of bad sleep with our FREE Sleep Guide.
Click here to get your FREE copy of our Sleep Guide!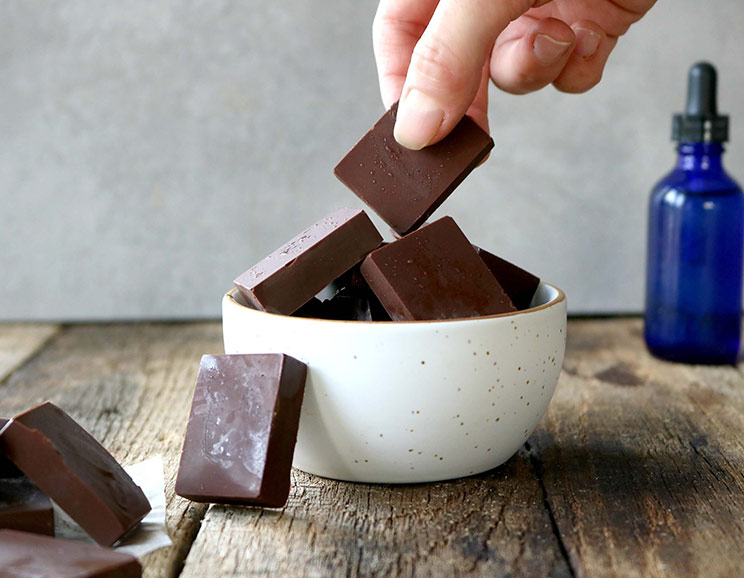 When choosing chocolate to pair along with your melatonin, look for an unsweetened variety that contains at least 70% raw cacao. Sugar can make relaxing hard and counteract the effect of melatonin. Instead, stir in a little bit of raw honey or stevia to taste before pouring into candy molds.
Start by melting chocolate in a double boiler until smooth. Then, turn off the heat and stir in the melatonin. The amount will depend on the type of melatonin you are using and your desired dosage. I added 6 teaspoons of liquid melatonin into the melted chocolate (or 24 one-dose amounts) and divided it into ½-ounce candy molds. This amount yields .75 milligrams of melatonin per chocolate and is considered a low dose.
Add any natural sweetener if desired and stir. Spoon the mixture into candy molds and set in a cool place to firm up. Then, enjoy before bed for a sleepytime treat!
Tips:
Be sure to check the label on your melatonin to ensure proper dosing. Multiply the desired dosage by 24 in order to get a single dose in each of the 24 chocolates.
If you haven't tried melatonin before, start with a low dose and try one chocolate before bed. If you don't feel tired after 20 minutes, try upping the dose to 2 chocolates the following night until you find the regimen that works best for you.
Do not drive or operate machinery after eating these chocolates, as they may make you drowsy.
These melatonin chocolates are also useful in counteracting jet lag.
Jennafer Ashley
How to Make Your Own Sleepytime Chocolate with Melatonin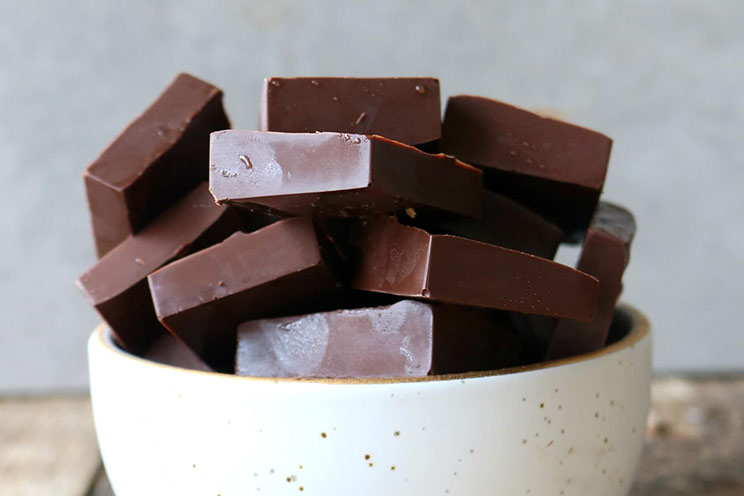 Cook Time:
10 mins
10 minutes
Prep Time:
5 mins
5 minutes
How to Make Your Own Sleepytime Chocolate with Melatonin
Keep these relaxing melatonin chocolates by your bedside to whisk you away into dreamland.
Tools
Double boiler

Candy molds or 2 ice cube trays
Ingredients
12 oz unsweetened dark chocolate chips

About 6 t liquid melatonin

Optional: Small amount of sweetener (stevia, raw honey or coconut sugar)
Instructions
In a double boiler over medium heat, melt chocolate chips. Turn heat off and stir in desired amount of melatonin and sweetener.

Spoon chocolate evenly into 24 candy mold cavities and place in a dry, cool place to set or refrigerate until solid. Once set, pop out of molds and store in a cool spot in an airtight container.
Looking for Paleo ingredients? Here's what we recommend:
Raw honey (Bee Farms)

(You'll Also Love: Ice Cube Tray Dark Chocolate)