Keep keto and whip up this zesty lemon mousse in just five easy steps!
This dairy-free mousse packs in natural sweetness with a hint of citrus, coconut cream, and monk fruit sweetener. It's a light and airy treat you can indulge in for dessert or any time you need to satisfy a sweet tooth.
Serve it chilled with fresh blueberries and add a sprinkle of fresh lemon zest for extra oomph.
Curious about ketosis?
Click here to get the FREE Easy Keto Guide to learn the right way to go keto!
Boost The Benefits With Grass-Fed Gelatin
The perfect mousse will have an airy, whipped consistency with just a touch of firmness to give it a subtle bite. To do this, we add a bit of flavorless gelatin to slightly thicken the mousse without compromising the taste.
As a bonus, gelatin is full of superfood benefits. Gelatin is basically cooked collagen, which is essential for healthy nails, skin, and hair, and therefore reduces signs of aging. Gelatin is also rich in the amino acid glycine, which has anti-inflammatory properties. On top of that, gelatin can also help in the balancing of hormones and help them to function properly.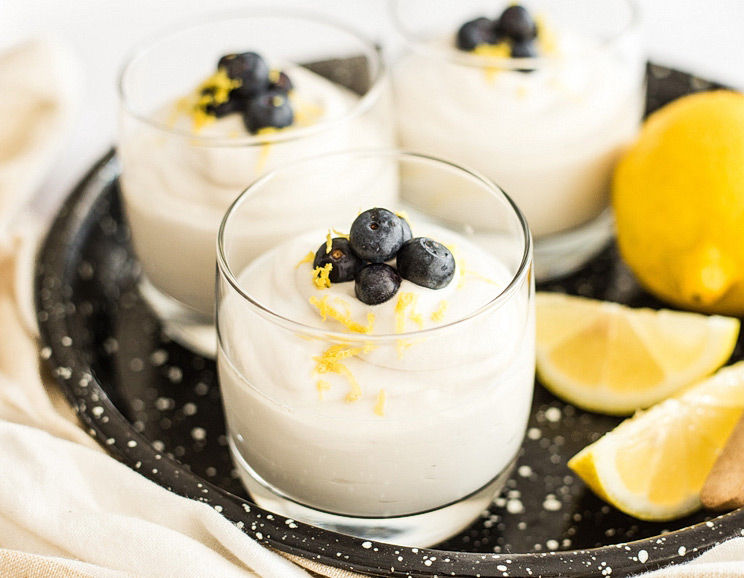 Ditch The Whipped Cream For Coconut Cream
Opting for coconut cream is the best dairy-free alternative to traditional whipping cream. It has a natural sweet taste and similar texture, without any of the lactose. We like using it in many of our sweet recipes as a way to boost healthy fats.
If you can't find store-bought coconut cream, you can also chill two cans of full-fat coconut milk overnight in the fridge and scoop out the cream on top.
Helpful Tips For Getting Started:
Double the recipe. Prepare for a large crowd by making multiple batches ahead of time. You can keep the mousse in an airtight container in the fridge for up to five days and spoon it into serving glasses when ready to enjoy.
Swap out the lemons for oranges. If you don't have lemons on hand, try oranges instead. You can swap in equal amounts of the juice and zest.
Chill the beaters and mixing bowl. To ensure the best consistency for the mousse, make sure to chill the beaters and the bowl you'll be mixing it in beforehand. By doing this, the mousse maintains a low temperature and stays firmer, especially if you're working on it in the summer or during warmer days.
Felicia Lim
Dairy-Free Keto Lemon Mousse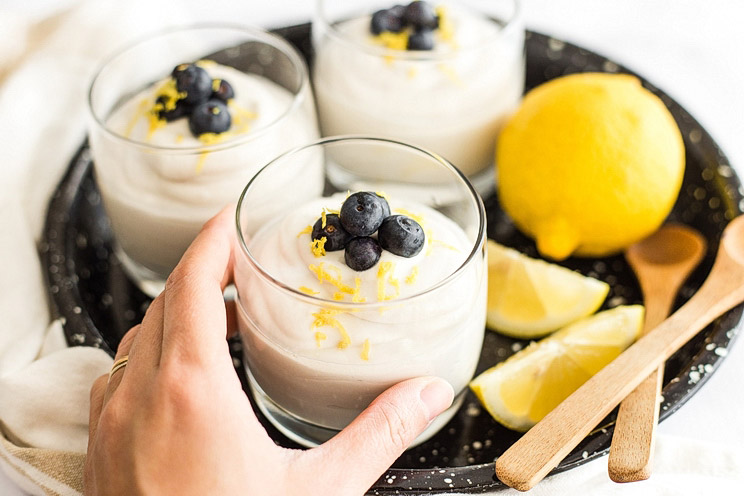 Inactive Time:
30 mins
30 minutes
Prep Time:
20 mins
20 minutes
Nutrition facts:
2 grams of protein
6 grams of carbohydrates
24 grams of fat
272 calories
Dairy-Free Keto Lemon Mousse
Keep keto and whip up this zesty lemon mousse in just five easy steps.
Tools
Electric beater

Small clear glasses
Ingredients
2 t unflavored grass-fed gelatin

2 T cold water

4 T boiling water

½ cup monk fruit sweetener

4 T fresh lemon juice

2 cups coconut cream, chilled

1 cup fresh blueberries, for garnish

1 T fresh lemon zest, for garnish
Instructions
Chill a large bowl and the beaters for at least 10 minutes.

Hydrate the gelatin in cold water to soften it before dissolving it fully in boiling water.

Place the coconut cream, monk fruit sweetener, and fresh lemon juice in the chilled bowl, and mix at medium speed for approximately 5 minutes until stiff peaks form.

Add the gelatin mixture and beat at medium speed for another 1 minute until fully incorporated.

Divide the mousse evenly between four clear glasses. Chill for at least 30 minutes before topping with fresh blueberries and garnishing with fresh lemon zest.
Looking for Paleo ingredients? Here are a few we'd recommend:
Unflavored grass-fed gelatin (Great Lakes)
Monkfruit natural sweetener (Lakanto)
Coconut cream (Native Forest)