Put your springtime greens to good use with this one-pot soup you can have ready in minutes!
If you're looking for a fresh way to use up those hearty spring greens, this brothy soup has you covered. It's full of immune-boosting antioxidants and essential vitamins to keep you nourished throughout the day. Plus, it's versatile enough to enjoy with any kind of protein (like chicken or beef).
Add As Much Produce Power As You'd Like
When it comes to spring soup, there's a bounty of seasonal veggies to choose from. Tougher greens like chard, kale, and collard greens give this soup nutritional substance. However, you can also add in other greens (like celery, leeks, or zucchini) if you want to switch things up a bit.
Love slow cooker recipes?
Click here to get your FREE copy of our delicious Slow-Cooker Recipes!
We bump up the overall staying power of this soup with hearty parsnips. They make a great low-carb alternative to white potatoes and can be easily paired with other root vegetables like carrots, turnips, or rutabagas.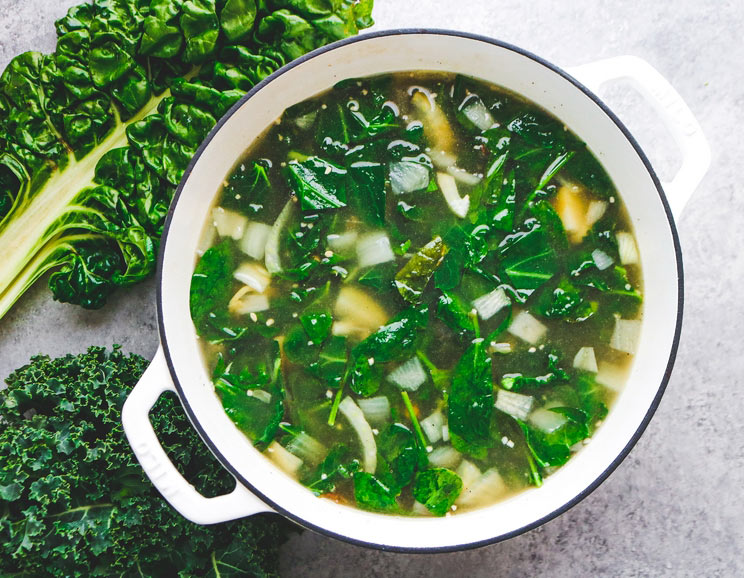 Complement Your Soup With Savory Herbs
For this recipe, we use ingredients that infuse mouth-watering aromas with the zesty tang of fresh lemons. White onion and garlic make the perfect combination to sauté in buttery ghee, as it intensifies the broth's flavor and overall richness.
Fennel is full of herby anise flavor, and is equally delicious raw as it is cooked. While we utilize the bulb in this recipe, its seed and wispy fronds are also edible and can be added to other dishes, like salads, meatballs, and coleslaw. Other great herbs to add include fresh thyme, a sprig of rosemary, dill, or fresh basil.
Helpful Tips To Get Started:
Sauté your veggies with ghee. Ghee is ideal for high heat cooking and won't burn easily like butter or other cooking oils.
Make your bowl even more filling. While this recipe comes with plenty of versatile options, you can also add mustard greens, cauliflower, or sweet potatoes for even more nutrition.
Swap out herbs. Try herbs like thyme, rosemary, or dill to pack in even more springtime flavor.
Jennafer Ashley
Immune-Boosting Mixed Green Spring Soup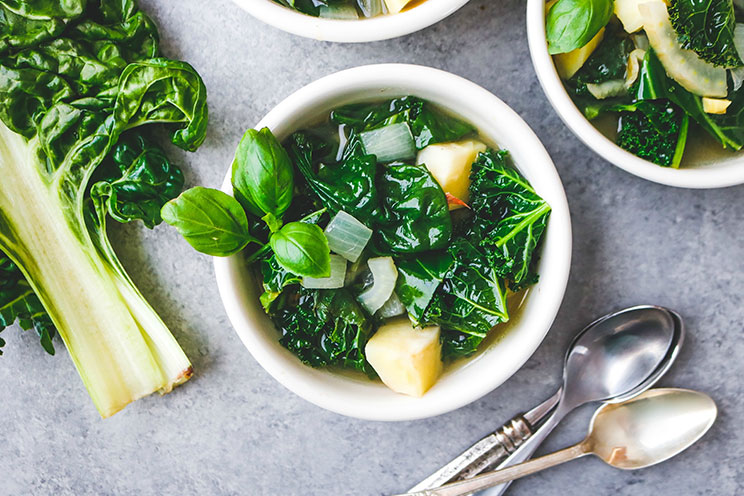 Cook Time:
30 mins
30 minutes
Prep Time:
5 mins
5 minutes
Nutrition facts:
9 grams of protein
18 grams of carbohydrates
5 grams of fat
Immune-Boosting Mixed Green Spring Soup
Put your springtime greens to good use with this one-pot soup you can have ready in minutes.
Ingredients
1 T ghee

1/2 cup chopped sweet white onion

2 cups chopped parsnips

1 t minced garlic

1/2 cup sliced fennel bulb

10 cups chicken stock

2 cups chopped collard greens

2 cups chopped Swiss chard

2 cups chopped kale

2 cups spinach leaves

1/3 cup fresh lemon juice

1/2 t salt

1/4 t ground black pepper
Instructions
Melt the ghee over medium heat in a Dutch oven and add in the onions and parsnips.

Cover and cook for 10 minutes, tossing in the garlic and sliced fennel halfway through.

Pour in the chicken stock and allow the soup to come to a boil, about 10 minutes.

Reduce the heat to medium-low and stir in the greens, lemon juice, sea salt, and pepper.

Let the ingredients simmer for 10 minutes uncovered, then serve hot and enjoy!
Looking for Paleo ingredients? Here are a few we'd recommend:
Ghee (Pure Indian Foods)
Black pepper (Frontier)
PS: If you want more deliciously healthy, easy meals, get our FREE Paleo Eats Cookbook shipped to you now.