Challenge your muscles with these suspension workouts! Start with a basic workout and finish on a challenging sequence to progress with TRX.
What is TRX Suspension Training?
Suspension training uses the TRX Suspension Trainer, a fitness tool that was developed by a Navy SEAL. Randy Hetrick, the founder of the TRX, had a mission of staying in peak condition for duty, but with traveling so often for missions, he found it challenging to get effective workouts in without traditional fitness equipment.
He developed the first suspension trainer with a few pieces of an old parachute and some other scrap tools. Eventually, he and his SEAL team developed hundreds of different exercises using this new piece of equipment. The TRX leverages gravity and your own body weight to create a workout that challenges your strength, balance, coordination, flexibility and core strength all at once.
Looking for an easy way to get started working out?
Grab our FREE Beginners Workout Guide - 3 Weeks To Tighter Abs, Sculpted Arms, And Toned Legs, by clicking here!
---
How is Suspension Training Different?
The TRX is truly a functional piece of equipment. Unlike many traditional pieces of equipment found in the gym, the TRX requires the use of your entire body during a workout. It uses a huge range of dynamic movements, moving through multiple planes at once.
Many machines at the gym have seats or some sort of support. Unfortunately, sitting down while doing exercises lessens the opportunity to develop stabilizing muscles needed for posture and to prevent injury. The TRX forces you to engage multiple muscle groups at once to maintain stability with each exercise.
During everyday movements our bodies are required to move in various planes of motion, such as forwards and backwards, side to side, and twisting and rotating. The TRX allows your body to work through multiple planes in each exercise. This is functionality at its best. Traditional weight machines will only work one plane of motion at a time, which can create muscle imbalances that can lead to injury.
Using different muscle groups and moving through multiple planes for each exercise requires coordination. TRX exercise improves the nervous system's ability to effectively coordinate movement to build stronger motor patterns so that you can perform better.
---
Benefits of the TRX
1. FAST, Effective Full-Body Workout
There's no need to pace back and forth at the gym anymore. You have the only piece of equipment you need in the TRX.
2. Increases Muscular Endurance
Since you can easily move from one exercise to the next without changing equipment, your muscles will be constantly working, increasing their endurance.
3. Great for ALL Fitness Levels
You can easily adapt each exercise to your workout level by changing your relationship to the anchor point. The TRX can be used by everyone from beginners to advanced individuals.
4. Can be Set Up Anywhere (Gym, Home, Outdoors)
The TRX is great for traveling because it only weighs 2 pounds. All you need is a door, a tree, or a pole to mount your TRX to and you can get a great workout in anywhere. The TRX is the perfect piece of equipment for anyone who travels frequently.
5. Affordable
Compared to buying multiple expensive machines and equipment to get full-body workouts, $200 for a TRX will seem like a steal. It literally does everything you need in ONE piece of equipment.
---
Easily Progress with the TRX
One of the greatest benefits of the TRX is its incredible ability to modify exercises for beginners or to challenge advanced exercisers. With almost every exercise on the TRX you can find a way to suit it to your personal needs. Here are a few ways to turn your Beginner's TRX Workout into a more challenging workout as you get stronger and develop more stability.
Simple Ways to Progress with the TRX:
Adjust your feet position to wide, narrow, or even single leg
The wider your feet position, the stronger and more stable base you will have. Making your feet more narrow or lifting one leg off the ground will challenge your balance and make your core work harder to keep you stable. When you get to the point that you can raise one leg off the ground, you can also try different positions with your free leg to create more instability. Some positions are: knee lifted, straight leg lifted in front, or leg lifted to the side.
Adjust your body angle to change the resistance
The more horizontal your body is to the ground, the more challenging the exercise will become. It will force you to work against your body weight and gravity, increasing the resistance. To regress the exercise, decrease the angle to make your body more upright. This will allow you to have less resistance and focus on making sure your form is correct.
Adjust your tempo
Move faster to increase your heart rate. This will allow you to get a bit more of a cardio workout in as well as challenge your muscle endurance. Try setting a number of reps for each exercise and move faster throughout your workout.
Shorter breaks between exercises
Try moving from one exercise to the next without a break. This will also challenge your muscle endurance.
Add plyometrics
With simple exercises like squats or lunges, you can easily add in plyometrics to increase intensity. Adding in plyometrics is another great way to fit additional cardio in your workout.
---
Basic Full-Body TRX Workout
Here's a basic full-body TRX workout to get you started. Complete this workout 3-4 times in a row. Remember, the more of an angle your body is at, the harder the exercise will be. To modify any exercise, decrease the angle, or even bend one leg and plant it firmly on the floor to give you more support.
TRX Squat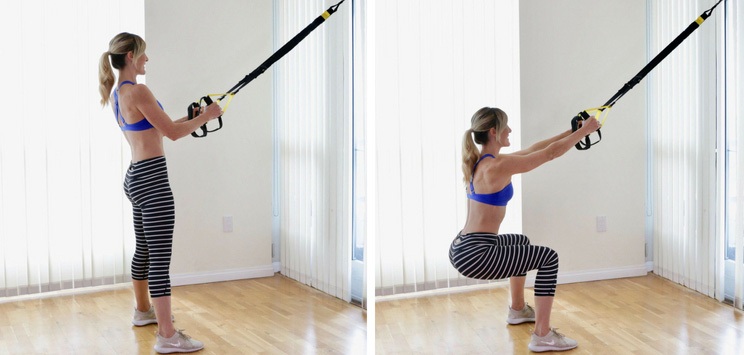 With the straps at mid-length, face the anchor with feet a little wider than shoulder-width apart. Keep knees and toes slightly turned out.
Hold the handles by your waistline and keep your elbows slightly bent. Lower into a squat keeping your weight in your heels and make sure not to lean back too much or round your back.
Press through your heels and stand back up. Repeat for 15-20 repetitions.
TRX Back Step Lunge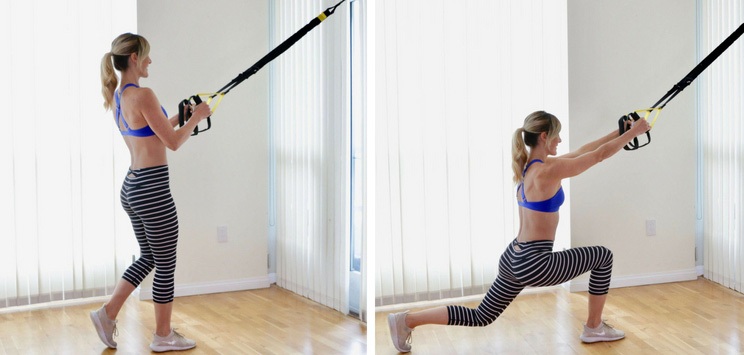 Stand facing the anchor with mid-length straps and feet together. Hold the handles by your waist with bent elbows.
Step your RIGHT foot backwards, keeping the weight in your LEFT leg.
Press through your LEFT heel to return to standing. Complete 15-20 repetitions stepping back with the RIGHT leg, then switch sides.
TRX Step Side Lunge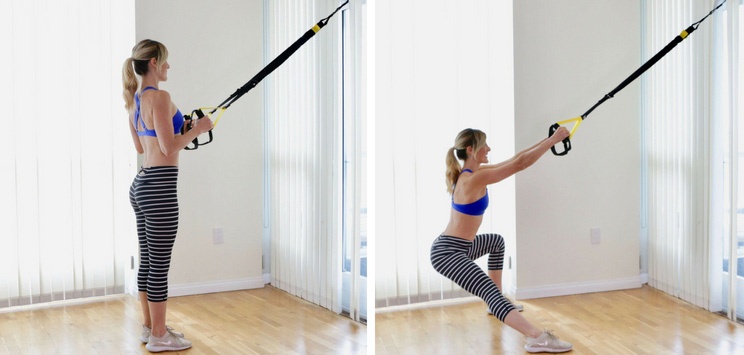 Keeping your feet together and the straps mid-length, step your RIGHT foot out to the side into a side lunge. Keeping your LEFT leg straight, you should feel a stretch in your inner thigh.
Press back to center through your RIGHT heel and repeat 15-20 times, then switch legs.
TRX High Row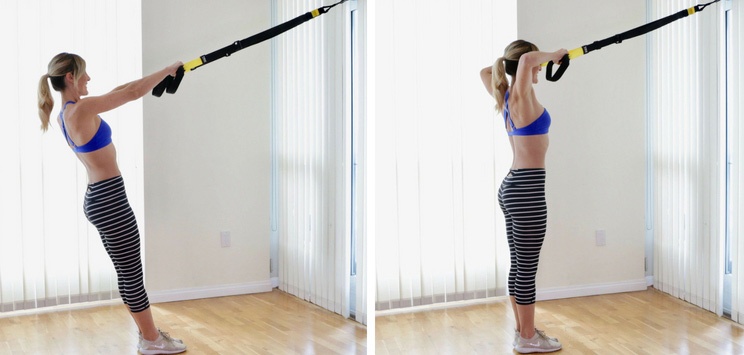 Walk your feet towards the anchor a few inches and slightly lean back, keeping your abs engaged and making sure not to let your hips drop back.
Lift your toes off the ground so that your heels are pressing into the floor. This is your starting position with your palms facing down and arms straight.
Squeeze your shoulder blades together to perform a high row, bringing your chest towards the anchor. With control, straighten your arms back to your starting position. Repeat 15-20 times.
TRX Chest Press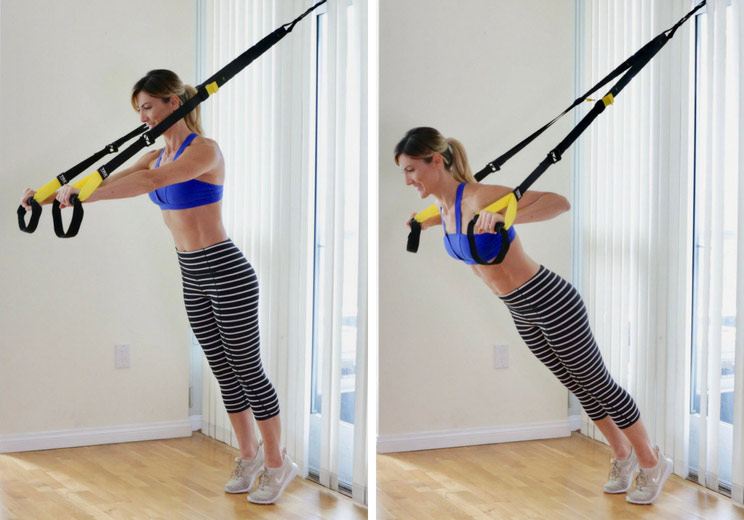 Turn around to face away from the anchor, this time with your toes digging into the floor and your heels lifted. Have your arms straight and palms facing the floor.
Bend your elbows, as if you were lowering into a push-up position, keeping your elbows in line with your shoulders.
Using your chest muscles, press your arms back straight. Complete 15-20 repetitions.
TRX Plank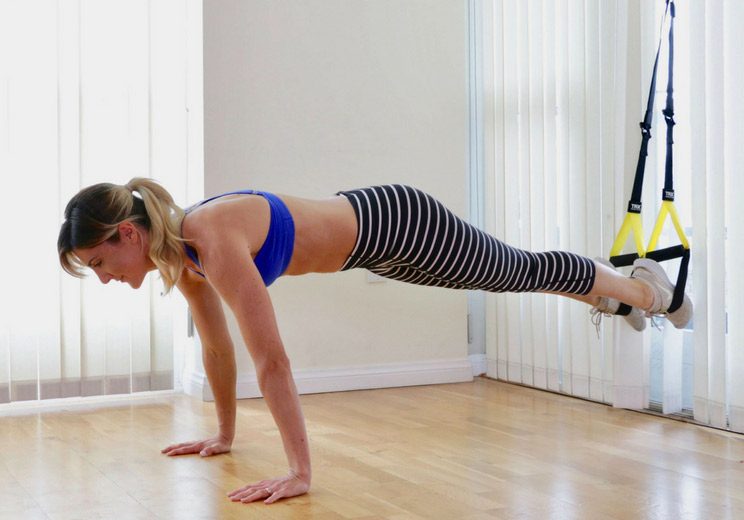 Lengthen the straps so that they are mid-calf length, or about 6 inches off the ground. Lay on your stomach and place your feet in the stirrups so that your toes are facing the floor.
Place your hands under your shoulders and press yourself up into a full plank position on your hands.
Hold for 30-60 seconds, keeping your abs engaged and making sure your hips don't sag down.

---
Intermediate TRX Workout
This workout uses a few more advanced moves, but is still easy enough for a semi-beginner to do. Complete this workout as a circuit and repeat the circuit for a total of 3-4 sets. You can always add in a few beginner exercises just to change things up a bit!
TRX Single Leg Squat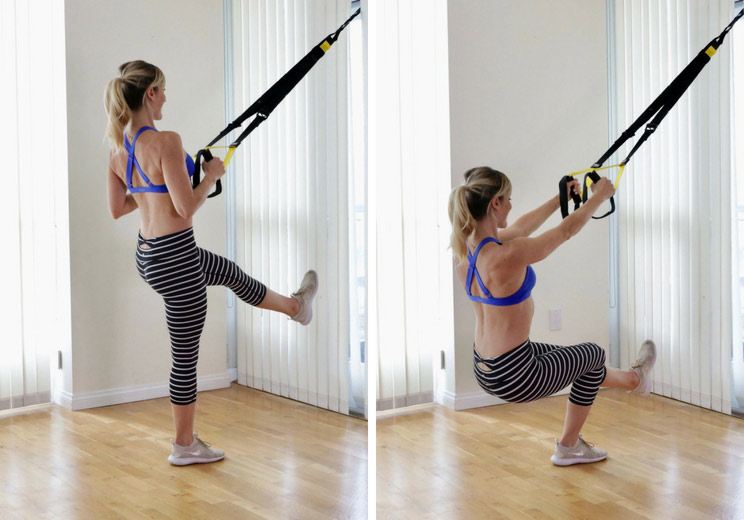 Facing the anchor, hold the straps so that your arms are bent and your elbows are in by your waistline.
Lift your LEFT leg straight in front of you so that all of your weight is in your RIGHT foot. Bend your RIGHT knee and sit back, as if you were sitting back into a chair. Keep your weight in your heel and try not to "hang" backwards.
Press straight up through your heel, engaging the back of your leg. Repeat 15-20 times on the RIGHT, and then switch to the LEFT.
TRX Push Up

Place your feet in the foot cradles and face the floor on your stomach. Press up into a full TRX Plank with your shoulders over your hands.
Lower into a push up, making sure not to let the hips dip too low and push back up. Complete 15-20 repetitions.
TRX Crunch

Bring yourself back into a TRX Plank with shoulders over your hands. Without moving your shoulders, engage your abdominals and pull your knees in towards your chest using your lower abs.
Extend back into a plank position and repeat for 15-20 repetitions.
TRX Lunge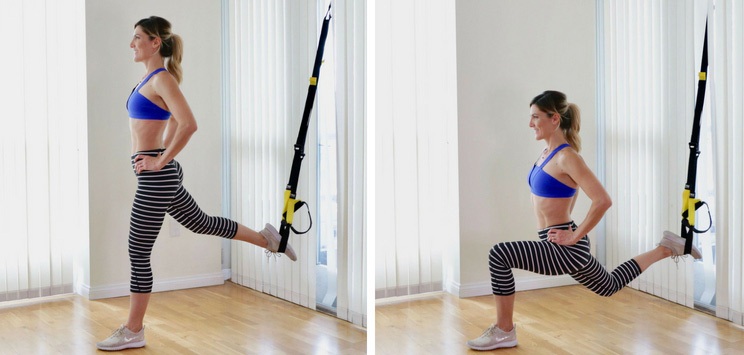 Hook both straps together (see how here) and place your LEFT foot in the cradle, facing away from the anchor.
Step your RIGHT foot slightly forward and bend your front knee into a lunge position.
Make sure to keep the weight in your front heel and push back up using the back of the leg and engaging the glutes. Complete 15-20 repetitions on the RIGHT, then switch sides.
TRX Roll Out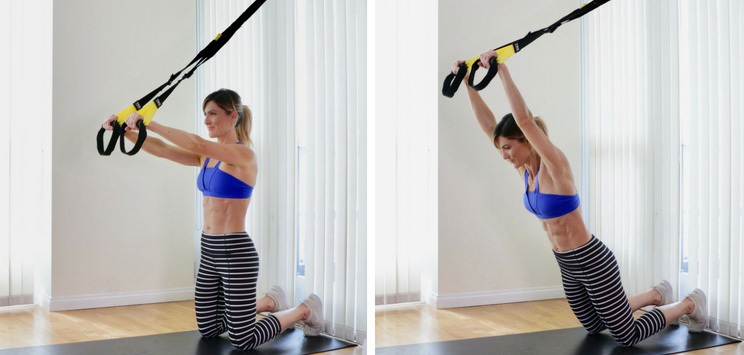 Lower to your knees and face away from the anchor. Hold the handles straight in front of you with your palms facing the floor.
Engage your abs as if you were in a plank position, bring your arms overhead, but make sure to stay strong through your shoulders.
Using the back of your shoulders and your abs, pull your arms back in front of you. Repeat 15-20 times.
TRX Hamstring Curls

Lay on your back and place your heels in the foot cradles. Keeping your legs straight, lift your hips off the ground, with your weight across your shoulder blades.
Using your hamstrings, curl your heels towards your glutes lifting your hips even higher.
Extend your legs back straight and go right into another hamstring curl without lowering your hips to the ground. Complete 15-20 repetitions.

(Read This Next: The Pull-Up Workout You Can Do At Home – No Bar Needed!)