Switch things up with these Paleo turkey burgers served over an open-faced portobello bun!
Juicy and delicious, these Paleo Turkey Burgers will please any meat lover! Seasoned with spices and topped with lettuce and tomato for a classic burger without any added carbs. And the portobello "bun" will help keep you full for hours!
Top your Paleo turkey burger with your favorite Paleo condiments and get the party started!
Do you struggle with bloating, gas, constipation, or other digestive issues? We've created a FREE guide to healing your gut naturally. Click here to get your clean and healthy Eat Wild recipes!
Deanna Dorman
Paleo Turkey Burgers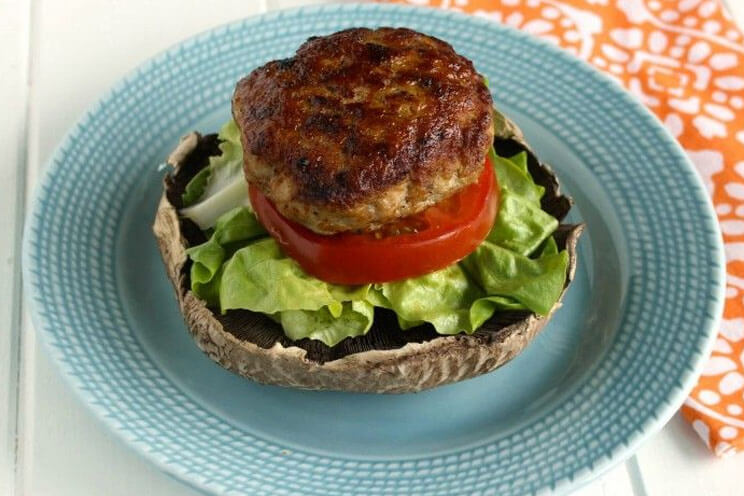 Cook Time:
5 mins
5 minutes
Prep Time:
5 mins
5 minutes
Paleo Turkey Burgers
Now you can enjoy burgers the Paleo way!
Ingredients
1 t ground pepper

1 t onion powder

1 t salt

½ t garlic powder

¼ t cayenne pepper (optional)

1 pound ground turkey

1 tomato, sliced

lettuce

4 portobello mushrooms

Paleo condiments (Paleo condiments)
Instructions
In a small bowl combine spices.

In a large bowl mix turkey and spices together until mixed. Make sure not to work the turkey too much or it will become tough.

Divide the turkey into 4 equal parts and shape into patties.

Preheat a grill of medium-high heat or a pan with coconut oil to medium heat.

Cook patties 4-6 minutes per side, or until internal temperature reaches 160 degrees.

Serve on top of a portobello mushroom (or serve with two if your have a big appetite!), lettuce, tomato, and your favorite homemade Paleo Ketchup, Honey Mustard, or BBQ sauce!
(You'll Also Love: Greek-Style Lamb Burger)